Editorial
A deep dive into China's renewables landscape
wind, solar and storage market outlooks into next 5-10 years
China's transiting from renewables feed-in-tariff system to auction mechanism. What does it mean to wind, solar and energy storage in terms of 10-year market outlooks, technology, supply chain trends and competitive landscapes? Read more below for key research products from Wood Mackenzie team and stay focused on this world's largest renewables market.
Renewables costs to drop
China wants to reach its wind and solar power grid parity targets by 2020, so that electricity created by these sources can be sold to the grid at the same price as coal-fired power. To achieve this, the government is now leveraging its range of policies in a careful balancing act to both reduce the subsidy burden on the fund while also maintaining a fairly stable market.
Across most of China's provinces and regions, a renewables cost premium remains over coal power, averaging 26% in 2019 for wind and solar, down from over 100% in 2010. 28 of 30 regions examined in our latest report see premiums of up to 70%, and only Shanghai and Qinghai have cost-competitive renewables today.
Read more:
Wind auctions initiated since 2019
Though pressured by wind auctions that started in 2019, China's wind power market is expected to add an average of 25 gigawatts (GW) of grid-connected wind capacity annually from 2019 to 2028. Onshore wind power will continue to lead domestic growth with 84% of the total new capacity in the outlook, with new installation coming from GW-level wind bases in the northern region. Given the higher O&M (operation and maintenance) costs and declining good wind resources, onshore repowering market will take off from 2023. Offshore wind growth is challenged with limited supply chain resources, including a lack of offshore vessels for installation.
Read more:
China solar PV installation scaled back
Developers remain cautious about proceeding with their plans as equity returns are already low due to subsidies being reduced since May 2018. This year, the average utility-scale solar photovoltaic levelised cost of electricity (LCOE) has hit US$61.2/MWh, higher than the average utility-scale bid price of US$56/MWh. With the deficit in the government's renewables fund reaching billions of renminbi, subsidy payments are likely to be further delayed. As a result, capacity growth has slowed. We expect the market to add an average 32.2 GW of annual solar installation to 2024.
Despite the challenging market outlook, we see bifacial modules increase tenfold from 2019 to 2024, bringing the global cumulative bifacial solar capacity to over 8,200 megawatts. Supply chain tactics are evolving to grapple the market share in this market.
Read more:
China energy storage market players landscape to evolve
The storage industry is still at an early stage of development and dominated by local players, especially state-owned utilities. As of Q3 this year, utilities controlled more than 90% of FTM assets nationwide due to their strong financial capabilities. By contrast, private developers are challenged to gain market share when facing high initial costs, complex technologies and lack of government subsidies. However, the landscape may start to change in 2020 as the State Grid Corporation of China (SGCC), one of the top players, recently decided to exit the FTM market for a short term for economic uncertainty reasons.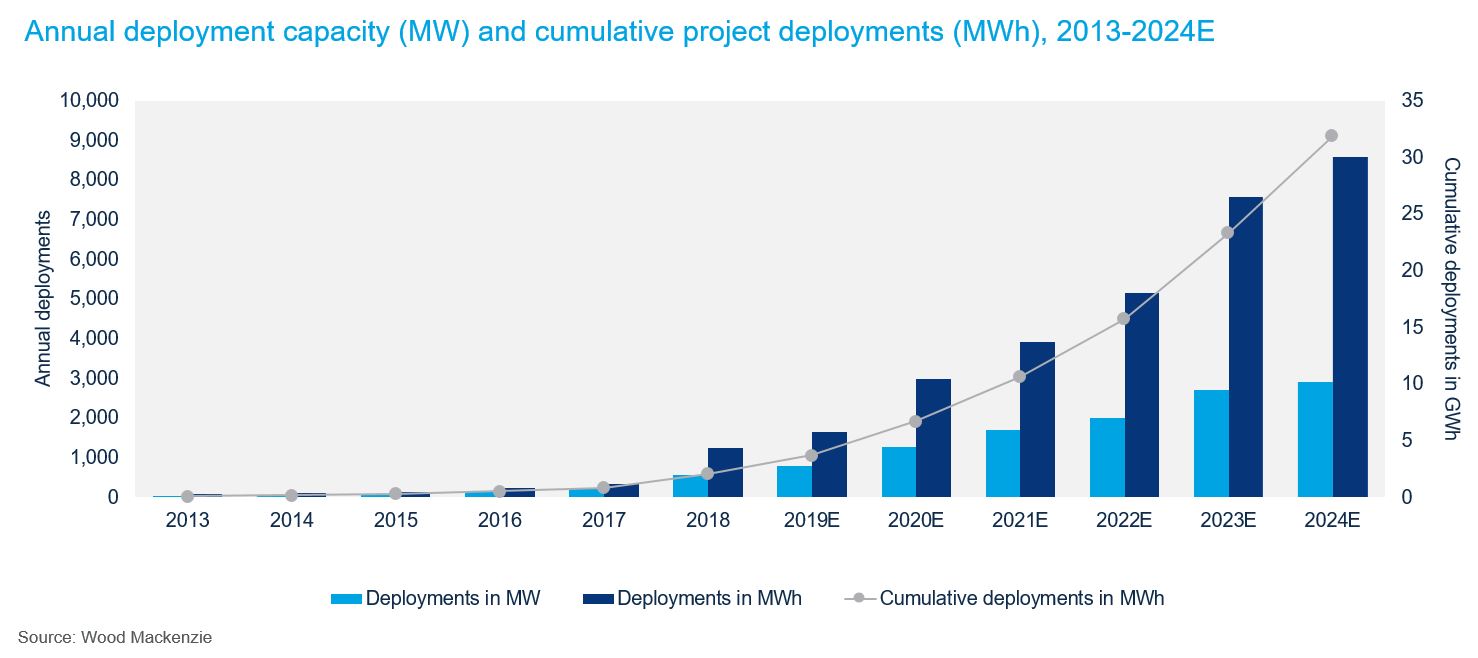 Read more:
Upcoming webinar:
China and US energy storage market outlooks
If you have any enquiries, please feel free to contact power@woodmac.com.