Editorial
China to hit 437GW of cumulative wind capacity by 2028
GW-level national wind bases in the northern region are driving the growth
China is expected to add an average of 25 gigawatts (GW) of grid-connected wind capacity annually from 2019 to 2028, according to the new China wind power market outlook 2019-2028 (click to download the report brochure) from Wood Mackenzie Power and Renewables. Onshore wind power will continue to lead domestic growth with 84% of the total new capacity in the outlook.
According to the government mandates for wind to reach grid parity, all new onshore wind projects will receive the same tariff as coal-fired power from the beginning of 2021. Xiaoyang Li, senior analyst with Wood Mackenzie Power and Renewables, said: "Developers are using the window before this deadline to rush to complete subsidised projects, which will boost capacity additions to 28 GW in 2020. Following this surge in new installations, new onshore wind capacity in 2021 will suffer a 23% year-on-year decrease when the new subsidy-free policy comes into effect."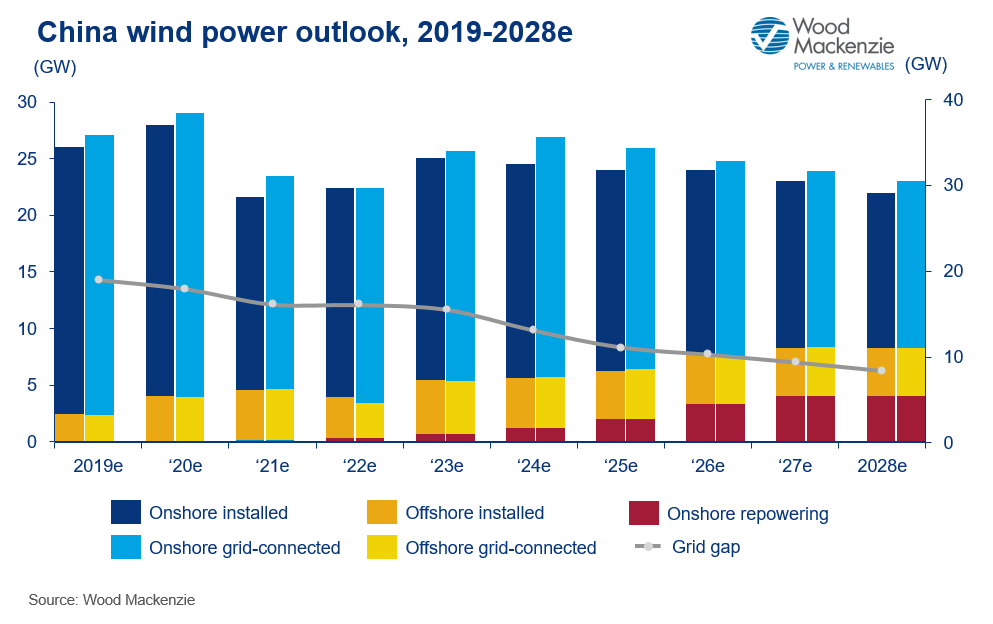 Geographically, the northern region has abundant wind resources and is a strong engine for future growth. Out of the 22 national wind bases that are under construction or being planned, 21 are located in the north. Inner Mongolia will attract the most investment with around 46 GW of capacity being built or proposed.
"China's onshore wind power market will stay focused in the northern region, despite concerns over power oversupply and renewables curtailment in the long term. We expect 136 GW of new onshore wind capacity to come online here, 70% of which will be in GW-level wind bases," commented Li.
The industry believed 2018 was a new era for distributed wind power, but Li argues this was "more words than action". This segment will add just 17.7 GW of wind capacity in the next decade, approximately 4% of total new capacity additions. It is the same situation with the repowering market in limited growth, where ageing wind turbines reaching their 20-year life cycles are replaced with up-to-date ones for wind farm renovation.
Wood Mackenzie forecasts the average national onshore wind LCOE level will drop from RMB437/MWh in 2019 to RMB418/MWh in 2021, still 7% higher than the average national coal power feed-in tariff. China's northern region will even see a price premium up to 70% by then, due in part to low coal prices.
"Wind profitability remains a concern in the near term," Li added. "Developers may face massive losses in 2021 and 2022 and will not be willing to develop wind projects to a large scale. We do not expect averaged national onshore wind project costs to reach grid parity with coal-fired power until after 2023."
Download the brochure by filling out the form on the right column to see what key data points are included in the report.