Discuss your challenges with our solutions experts
Get in touch
For details on how your data is used and stored, see our Privacy Notice.
Editorial
Global Smart Grid Technologies and Growth Markets 2013-2020
Wood Mackenzie Power & Renewables forecasts the cumulative value of the smart grid market to surpass $400 billion by 2020, growing with an average compound annual growth rate of over 8%. This new report examines the global smart grid market from the perspective of growth and market share of technologies and services, featuring a top-down and bottom-up financial forecast along with highlights of regional trends, analysis and opportunity across the world's established and emerging smart grid markets. By examining the major markets and technologies, the report identifies the biggest growth opportunities for the next 8 years and those markets which are most attractive to investors and utility vendors.
FIGURE: International Snapshot of Emerging Smart Grid Global Competition
Source: Wood Mackenzie Power & Renewables
At 96 pages, the report is divided into six main sections. First, it examines the global smart grid market from a comparative perspective, looking at the expected growth rate of the individual regions as well as the cumulative global growth rates of discrete smart grid technologies. Then, each of the regions is examined in more detail, with comprehensive forecasting on each area for the period of 2013 to 2020, based on the key metrics of market segment value, percent share of the overall smart grid market, and compound average growth rate (CAGR). In these sections, we look at the growth and share of technologies by region and profile the opportunities that are arising.
FIGURE: Regional Smart Grid Deployment Hotspots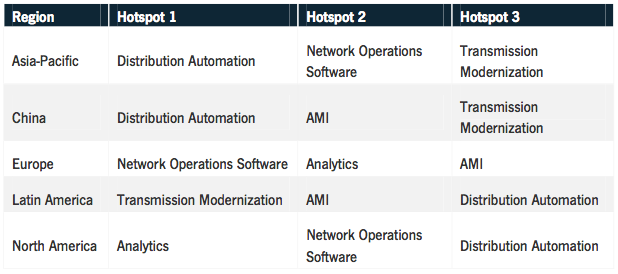 Source: Wood Mackenzie Power & Renewables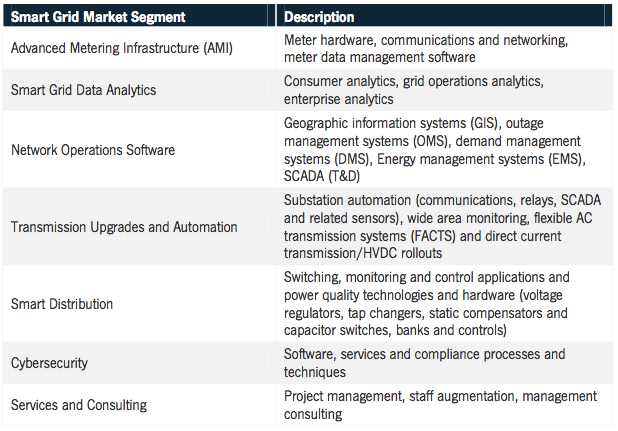 Source: Wood Mackenzie Power & Renewables