Discuss your challenges with our solutions experts
Get in touch
For details on how your data is used and stored, see our Privacy Notice.
Editorial
Megawatt-Scale PV O&M and Asset Management: Services, Markets and Competitors 2014-2018
The competitive landscape of the PV O&M market is country specific, with different firms leading in each of the top solar markets. Price and service tend to also vary across geographies, with variations as high as 100% between low-price markets like the U.S. and higher-price markets like Italy. The report segments vendors into five categories and maps out the competitive landscape globally and by country.
FIGURE: Global Megawatt-scale PV O&M Competitive Landscape Overview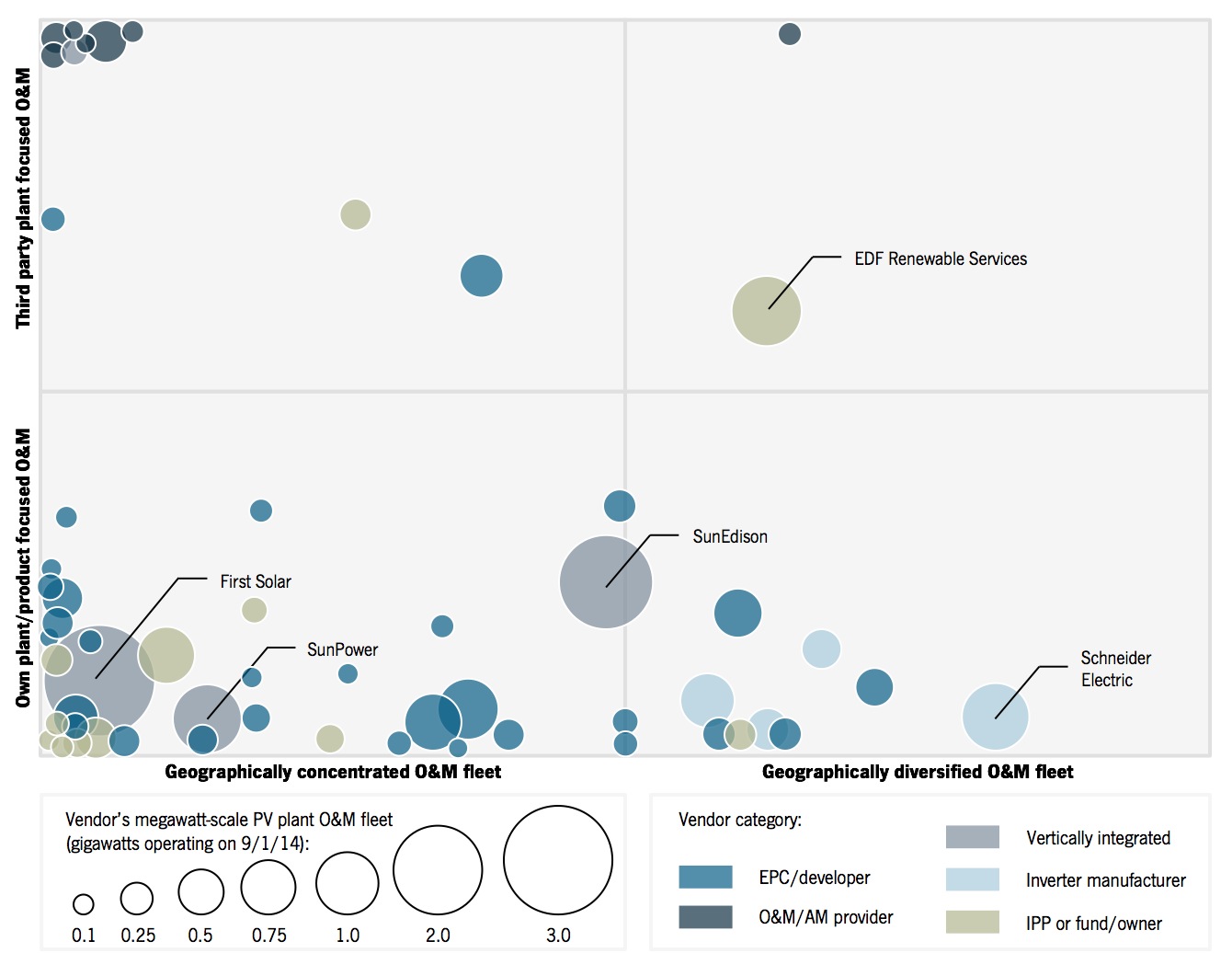 Source: Wood Mackenzie Power & Renewables
This 258-page report covers operations and maintenance (O&M) service levels and price ranges for seven key PV countries, a global (with a focus on European and North American providers) and country-specific competitive landscape analysis, current market size and forecasting to 2018 for thirteen countries, and analysis of PV O&M activities, constraints and strategies. It has been expanded this year to include asset management (AM) market landscapes, services, strategies, and cost factors. Additionally, the report profiles 60 vendors across continents whose aggregated O&M fleet currently surpasses 24GW, and features a new vendor comparison table presenting the O&M and AM services as well as in/out-sourcing policies of these vendors.
Markets analyzed include: Germany, Italy, Spain, France, U.K., U.S., Canada, China, India, Japan, Chile, Thailand, South Africa
Companies profiled in the report include: 9REN | ABB | Actensys | Alectris | Averdung Betriebsführung | BELECTRIC Services International | Bester Generación | Building Energy | Capital Stage Solar Service | EDF Renewable Services | ENcome Energy Performance | Enel Green Power | Enerparc | Enerqos | First Solar | Geico Lender | GenSun | Global Energy Services | GOLDBECK Solar | Gransolar | Greensolver | Greentech | Grupotec Renewables | IBC Solar | Ingeteam Service | KBE Energy | Kenergia Sviluppo | Lightsource Renewable Energy | M+W Group | Martifer Solar | MaxGen Energy Services | meteocontrol | Next Phase Solar | NRG Renew | Power Factors | Progetti International | Project Quality 4t2 | QE Solar | Radian Generation | S.A.G. Solarstrom | Saferay Operations | Schneider Electric | SEAG Service | Skytron Energy | Solaire Direct | Solarig O&M | Solarpack Corporacion Tecnologica | Solarrus Corporation | SOLON Group | Suncycle | SunEdison | SunPower | Swinerton Renewable Energy | Sybac Service | TOPS Energy | True South Renewables | Umbra Solar Services | Urbasolar | Vector Cuatro | WiseEnergy
Other companies covered include: Anesco | BayWa r.e. Operation Services | Conergy | Dalkia Solar | Duke Energy Renewables | EDP Renovaveis | E.ON | Enerray | Enovos | Esapro | Fotowatio S.L. | Gestamp Solar | Gildemeister Energy Solutions | juwi | Kaiserwetter | Orta Solar | Quadran | Ravano GreenPower | RTR Energy | Silverstone Green Energy | SMA | Solarparc | Stern Energy | Terna | T-Solar | Wattner Energie
Gain access to all of Wood Mackenize's solar research instead of purchasing reports individually by becoming a Solar Subscriber.