Discuss your challenges with our solutions experts
Get in touch
For details on how your data is used and stored, see our Privacy Notice.
Editorial
Polysilicon 2015-2018: Supply, Demand, Cost and Pricing
Polysilicon is the primary feedstock used for the production of crystalline silicon PV, which constituted 90 percent of global PV module production in 2013. In recent years, rapid growth of the PV market has led to the emergence of a dedicated solar polysilicon supply chain, and the solar industry now dominates global polysilicon consumption (estimated 90% in 2014). After enduring a sustained period of severe overcapacity in 2011-2013, pricing rebounded strongly in 2014, and renewed confidence in strong end-market growth in 2014-2016 has prompted the re-start of many previously shuttered plants and the resumption of capacity addition plans in 2015.
In 2013, the top five vendors – GCL, Wacker, Hemlock, OCI and REC – comprised 81% of total worldwide polysilicon production of 215 KMT. This establishes that even with the introduction of many new entrants since 2009, polysilicon production remains concentrated within a handful of firms. Globally, China constituted 35% of 2013 production, followed by the U.S. (24%), Germany (23%) and South Korea (12%), with producers in other regions (primarily Japan) making up the remaining 6%.
FIGURE: Top 15 Polysilicon Firms by 2013 Production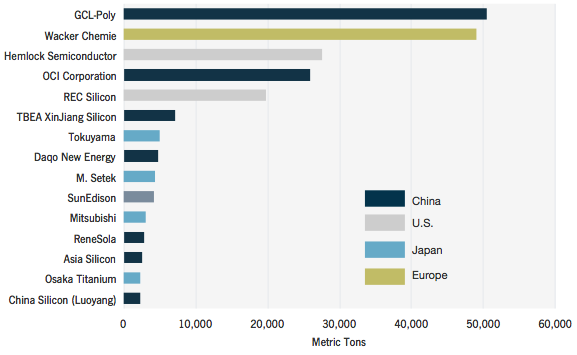 Source: GTM Research
This new report provides a comprehensive overview of today's global polysilicon market, including the current supplier landscape, technology assessments, supply capabilities, manufacturing costs, and silicon utilization trends, as well as pricing and supply-demand outlook through 2018.
Companies covered in the report include:
Asia Silicon | China Silicon (Luoyang) | Daqo New Energy | Elkem Solar | GCL-Poly | HanKook Silicon (Korea Silicon) | Hanwha Chemical | Hemlock Semiconductor | LDK Solar | M. Setek | OCI Corporation | Powertec Energy | Qatar Solar Technologies (QST) | Qinghai Huanghe Hydropower | REC Silicon | ReneSola | Samsung MEMC Polysilicon | Shaanxi Non-Ferrous Metals (Youser) | Shaanxi Tianhong Silicon | Sichuan Yongxiang | Silicor Materials | SunEdison | Taiwan Polysilicon Corp. (TPSI) | TBEA XinJiang Silicon | Tokuyama | Wacker Chemie | Yichang CSG Polysilicon