Discuss your challenges with our solutions experts
Contact an Expert
For details on how your data is used and stored, see our Privacy Notice.
Editorial
The Global PV Inverter and MLPE Landscape 2016: Prices, Forecasts, Market Shares and Vendor Profiles
by Scott Moskowitz
Global PV inverter shipments grew 42% in 2015 to 59.7 GW, up from 42.1 GW in 2014. Shipment growth will be flat in 2016, as the Chinese and Japanese markets level off and the U.S. market works through a build-up of shipments from 2015, but the market will regain steam and grow 11% per year from 2016 to 2020. Overall, shifting global demand, rapidly evolving product preferences and competitive pricing will be key themes moving forward for the dynamic PV inverter industry. The product landscape is rapidly changing as module-level power electronics (MLPE) continue to build market share and decentralized system architectures grow more popular. Three-phase string inverters, long the mainstay of commercial solar markets, will account for 37% of all PV inverter shipments globally by 2020 as they become more commonly used in utility-scale systems.
Pricing additionally continues to fall steadily as technology advances contribute to lower costs. In particular, 1,500-volt inverter technology, higher power density string inverters and rapidly falling microinverter pricing will contribute to further price reductions across all segments over the next several years. The market will additionally continue to consolidate as PV demand spreads to more geographies, resulting in a market with more competitive, globalized pricing.
Regional vs. Global ASPs by Market Segment, 2016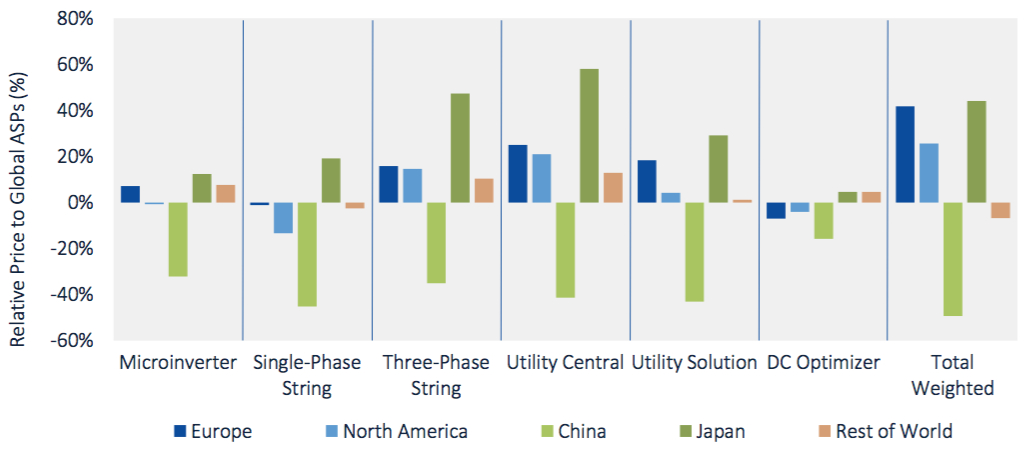 This slide-based report provides a comprehensive look at the global state of the PV inverter and MLPE market, including product forecasts and pricing (both globally and regionally out to 2020), market shares and detailed profiles of leading suppliers.
Vendors profiled include:
ABB | APSystems | Bonfiglioli | Chint Power Systems | Daihen Corporation | Delta Energy Systems | Eaton | Enphase Energy | Fronius | Fuji Electric | Gamesa | GE | Ginlong Solis | GPTech | Hitachi | Huawei | Ingeteam | KACO New Energy | Omron | Power Electronics | Schneider Electric | SMA | SolarEdge Technologies | Sungrow Power Supply | Tabuchi Electric | TBEA SunOasis | Tigo Energy | TMEIC | Wuxi Sineng | Yaskawa-Solectria Solar