Discuss your challenges with our solutions experts
Get in touch
For details on how your data is used and stored, see our Privacy Notice.
Editorial
The Global PV Inverter Landscape 2013: Technologies, Markets, and Survivors
The global inverter market continues to play a major role along the solar PV supply chain with advances in inverter technology promising more sophisticated grid support and system optimization for residential installations up to utility-scale PV projects. Inverter technology development is attracting and will continue to attract greater investment and attention as gains in long-term project generation and reliability become crucial to achieve project bankability.

FIGURE: Global PV Inverter Shipments by Inverter Size, 2011-2016E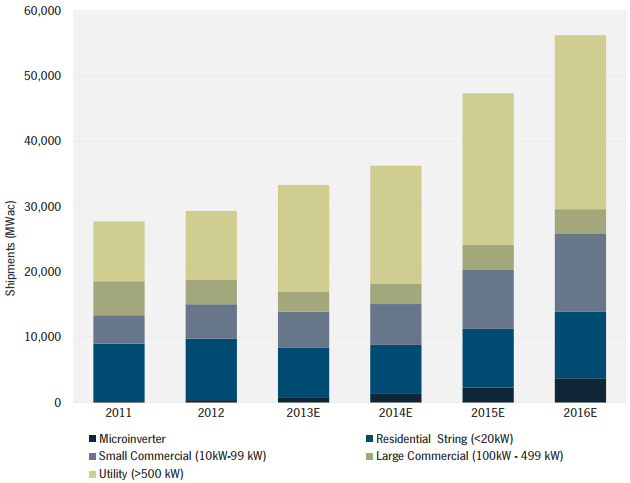 Along with the industry's increasing technology and bankability requirements, global PV demand is expanding to markets in China, India, Southeast Asia, South America and regions of Africa. This expansion of global demand will lead to increased competition and slower growth for EU-based inverter incumbents who do not diversify from their domestic base. At the same time, this expansion is providing new supply opportunities to US- and Asia-based inverter manufacturers and to global energy conglomerates leveraging parallel power inversion competencies.
FIGURE: Global Inverter Taxonomy 2013
This 225-page report allows PV developers and inverter materials suppliers to more accurately assess the current and future state of the inverter market, as well as to discover new businees opportunities available to them in the industry. The report includes an outlook on advanced inverter technologies, technology cost forecasts to 2016, market hospitality by region, vendor rankings and competitive analysis, and global shipment forecasts by technology to 2016.
This report is structured into eight sections. Brief descriptions of each section are below.
SECTION 1 contains the report's Executive Summary.
SECTION 2 details current inverter technology and applications, including the fundamental engineering and mechanisms behind converting DC electricity from solar arrays to AC electricity suitable for the grid and end- user loads. This section details the current major value-added functions of inverters beyond AC-DC conversion, including the introduction to different maximum power point tracking topologies.
SECTION 3 discusses the trend toward advanced grid support requirements and the inverter's ability to unlock additional features for the coming smart grid.
SECTION 4 dives into the nascent but crowded distributed optimization space and includes cost-benefit analysis, market drivers, and technology differentiation amongst more granular optimization players.
SECTION 5 discusses cost and competitive trends in the inverter market and how incremental benefits in technology affect system costs. In addition, this section reviews the economic and reliability value of new features that do not necessarily directly increase system energy harvest. Section 5 seeks to answer how new and established players can establish and reaffirm bankability and competitiveness.
SECTION 6 contains an overview of the competitive supply market and the challenges and opportunities faced by the different categories of inverter suppliers. It also contains capacity and production data for the global market and key manufacturers. A key focus within this section is the market share controlled by the major vendors. The section also introduces new players that may threaten the status quo, either through new technology or greater capital/investment.
SECTION 7 highlights the demand for inverters in the next four years, broken down by region and market segment with commentary on trends in major markets.
SECTION 8 draws upon earlier sections, highlights top-level findings and provides key takeaways for decision-making.
Companies Analyzed Include: ABB • Actuant • Advanced Energy • AEConversion • AEG (3W) • AETI • Alencon • Ampt • Apparent • ArrayPower • Azuray • Bonfiglioli • CEHE • Chint Power • Danfoss • Darfon • Delta Energy • Diehl AKO • DirectGrid • Eaton • eIQ • Eltek Valere • Emerson/Control Techniques • Enecsys • Enphase Energy • Fimer • Fronius • Gamesa • GE Energy • Ginlong • Goldwind • GoodWe • GPTech • Growatt • Hyundai Heavy Industries • Ideal Power Converters • Ingeteam • Involar • KACO New Energy • Kostal • Leonics • LTi REEnergy • Magnetek • Mitsubishi Electric • Motech • Nextronex • Omron • Padcon • Pairan • Panasonic • Petra Solar • Power-One • Powercom • Princeton Power • Samil Power • Santerno • Schneider Electric • Siel • SMA • Solar Power Technologies • SolarBridge Technologies • SolarEdge • Solarmax (Sputnik Engineering) • Solectria • Solutronic • Sparq • Steca • STMicroelectronics • SunGrow • Sunways (LDK) • Sustainable Energy Technologies • TBEA SunOasis • tenKsolar • Tigo Energy • TMEIC • Toshiba • voltwerk (Bosch) • Woodward IDS