Discuss your challenges with our solutions experts
Get in touch
For details on how your data is used and stored, see our Privacy Notice.
Editorial
The Soft Grid 2013-2020: Big Data & Utility Analytics for Smart Grid
With the introduction of big data and analytics to the utility industry, the potential of smart grid has shifted dramatically from the original aim of adding a myriad of new applications toward a complete re-invention of the utility business. We are now moving into a market where the spotlight will be on the data analytics software that will allow utilities to track, visualize and predict -- the core elements of what GTM Research calls, The Soft Grid.

In terms of market adoption, GTM Research forecasts cumulative global spending on smart-grid-related analytics to top $20.6 billion between the years 2012 and 2020, with an annual spend of $3.8 billion globally in the year 2020. We estimate that for utilities deploying these technologies, the achieved return on this investment will exceed $121.8 billion globally over the same nine-year time period.
FIGURE: Global Utility Analytics Spending, 2012-2020
Driving growth are data technologies, ranging from open-source data management platforms like Hadoop, to massively parallel processing (MPP) big data appliances, to predictive analytics now catching fire in every industry, to the cost improvements and enhanced performance of underlying data storage and infrastructure layer. Supporting this shift is a rich ecosystem of vendors. While the biggest names in IT are positioning themselves to be at the head of the class, it is becoming apparent that there will be several seminal companies that will be launched in this Soft Grid space, to which utilities will look for new products and services.
FIGURE: Leading Vendors in Soft Grid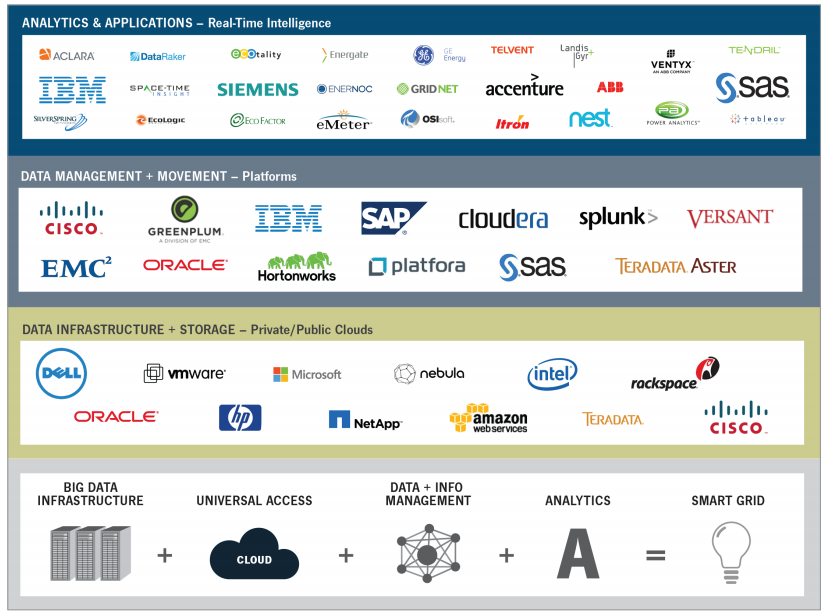 This 133-page report is the first of its kind to take a competitive and strategic look at the smart grid market's next big growth market.

Companies Analyzed Include: ABB • Accenture • Aclara • Amazon Web Services • Cisco • Cloudera • DATAllegro • DataRaker • Dell • Echelon • EcoFactor • Ecologic Analytics • ECOtality • EMC • eMeter • Energate • EnerNOC • GE • Greenplum • Grid Net • Hadapt • Hewlett Packard (HP) • Hortonworks • IBM • Intel • Itron • Karmasphere • Landis+Gyr • MapR • Microsoft • Nebula • NetApp • Netezza • Opower • Oracle • OSIsoft • ParAccel • Platfora • Power Analytics • Rackspace • SAP • SAS • Siemens • Silver Spring Networks • Space-Time Insights • Splunk • Tableau Software • Telvent • Tendril • Teradata • Ventyx • Versant • Vertica • VMWare

Utilities Analyzed Include: Burlington Hydro • CenterPoint Energy • Florida Power & Light (FPL) • Oklahoma Gas & Electric (OGE) • Oncor • PECO • San Diego Gas & Electric (SDG&E) • Southern California Edison (SCE)