Discuss your challenges with our solutions experts
Get in touch
For details on how your data is used and stored, see our Privacy Notice.
Editorial
U.S. Solar Carport Market 2014-2018: Landscape, Outlook and Leading Companies
The solar carport market has become an increasingly substantial sector within the non-residential solar market and the United States solar industry as a whole, growing to 157 MW in 2013. 2014 is expected to be the fourth consecutive year during which greater than 100 MW of solar carport installations were installed. Historically seen as a niche market, recent growth is attributed to falling system prices as well as a shift in the value proposition of solar carports themselves towards educational, government, and non-profit customers aiming for targeted savings on electricity bills. Developers have used this tactic and have exploited state-level incentives to grow the market at a CAGR of 45% from 2010 to 2014.
FIGURE: U.S. Solar Carport Installations by Customer Type, 2010 – 2014E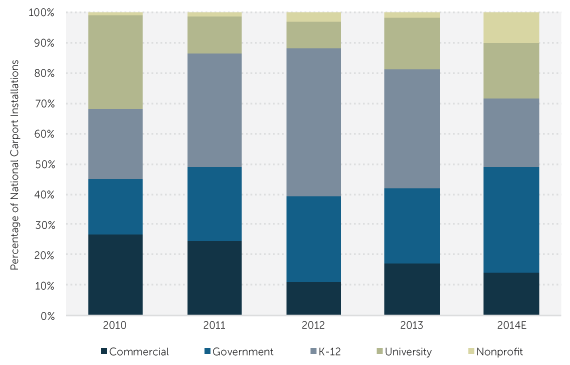 Source: Wood Mackenzie Power & Renewables
GTM forecasts that the market will continue to grow year over year until the drop off in the federal investment tax credit in 2017. Growth in the market and low perceived barriers to entry have made the market increasingly crowded, and this report provides a clear picture into the current landscape of the industry and expectations for where it is headed.
This 61-page report analyzes trends in the carport market including:
Historical installations and forecasts nationally and for major state markets from 2010 to 2018
State by state strategic market analysis
System pricing breakdowns for solar carport projects and forecast to 2018
Technology overview and cost reduction opportunities
Competitive analysis and market shares of major companies in the solar carport market
Companies mentioned include:
Baja Construction | Borrego Solar | Build Group | Carport Structures Corporation | Chevron Energy Solutions | Crider Americas | Cupertino Electric Inc. | Envision Solar | Gamechange Racking | Lumos Solar | Main Street Power | Martifer Solar | MasTec | MBL-Energy | M Bar C Construction | McCalmont Engineering | Melink | Meridian Solar | NRG Solar | Orie2 Engineering | Orion Solar | Park 'N Shade | Patriot Solar Group | PowerParasol | ProtekPark Solar | PsomasFMG | PV Racking | REC Solar | Rosendin Electric | Schletter | Shoals Technologies Group | Skyline Solar | Solaire Generation | SolarCity | SPG Solar | SunDurance Energy | SunEdison | SunLight General Capital | Sunora Energy Solutions | SunPower | SunWize | Vanguard Energy Partners Inc. | Weitz | West Coast Iron, Inc.