The Top 5 Reasons Investment Banks:
Choose Wood Mackenzie to Power Their Metals Advisory
At Wood Mackenzie we partner with our customers to provide the data, analytics, and insight they rely on to inspire their decision making and, ultimately, accelerate the world's transition to a more sustainable tomorrow.
Discuss your challenges with our solutions experts
Embrace the energy transition with a metals and mining trusted partner
As the world moves towards a low-carbon future, the energy industry is undergoing a massive transformation. Investment banks need reliable and accurate data to make informed decisions about financing this transition.
Wood Mackenzie is the go-to source for investment banks looking for insight and analysis behind mined commodities driving their sustainable advisory initiatives, and enabling organizations to work towards a net-zero future.​ In this PDF, we will explore the top 5 reasons why investment banks choose Wood Mackenzie to help them navigate the rapidly evolving commodities market.
From unparalleled industry expertise to innovative data analysis tools, you'll discover why Wood Mackenzie is the trusted partner for investment banks looking to capitalize on the opportunities presented by the energy transition.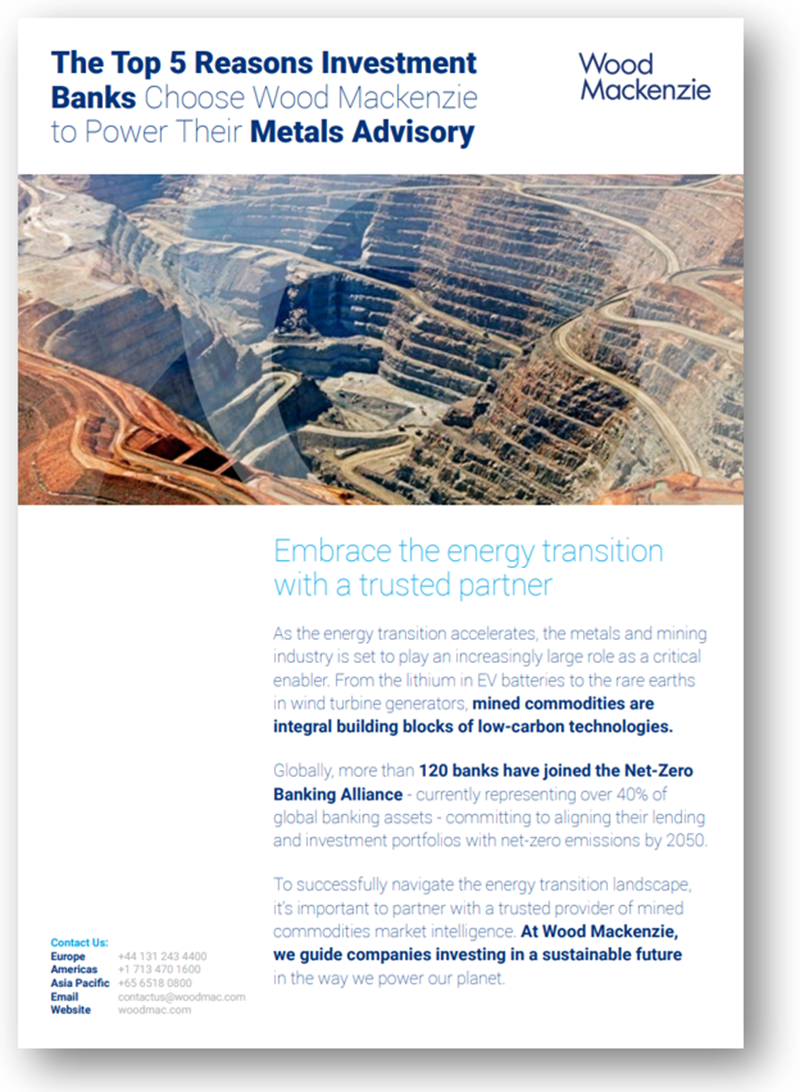 Interested in learning more?
We have increased our coverage of assets - providing ever-more granular insights – and now include enhanced long-term forecasts and monthly short-term outlooks for all major metals and mined commodities. Gain direct access to our analysts for a 2-way conversation. Delivering a quick turnaround on requests and queries, consider us an extension of your team!
"Wood Mackenzie is 'bankable' in clean energy data and insight."
— Leading global investment bank