Now four years in the making, Mexico's energy market reform has met several key milestones. In the power sector, three highly successful long-term auctions have delivered new wind and solar projects at sequentially lower prices and reached eye-popping prices near US $20/MWh in the latest edition.
At the launch of the spot energy market in 2016, prices ranged US $40-60/MWh across the main Sistema Interconectado Nacional (SIN) grid, but in the summer of 2017 and continuing into 2018, day-ahead prices have soared as gas pipeline construction delays have collided with declining domestic production to push oil-fired generation back into marginal duty, particularly during periods of high demand.
Monthly average LMPs by region/hub (US$/WMh)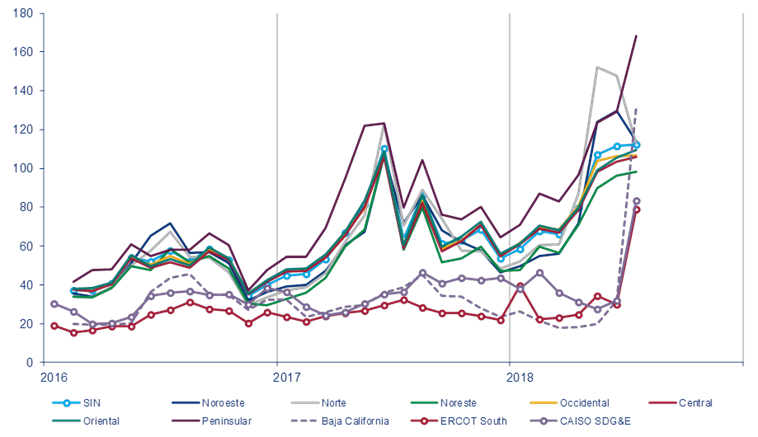 With today's relatively strong fundamentals south of the border and comparatively weak fundamentals in ERCOT (Electric Reliability Council of Texas), US-Mexico power interconnection has garnered new attention precisely as FERC's decision that DC ties between ERCOT and Mexico would not invoke federal oversight for Texas' power market.
In related efforts, CFE (Comisión Federal de Electricidad) has raised the possibility of tolling agreements with US-based generators in which surplus US pipeline capacity could feed gas-fired generation in the US in order to wheel into Mexico via power transmission.
In this insight we discuss the prospects of interconnection between the US and Mexico along with ongoing plans to link Baja California to the Mexican SIN grid, with a focus on fundamentals and emerging transmission constraints.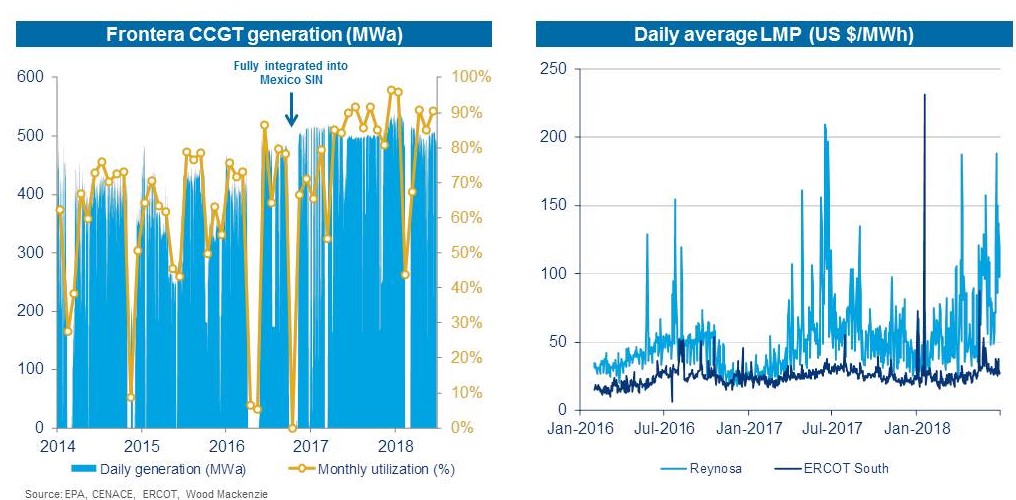 Overall, we expect targeted cross-border ventures to continue, but the scale of the markets being interconnected, the current slate of existing and proposed projects, and inevitable public opposition, massive cross-border power flows appear several years away.