Products & services
能源转型服务
全球能源平衡变化时,量化成熟市场和新兴市场中的需求、供应及净贸易波动
Overview
Emissions targets set under the 2015 Paris Agreement – and new pledges under the Glasgow Climate Pact – have far-reaching and material implications for the long-term corporate strategies of every player in the energy and extractive industries. With the potential of carbon costs emerging in a range of countries, scrutiny of corporate emissions footprints and value at risk will continue to increase.
The Emissions Benchmarking Tool provides transparency at the asset and corporate level for Upstream, Downstream and Metals & Mining to enable a comprehensive assessment of emissions-related risks and opportunities. Including scope 1 and 2 emissions data with scope 3 coming soon.
Complete the form at the top of the page to discuss your emissions needs with one of our experts or download our brochure.
Emissions profiles

Asset-by-asset forecasts for Upstream, Downstream and key Metals & Mining value chains

Carbon policy risk

Assess the likelihood and stringency of carbon regulation on the Oil & Gas sector in 90+ countries

Financial liability

Compare value at risk under different carbon prices and regulatory risk assumptions
Oil and Gas
Asset by asset emissions forecasts for global upstream assets and refineries
Leverage Wood Mackenzie's proprietary database of 31,000+ upstream assets and strategic refinery simulation model
Assess the likelihood and stringency of carbon regulation on over 90 oil and gas producing countries
Understand how your portfolio and assets compare with peer portfolios or assets
Understand emissions profiles and risks associated with acquisition targets
Inform strategic decisions on portfolio composition and mitigation opportunities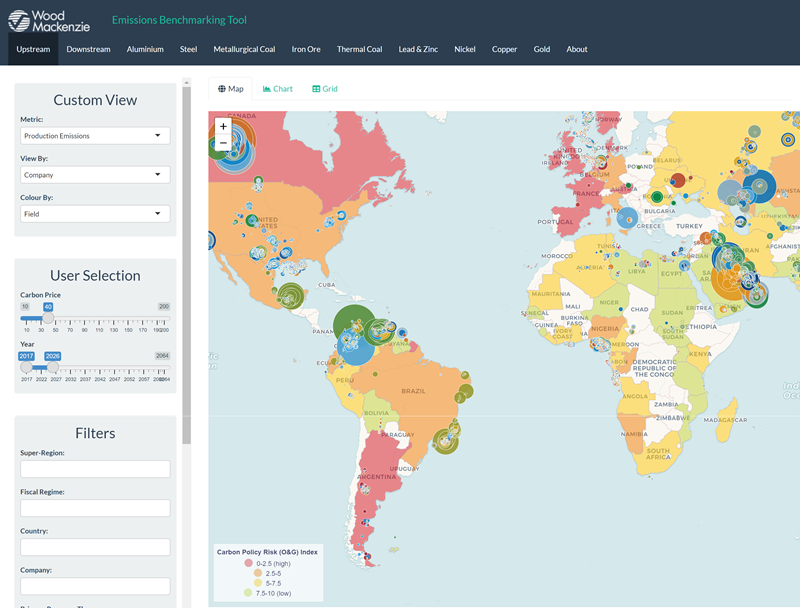 Metals and Mining
Asset by asset emissions forecasts for the key metals and mining value chains and analyse how you can reduce emissions to meet targets
Leverage Wood Mackenzie's comprehensive industry coverage of over 3,600 metals and mining operations
Assess the likelihood and stringency of carbon regulation on the metals and mining sectors in 62 countries
Understand how your portfolio and assets compare with peers portfolios and assets
See the global emissions footprint of the metals and mining industry
Develop portfolio and investment strategies based on a solid understanding of opportunity and risk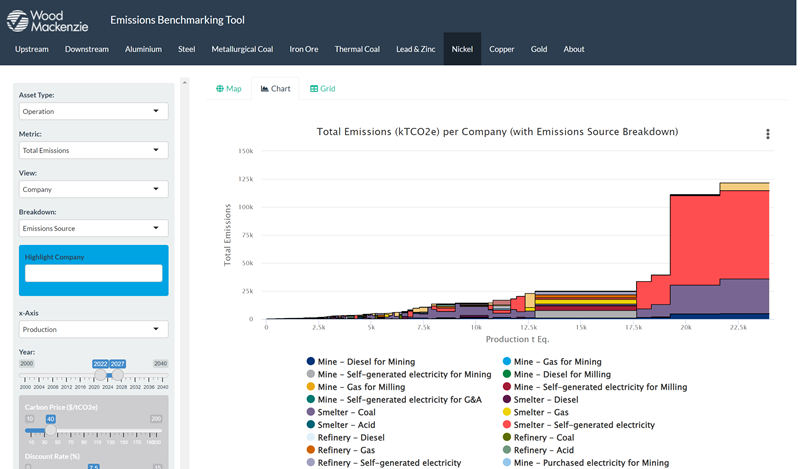 助您
深入了解燃料结构将如何演变并影响石油、天然气、煤炭、核能和可再生能源
了解90多个国家的市场发展
识别新市场的投资机会
了解有关政策、法规、价格、发电和基础设施的信息