Discuss your challenges with our solutions experts
Get in touch
For details on how your data is used and stored, see our Privacy Notice.
Editorial
Solar PV Balance of System (BOS) Markets: Technologies, Costs and Leading Companies, 2013-2016
by Stephen Smith, MJ Shiao
Given the state of the global solar PV market, much of the industry's attention has turned to BOS manufacturers to achieve the step-function reductions needed to help solar power deliver energy at or below costs of other generation resources. As a result, BOS manufacturers around the globe are being challenged to offer products at reduced prices, in addition to providing value-added benefits like professional engineering services, highly integrated components and lengthy, robust product warranties.
Figure: FIGURE: BOS Cost Breakdown 10 MW Fixed-tilt Projects in U.S., c-SI vs. CdTe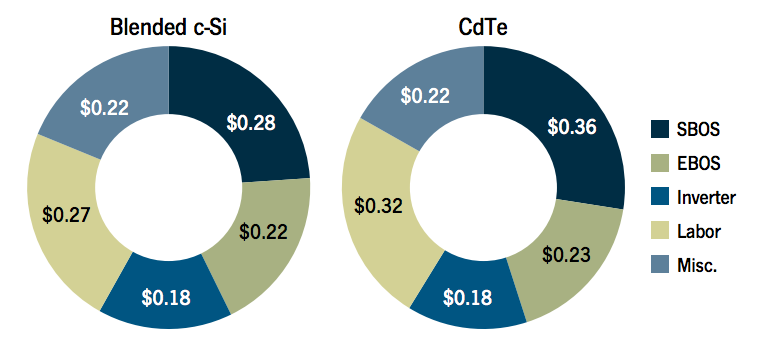 Source: GTM Research, Solvida Energy Group, Inc.
Not all companies will successfully navigate the next few years. BOS manufacturers are tasked with a difficult set of objectives in order to grow profitably and succeed in a marketplace that expects them to deliver on highly aggressive cost targets within a short period of time. Like the module manufacturer segment, the BOS industry is enduring consolidation amongst companies with complementary offerings and liquidation of other companies that cannot maintain the cost reduction curves in a profitable manner.
FIGURE: BOS Market Taxonomy
Source: GTM Research, Solvida Energy Group, Inc.
Other challenges facing the global BOS manufacturing industry include jurisdictional differences between key markets in the U.S., Germany, Italy, India, China and Australia, which result in the inability of BOS manufacturers to offer single, standardized designs for their products.
FIGURE: BOS Cost Comparison by Region, 10 MW Fixed-tilt c-Si System, 2012-2016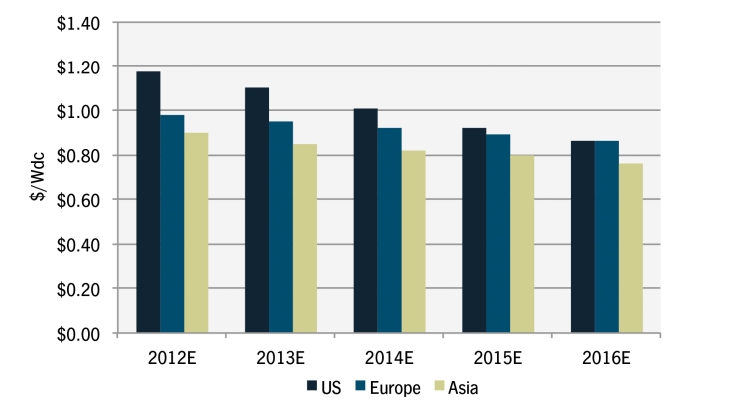 Source: GTM Research, Solvida Energy Group, Inc.
This 162-page report is the industry's definitive outlook on global BOS markets, BOS component innovation and the survivability of leading BOS players. The report includes market sizing for both structural and electrical BOS as well as total BOS demand forecasts by market segment (residential, non-residential, utility) and major national market (Germany, Italy, Rest of Europe, China, Japan, India, Rest of Asia and the U.S.). The report also offers BOS cost roadmaps for c-Si and CdTe, fixed-tilt and axis-tracking, and residential, commercial and utility projects.
Companies Analyzed Include: A+F GmbH • ABB • AMtec • Array Technologies • AZTEC Engineering • Bechtel • Belectric • Bentek • Black & Veatch • Blue Oak PV Products • Conergy • Cooper B-Line • Deger Energie • DPW Solar • ERCAM • Exosun • First Solar • Fluor • Gestamp Solar • HatiCon • Krinner • Marelco • Martifer • Mecasolar • MidNite Solar • Mounting Systems GmbH • National Semiconductor • Panel Claw • Phoenix Solar • Praxia Energy • PV Trackers • Quanta Renewables • Ray Tracker • SAPA Extrusion • Satcon • Schletter • Shoals • SMA • Solar BOS • SolarEdge • Solea AG • Solon • SunLink • SunPower • Swinerton, Inc. • Tigo • Titan Tracker • Tyco (TE Connectivity) • Unirac • White Construction • Zep Solar