Discuss your challenges with our solutions experts
Get in touch
For details on how your data is used and stored, see our Privacy Notice.
Editorial
The Networked Grid 150: The End-to-End Smart Grid Vendor Ecosystem Report and Rankings
by David J. Leeds
What does 2012 hold for the smart grid market? With global utilities on the precipice of large-scale smart grid technology deployment, vendors are proliferating and evolving to meet the requirements of their utility customers. As a result, utilities are flooded by solutions providers vying for their business and are now approaching a series of strategic crossroads that will set the course of their smart grid roadmaps.
As utilities and vendors alike make a flight toward quality in 2012, GTM Research is publishing the The Networked Grid 150 report, the industry's compendium of leading players, vendor rankings, competitive positioning and market forecasts for each smart grid segment.
Figure: The Networked Grid 150 Vendor Taxonomy: Leading Players by Market Segment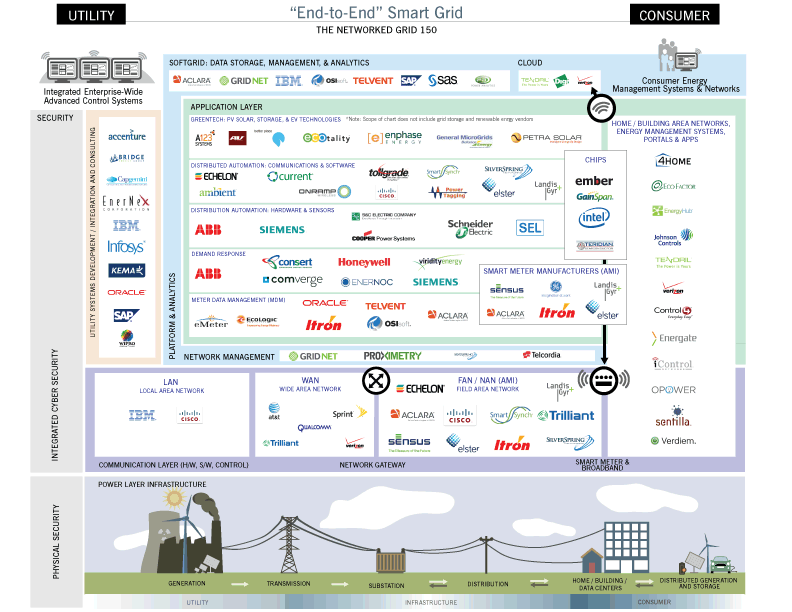 Source: GTM Research
With this report, GTM Research is examining the ocean of vendors competing today in the smart grid space, with an emphasis on the two largest "first mover" markets of North America and Europe.
The report includes profiles and analysis on the top 150 vendors that are both the market's most influential and most promising based on market presence, integrated strategy, customer portfolio, recent financial developments, and, primarily, their core technology offerings.
Figure: The Networked Grid 150 in Images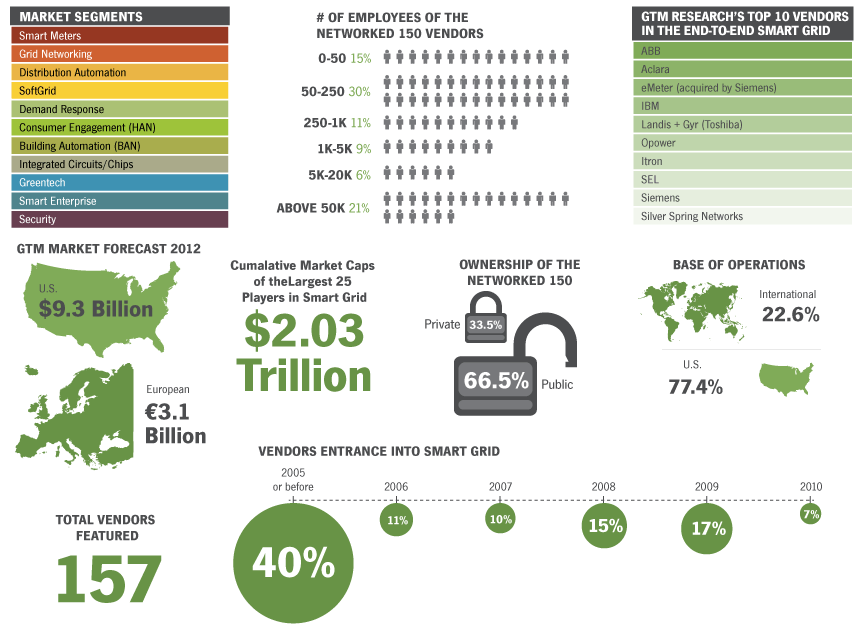 Source: GTM Research
Report Methodology
Vendors included in the report have been selected based on a number of criteria, leading us to believe that they qualify for inclusion in the top 150. Factors include, but are not limited to:
The company's potential for success, judging by how well its current and planned technology offerings are aligned with the trends and needs of the market.
Financial developments such as revenue growth, key acquisitions, and available/recent injections of capital.
Degree of establishment within the smart grid market, in terms of both existing and potential contract portfolio, as well as key partnerships.
Activity and presence in the smart grid market and the media.
Developments within the past year have been given specific attention, but earlier developments have also been taken into account, as well.