Assessing the threats, challenges and long-term outlook for the airbag-yarn industry
The global airbag business has seen tremendous growth over the past decade. However, specialist airbag yarn faces threats from substitute products and major supply challenges. This report focuses primarily on the PA66 Nylon Industrial Filament industry (commonly favoured for use in airbags), and provides a comprehensive assessment on the changing market dynamics and the outlook for the next five to 10 years.

Inside this report:
Supply shock: How is the industry recovering from the longer-term impact of raw material shortages?
Coronavirus: How is the industry coping with Covid-19's impact on production and demand?
Threats and challenges: How the growing use of polyester is shaking up the industry.
Polymer prices: Assessing the market for airbag yarn and margins per tonne across the Americas, Asia and Europe.
Production and consumption. Analysing the projected capacity and mill consumption of PA66 by plant, country and region.
What's driving demand? Forecasts on auto manufacturing by region and the implications for air bag orders.
The ones to watch: Profiles of the leading producers by region.
Did you know?
The threat of polyester is growing
At half the cost of nylon, there have been efforts to introduce polyester yarns in every nylon industrial market and there its use in airbags has been steadily growing. Changes to raw material prices and concerns over supply shortages, coupled with module assemblers becoming more accustomed to the new components required for polyester airbags, mean that the airbag industry is now expected to push harder for further polyester substitution for nylon that was previously thought.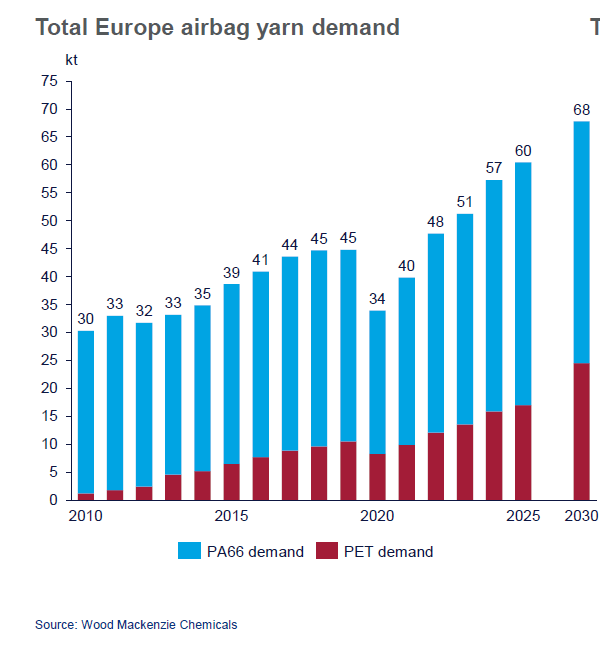 A raw material production revolution is on the way
Adiponitrile (ADN) is an essential component of PA66 but has been in short supply (all four dominant ADN producers suffered force majeure events in 2017/18). Huge investment to combat this includes new production plants, with the major focus in China and could lead to increased rationalisation for yarn suppliers and weavers. As the first of these ADN plants becomes active, we expect suppliers to begin efforts at locking in their customers, signing longer-term contracts at attractive prices.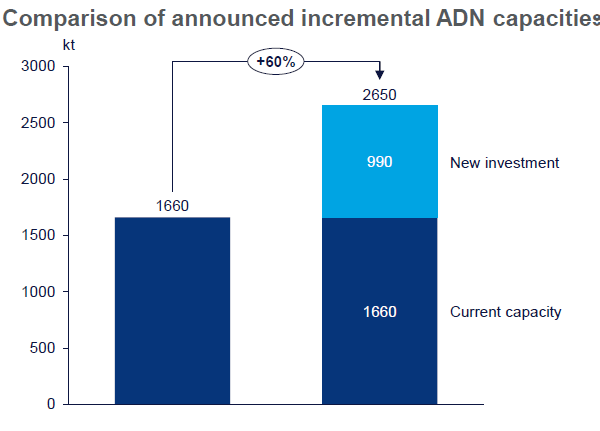 Got a question about this report?
Rob Gilfillan, Head of Applications – Fibres, Films & Flexible Packaging, and his team will be happy to answer your queries. Get in touch by filling in the form at the top of this page
30 September 2020
Global Airbag Yarn and Fabric Markets 2020
Report summary
This detailed 98-page report looks at the Global Airbag Market, which has shown significant growth driven by longer-term expansion in auto builds and steadily improving airbag fitment rates in cars. The Covid-19 pandemic has inflicted grievous damage on 2020 patterns of demand and the full implications for airbag yarn activity are only now becoming evident. Although key market drivers will slowly re-assert themselves, it will be 2022 before the pre-Covid market volumes for airbag yarns are exceeded. The Report also indicates significant differences in regional market experience and their respective recovery trajectory for the airbag sector. This is the comprehensive and authoritative guide to the strategic evolution of this critical automotive safety sector. The report offers detailed analysis of airbag industry structures, business dynamics, yarn and raw material pricing, and key company positioning.
Table of contents
Objectives of Global Airbag Yarn and Fabric Market Report
Tables and charts
No table or charts specified
What's included
This report contains:
Fibres - Global Airbag Yarn and Fabric Markets_2020.pdf

PDF 3.36 MB
Browse reports by Industry Sector