EVENT
Energy & Natural Resources Summit: Americas 2022
3 November 2022
9:00 AM - 6:00 PM CT
Houston, USA
Interested in our event? Contact us to learn more.
Agenda
9:00 AM - 9:05 AM
Welcome and Introduction
9:05 AM - 10:05 AM
Panel Discussion: What does the new geopolitical order mean for the energy and natural resources?
How will higher energy costs impact the global supply and demand outlook for oil, gas, coal and metals?

What opportunities are being opened up by the new global focus on energy security?

What does the crisis mean for the pace of the transition to lower-carbon energy?
Ann-Louise Hittle
Vice President, Oils Research
Wood Mackenzie
10:05 AM - 11:05 AM
Panel Discussion: How will E&P companies respond to surging oil and gas prices?
What growth targets will E&Ps set for 2023?

Will investors reward more ambitious plans for expansion, or continue to insist on capital discipline?

How fast will shortages of labor and equipment in the supply chain ease?
Robert Clarke
Vice President, Upstream Research
Wood Mackenzie
11:05 AM - 11:30 AM
Coffee Break
11:30 AM - 12:30 PM
Panel Discussion: How has the outlook for North American gas been changed?
Can US gas prices remain at elevated levels?

How are LNG exports affecting the dynamics of US gas markets?

How will higher gas prices affect the competitive landscape in the power sector, relative to coal, nuclear and renewables?
12:30 PM - 1:30 PM
Lunch Break
1:30 PM - 2:30 PM
Panel: What should we expect from US energy policy after the midterm elections?
What are the prospects for bipartisan energy legislation?

How will energy security priorities, for America and the world, influence the decisions taken by the Biden administration and regulators?

Which sectors can expect additional support, in tax breaks and regulatory changes?
David Brown
Head of Markets and Transitions, Americas
Wood Mackenzie
2:30 PM - 3:30 PM
Panel Discussion: Which low-carbon technologies have the brightest prospects?
Which low-carbon energy technologies will show the strongest growth over the next few years? And which will offer the best returns?

When will the growth of renewable energy start to hit limits in the US?

Where are current and future administrations likely to place their bets in terms of policy support?
3:30 PM - 5:00 PM
Panel Discussion: How fast will EVs destroy demand for gasoline and diesel?
How much of an impact will EVs have on oil demand over the coming decade?

What are the consequences for the refining industry in North America?

Will production of lithium, cobalt and nickel be able to keep up with surging demand for EVs?
5:00 PM - 6:00 PM
Networking Session with Drinks
Speakers
Interest in speaking at our upcoming conference?
Be part of the conferences' story and share your most recent findings and challenges to industry peers. Unveil your thought leadership expertise and distribute your latest white papers to a crowd of targeted individuals.
To learn more contact us by filling in the contact us form or events@woodmac.com
Event Location
The Energy & Natural Resources Summit: Americas will be held in the Energy Corridor, in Houston.
Full venue details will be shared within the confirmation email when signing up for the event.
Wood Mackenzie Event Health & Safety Guidelines/Policies*
Wood Mackenzie is committed to providing a safe and healthy environment for all event participants. Our decisions and preventive measures will be guided by the requirements and recommendations of the local authorities. We will be working closely with the venue to implement preventative measures to reduce the potential spread of the COVID-19 at the event. Preventive measures include:
Masks are strongly encouraged by all event participants at all times
Enhanced sanitisation of meeting and exhibit spaces
Extra venue space to allow for social distancing in meeting space
Hand sanitising stations throughout the meeting and exhibit spaces
Masks and testing kits will be available if needed
The responsibility for a safe and healthy event environment is shared among the event organiser, venues and every participant. All participants are expected to adhere to and abide by the safety precautions Wood Mackenzie is implementing to protect against the spread of COVID-19.

As part of your responsibilities, you should not attend the event if you:
are experiencing, or within the 10 days prior, have experienced signs and symptoms of COVID-19.
have travelled to any high COVID-risk area in the last 10 days
believe that you may have been exposed to a confirmed or suspected case of COVID-19.
have been diagnosed with COVID-19 and are not yet cleared as non-contagious by the health care team responsible for your treatment.
Summit attendees should self-monitor for signs and symptoms of COVID-19 and are asked to contact the Events Team at conferences@verisk.com if they experience symptoms of COVID-19 within 2 days after the event. Should any positive cases be reported, Wood Mackenzie will communicate this information to all registered participants. Any private health or personal data received will be treated as confidential.

Please note that by checking the box during the online registration process, you agree to adhere to the precautions and policies above and understand that you are knowingly and freely assuming all risks related to illness and infectious diseases, such as COVID-19, by attending this event. You understand that refusal to adhere to these policies and abide by these precautions may result in immediate removal from the event and cancellation of the registration, without receiving a refund.
*All Wood Mackenzie policies are subject to change. Should changes be made, a notification will be sent to all registered attendees.     
Why attend?
2022 themes
What does the new geopolitical order mean for the energy and natural resources industries?
How will companies respond to surging oil and gas prices
Which low-carbon technologies now have the brightest prospects?
Who should attend?
IOCs, NOCs, Institutional Investors and Investment Banks, Utilities, E&P, Power & Renewables Developers, Independant Downstream, Metals & Mining, Gas & LNG, Upstream oil & gas
Networking opportunities:
After two years of virtual Summits, we are excited to be back in person for this year's event! Be part of a global network; connect, learn and share with the Wood Mackenzie team and fellow industry peers.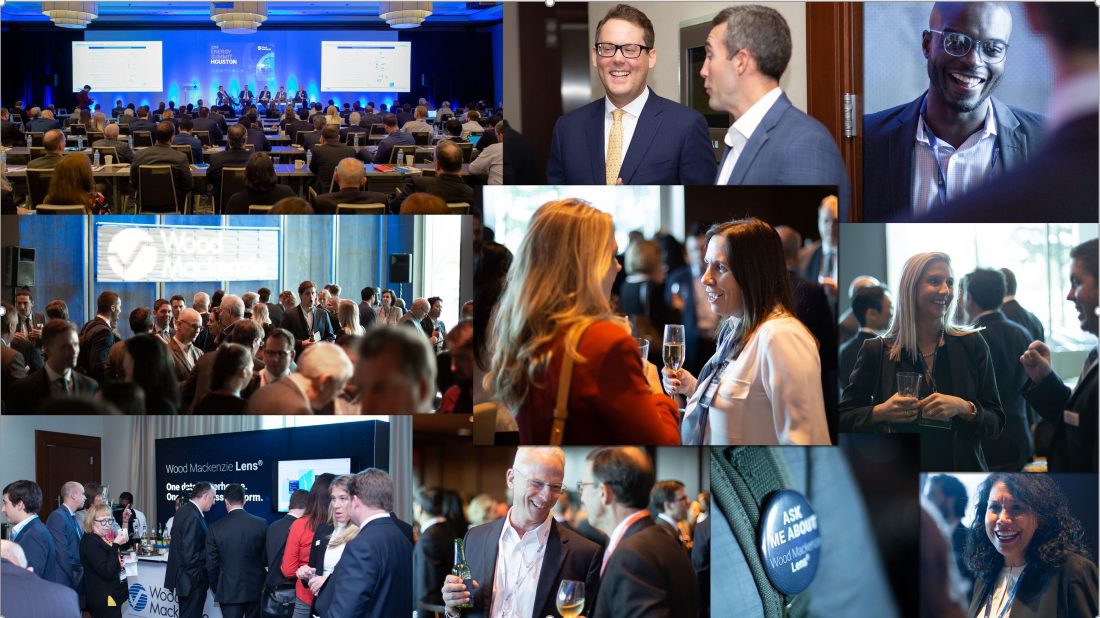 Past attendees include:
Air Products and Chemicals, APA Group, Apache, Apex International Energy, Baker Hughes, Boardwalk Pipeline, bp, California Resources Corporation, CenterPoint Energy Service Company, Chevron North America E&P, CNOOC Petroleum USA (Nexen Petroleum USA), ConocoPhillips, CPChem, Crestwood Midstream Partners LP, Deloitte & Touche, Enable Midstream Partners, Enbridge, Energy Spectrum, Energy Transfer L.P., ENI, Equinor, Expro North Sea Ltd, ExxonMobil Corporation, EY, First Solar, Inc., Five Point Energy, Hess, HollyFrontier Corporation, HSBC, Invenergy, ITOCHU Corporation, JX Nippon Oil & Gas Exploration Corporation, Kosmos Energy, LNG Freeport Development L P, Macquarie, Mitsui Oil Exploration, Mitusbishi Heavy Industries America, Moda Midstream, Murphy Exploration & Production Company, NextEra Energy Resources, Noble Energy Inc., Osaka Gas USA Corporation, Petroleos Ebano, Quarter North Energy, Renova, Repsol, Schlumberger, Scotiabank, Scout Energy Partners, Shell, SK Innovation, Sumitomo Corporation, Technip Energies, Tellurian Inc., TGS, TotalEnergies, Wood PLC, WTS Energy, and more
Ann-Louise Hittle
Vice President, Oils Research
Wood Mackenzie
Ann-Louise Hittle brings to Wood Mackenzie over 25 years of experience in analysing global oil markets. Her career began with Gulf Oil, where she focused on OPEC and markets in Asia. She then worked as a Middle East/Oil Markets research associate with Kissinger Associates and a Senior Oil and Gas Futures Analyst with Shearson Lehman Brothers. During her decades in the industry, Ann-Louise established an international reputation for her analyses of short- to long-term oil markets. Prior to joining Wood Mackenzie, Ann-Louise worked at Cambridge Energy Research Associates, where she was Research Head of the Upstream Oil Service with responsibility for world oil market analysis and writing long-term scenarios. After joining Wood Mackenzie in 2003, she directed the development of the Macro Oils Service, launched in April 2005, and led it until her promotion to Vice President. In addition to overseeing the oils research team, Ann-Louise is a frequent contributor to numerous industry publications and conferences, where she shares her trusted insights on the futures of oil markets. Ann-Louise's extensive experience and deep understanding of Middle East markets make her an invaluable member of the Wood Mackenzie team. With oil markets becoming more complex due to production cuts and the growth of renewables, her guidance helps our research team provide clients with timely, accurate market outlooks.
Robert Clarke
Vice President, Upstream Research
Wood Mackenzie
Robert leads our US onshore research, with a particular focus on the evolution of the tight oil sector. He specialises in geologic play description, portfolio valuation, operator benchmarking, and sector trend analysis. Robert joined Wood Mackenzie in 2005 as an original member of the Houston-based Lower 48 Upstream Research group, where he led the modelling of the Barnett, Eagle Ford, and Haynesville plays. He has worked on upstream consulting projects that range from tight oil asset opportunity screenings for the Majors, to due diligence shale gas work for private equity-led M&A. He is a frequent speaker and panel moderator at industry conferences, and an adjunct professor in the Energy MBA program at the Neeley School of Business at TCU in Fort Worth. Prior to joining Wood Mackenzie, Robert was a geologist at a private engineering firm in Houston.
Ed Crooks
Vice-Chair Americas
Wood Mackenzie
Ed Crooks joined Wood Mackenzie in 2019 as Vice-Chair, Americas. Based in New York, he covers the full range of commodities, technologies and sectors, with a particular focus on climate policy, economics and the energy transition. He writes Wood Mackenzie's popular Energy Pulse newsletter, analysing the latest developments in the world of energy. Before Wood Mackenzie, he was an award-winning energy editor for the Financial Times, first in London and then in New York. He joined the FT in 1999 as economics editor. He previously worked as an economics correspondent for BBC News, a reporter for Investor's Chronicle magazine, and an economic researcher at the Institute for Fiscal Studies. He also served on the UK government's Sustainable Development Commission.
David Brown
Head of Markets and Transitions, Americas
Wood Mackenzie
David is the Americas lead for our Markets and Transition group, part of the broader Energy Transition Practice at Wood Mackenzie. He began his career with Wood Mackenzie in 2011 as an analyst covering European markets. From 2014-2016, he was posted in Wood Mackenzie's Beijing office where he led the integration of our China energy research across 20+ analysts. He presented regularly on China's energy sector, gas and LNG markets. Leveraging his global experience across multiple areas of the energy industry, David transitioned to Wood Mackenzie's Houston office in 2016. He is a key author of Wood Mackenzie's Energy Transition Outlook, Accelerated Energy Transition and 2-Degree Scenarios. He regularly advises strategy groups, company leadership teams, and sustainability teams on major long-term questions facing energy markets.