Editorial
IoT technology will protect the power grid from EV overload
Electric vehicle (EV) adoption is on the rise. As the cars of the future pull more electricity from the grid, utility companies must examine ways to build new capabilities and partnerships to integrate grid operations. Could IoT technology be the solution?
Over the last generation, utilities have faced new hurdles with each decade's new, disruptive technology. There is great opportunity behind the wheel of the EV revolution, although potential speedbumps are still ahead.
Electric vehicle charging: creating revenue
Regulated utilities in the US can boost revenue through three primary EV value chains:
Energy revenues: For utilities providing regulated electricity to retail services, EVs offer a welcome a new source of load, and with it, income.
Smart charging and vehicle-to-grid (V2G) operations: Smart charging and V2G programs will enable utilities to tame uncontrolled charging, enhance overall system use, and provide an outlet for excess supply of renewable energy.
Infrastructure support: Infrastructure development offers utilities capital expenditure opportunities, including planning, engineering, site costs, repair, and make-ready investments.
Residential EV charging station trends
Utilities nationwide are beta testing EV rates, offering incentives for charging hardware, and making investments in charging infrastructure. Naturally, adoption rates, regional driving trends and existing grid infrastructure will determine EVs' ultimate impact on a specific region (or household). But assuming driving patterns remain constant, retail electricity used by EVs is set to increase more than 20-fold by 2030, with EV penetration into the market increasing usage to 71.5 TWh, and inflate the nominal spend to $11.9 billion.
Residential EV charging is the preferred method of charging today, and we estimate that 12 million residential charging points will be installed in the North America by 2030. This will push annual energy market transactions in North America, a combination of energy and delivery of grid services, to a combined $13 billion in 2030. This bodes well for residential EV charging and offers a look at what may soon represent one of the largest segments of the 'smart home' market.
And while the EV charging market is still in its early stages, tech companies like Google, Apple and Amazon are already on the move, looking for ways to improve internal operations, and in Apple's case, finding a new avenue to incorporate its iOS.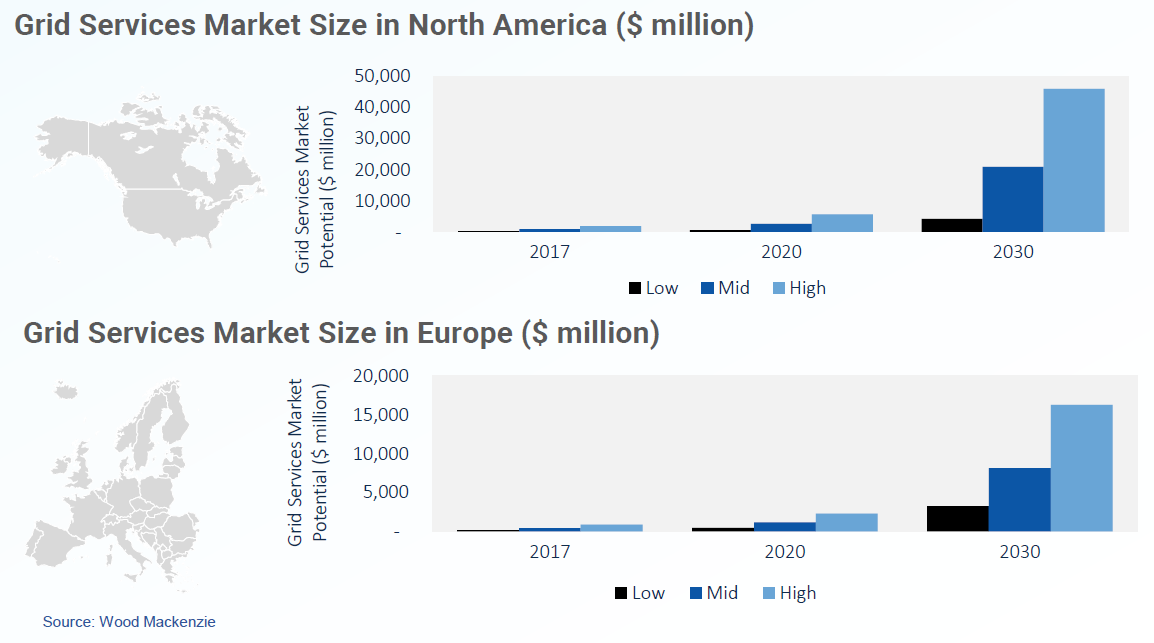 Electric vehicles sharing the road
To ensure that EVs' impact on the grid allows for growth, efficiency, and reliability, there are a number of critical factors to consider. An adherence to customer centricity is paramount. Easing range anxiety is still a major barrier to success. Everyone from dealers and automakers to network providers, utilities and regulators should focus on improving EV charging program participation in both public and private spheres.
Another variable is charging behavior. Demand can spike at specific times of day and within particular transmission and distribution nodes. Utilities can take action to mitigate uneven demand – in some cases EVs can provide energy and capacity back to the grid.
Finally, as multi-unit dwellings penetrate the charging market, challenges to developing EV infrastructure arise as users can charge their EVs at home. Developments in ride-sharing, public transportation, and autonomous driving may also reduce the number of vehicles on the road, leading to uncertainty in the transport sector.
Today, the EV market has moved on from its government-funded infancy to compete with internal-combustion-engine vehicles in a small group of vehicle classes. For those in transportation, utilities, and a growing list of vendors and network providers, the EV landscape will offer untold opportunity, but it pays to remember that going electric isn't as easy as turning on the lights. EV and the grid can both benefit from one another, but it will require coordination, determination, and communication across stakeholders that have no history of collaboration.