There's no doubt that those in the business of discovering, producing and distributing hydrocarbons are worried about the energy transition
For some of the oil and gas Majors, such as Shell and Total, sustainability has become the primary driver of corporate strategy – with portfolios undergoing profound change in recent years.
But the rest of the oil and gas sector is still struggling to understand what the energy transition means for them. Embracing the change is very challenging, especially when most forecasts, including Wood Mackenzie's, show that fossil fuel will still dominate the primary energy mix in 20 years. Even coal demand remains high out to 2040.
If a business' primary purpose is to provide affordable and reliable energy to market, and there continues to be a market for those core products and services, why change? No doubt some boards have asked themselves that question and failed to identify any business imperative to do so.
I'm often asked if the majors are really serious about diversifying into clean energies, or they are just greenwashing. This is an extremely complicated question. In my view, no, they are not greenwashing. But at the same time, it's almost impossible to grow their low-return, emerging renewables businesses, as long as they have to compete for capital with high-return oil and gas assets.

Valentina Kretschmar, quoted in Total's Empowered newsletter, July 2019
What if forecasts for oil and gas demand growth are wrong?
Looking back, we have been extremely poor at predicting the adoption of new technologies. And we continue to underestimate their impact on global energy markets. Furthermore, the implementation of new policies and regulatory changes can quickly shift these projections in favour of some of the more aggressive carbon scenarios.
The uncertainty inherent in the transition has resulted in a tightening of purse strings across the sector. Companies remain nervous about committing capital to long-term oil and gas projects as the risk of value destruction looms large.
The energy transition pressures are growing
The tectonic plates of the oil and gas industry are shifting fast. There are four main forces – regulatory, societal, economic and technological – that are disrupting demand for fossil fuels in ways that are impossible to predict. The threat of substitutes has increased significantly, together with growing investment in clean technologies. Renewables, battery storage, electric vehicles and hydrogen are now all well-established technologies, looking to squeeze fossil fuels from the energy mix.
Societal and regulatory pressures are increasing too. Take Greta Thunberg – a force in her own right. No energy analyst, upon hearing of a Swedish school girl's strike in 2018, could have predicted the "Greta effect". She has mobilised young people around the world and is driving up public support for green parties, which could influence policy change in Europe, if not globally. On the other side of the political spectrum, the rise of populism and the attempt to brand climate change as a matter of opinion rather than of fact threatens the pace of change.
But, while growth in intensity of four main energy transition forces is unquestionable, it has really been investor pressures that have pushed ESG to the top of the agenda of several oil and gas companies through a series of motions over the past four years.
How can Big Oil stay investible through the energy transition? Decarbonisation is transforming relationships between Majors and their investors. Read more.
Can the oil and gas industry rise to the challenge of climate change?
As a result of increasing investor pressures, the Majors are decarbonising their legacy oil and gas assets, leveraging existing capabilities to enter the renewables business, and growing their exposure along the electricity value chain. While spend in these three areas is growing, it's still dwarfed by oil and gas – the Majors spent less than 5% on renewables strategies between 2016-2018. However, commitment to further growth in clean energies is increasing, especially among the European Majors.
The question is, how will the rest of the sector adapt? The majority of oil and gas companies do not have skills and capabilities to execute the same diversification strategies as the Majors. Or they simply have no interest in starting a completely new (renewables) business.
Regardless of their capabilities or preferences, there are two priorities that have to be embedded in all oil and gas companies' strategies:
Deliver long-term value to shareholders: remain profitable in any carbon scenario
Deliver carbon neutrality: attain the social licence to operate and remain investable
But too many companies are yet to consider these strategic priorities. It is clear that the shift toward decarbonisation has to accelerate to ensure the sustainability of both their businesses and the planet.
Our recent research shows that the transition is simply not happening quickly enough. Even with a significant evolution of policy and technology, our base-case outlook is broadly consistent with a ~ 3 °C global warming view.
So, what can be done to accelerate the shift toward decarbonisation?
Can solving the industry's woman problem solve the world's (hu)man-made problem?
Grasping the extent of seismic changes in global energy markets and intensity of external pressures may not always be enough to drive decarbonisation efforts. In many cases what is really needed is belief – the most powerful driver of all. Evidence-based belief in the science behind climate change. Education on sustainability has to be high on the agenda of all decision-makers in the oil and gas sector.
Gender-balanced boardrooms could also help accelerate decarbonisation efforts.
A recent YouGov survey examined attitudes towards climate change. The data reveal some fascinating correlations with gender. In almost every country in the world, women are more likely to agree that climate change has been caused by humans. (Exceptions can be found in Asia, where awareness is much higher in general, slightly more so in men than in women. Perhaps that's because the impact of climate change is already so apparent there.)
We transposed the YouGov data with data on female representation in the oil and gas industry. Globally, women make up almost half of the total workforce but only 22% of oil and gas workers. And of course it's even worse at board level, where women occupy just 7% of leadership roles. Improving gender diversity in the industry could, therefore, increase awareness of climate change, tipping the balance in favour of positive progress.
My experience in the boardrooms of oil and gas companies across the globe certainly bears this out. Some of the most outspoken advocates for change that I've encountered are women. And the more diverse firms are often the most progressive and innovative. A boardroom that embraces different points of view will have a better chance of arriving at innovative solutions to the large, complex problem of sustainability.
A homogenous boardroom has become a business risk.
Get an extract of the Energy Transition Outlook 2019
Our energy transition experts take on some of the trickiest questions about how to meet the world's future energy needs while managing climate change. Fill in the form on this page to get an extract from the 100-page Energy Transition Outlook H1 2019.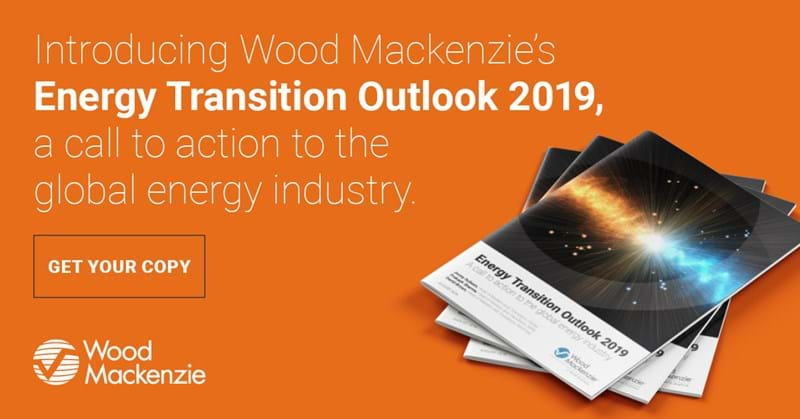 Energy Transition Outlook 2019