Complete the form to download an overview of WoodMac's U.S. PV Leaderboard service.
Tesla installed 6.3 percent of U.S. residential solar capacity in the first quarter of 2019, marking the first time the company has fallen to third place since Wood Mackenzie Power & Renewables has been tracking installer market shares in its U.S. PV Leaderboard, dating back to Q1 2013. Vivint Solar reclaimed the number two spot for the first time since dropping to third in Q3 2017.
Meanwhile, Sunrun which overtook Tesla for first place in the second quarter of 2018, gained market share over both Tesla and Vivint Solar. Sunrun installed 11 percent of all home solar capacity installed in the first quarter of the year, notching its highest share ever.
FIGURE: Leading U.S. residential solar installers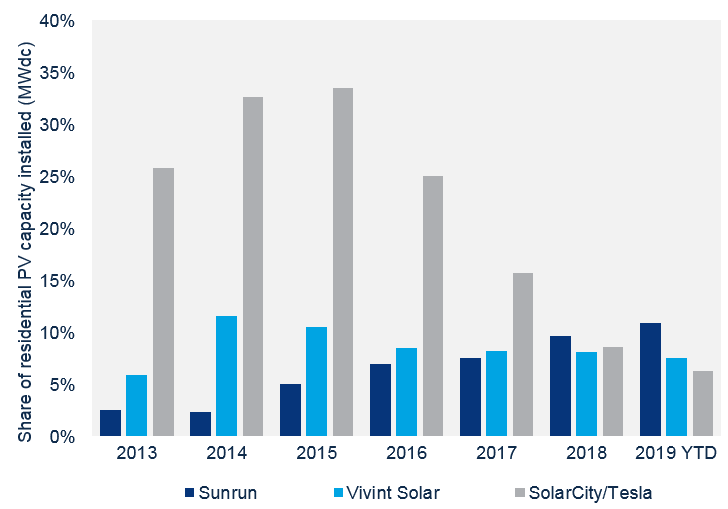 Source: Wood Mackenzie U.S. PV Leaderboard
The top three residential solar installers combined to install 25 percent of all new U.S. residential capacity in the first quarter of the year. This is a significant departure from Tesla's (then SolarCity's) peak quarters when it alone accounted for more than a third of the entire U.S. residential solar market.
"Tesla has essentially thrown in the towel on pursuing growth in the residential solar space because it has concluded that acquiring customers is simply too expensive, writes Wood Mackenzie Senior Solar Analyst Austin Perea in a recent report on Tesla's store closures. "Rather, Tesla will rely on its brand power and low-cost referral methods to keep the solar business afloat until it stabilizes," Perea continues.
From the same report, Perea writes:
"For Tesla, the installation bleeding lasted into 2018 when its national residential installation volume fell another 41% annually despite other national installers experiencing growth. Vivint and Sunrun's direct businesses grew 7% and 37%, respectively. But even as other installers grew in 2018, Tesla's standing continued to have a substantial impact on the national residential solar market."
According to the report, in 2017 the U.S. residential solar market as a whole fell 15 percent. However, if you were to exclude Tesla from the equation, the market would have only fallen two percent. Similarly, the residential market grew 7 percent in 2018, however excluding Tesla entirely, it would have grown by 15 percent. "Clearly, Tesla had a marked drag on residential solar in 2017 and, to a lesser degree, in 2018," writes Perea.
"Despite stronger growth from the rest of the market, the growth outlook for 2019 – like 2017 and 2018 – continues to be hampered by Tesla's decisions to cut back on its customer acquisition channels, though less severely than in previous years," said Perea.
According to the latest U.S. Solar Market Insight report, Wood Mackenzie forecasts the U.S. residential solar market to grow a modest three percent by the end of this year.
"Tesla stepping away from being a growth driver for solar reaffirms our hypothesis that long-term national growth will continue to be driven by smaller local and regional players and less reliant on national players, though Sunrun and Vivint will remain important, said Perea. Indeed, in the long run, it seems that Tesla's decisions may send a vital message about how solar is sold."
Additional key findings from WoodMac's new U.S. PV Leaderboard include:
CS Energy (formerly Conti Solar) rose to the top of the commercial solar installer rankings with nearly 48 MW of installations across New York, New Jersey, Minnesota and Rhode Island in Q1 2019.
Constellation leads the rankings for commercial solar asset ownership this quarter, commanding 5% of the market.
Both Sunrun and Vivint Solar have now surpassed SolarCity/Tesla as the largest residential solar installers in the US.
Loanpal leads the financier rankings for the first time ever, less than 1.5 years after entering the solar loan space.
Complete the form at the top of the page to download an overview of WoodMac's U.S. PV Leaderboard service.