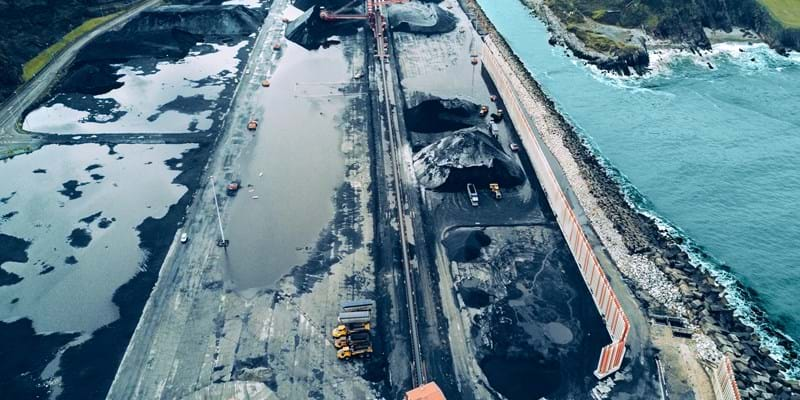 Welcome to Wood Mackenzie
Sign up today to get the best of our expert insight in your inbox.
Sign up for The Inside Track
For details on how your data is used and stored, see our
Privacy Notice
.
Service Update - Roskill Research
As of December 2021 you can find your Roskill content under the Wood Mackenzie Portal
Watch the below video, or read on, for more information.
What other action do I need to take?
To ensure you receive email notifications when new reports are available, set your account preferences:
Sign into the Wood Mackenzie portal
Click on your username (located top right) and select Account and preferences management, then the Preferences tab
Under "Industry" check the "Metals" box, ensuring the box contains a check-mark rather than a horizontal line
Under Location and Report Type check the "Select All" box
Under Alert and Marketing please confirm you would like to receive emails when new reports are published, and select your preferred frequency
After editing, scroll down to select Save preferences in the bottom right of the screen.
How do I find my content?
There are three ways to find your content on the Wood Mackenzie Portal:
Reports can be accessed via the "Reports" menu at the top of the homepage
Using the search engine to type a report title or key words
Once your preferences are set, you will receive an email alert. You can follow links in the email alerts to find the report directly on the portal.
Why can I not find reports I used to search?
Report titles in the Wood Mackenzie portal are different than those in Roskill Interactive. Please refer to the chart below for the name changes.
Market Reports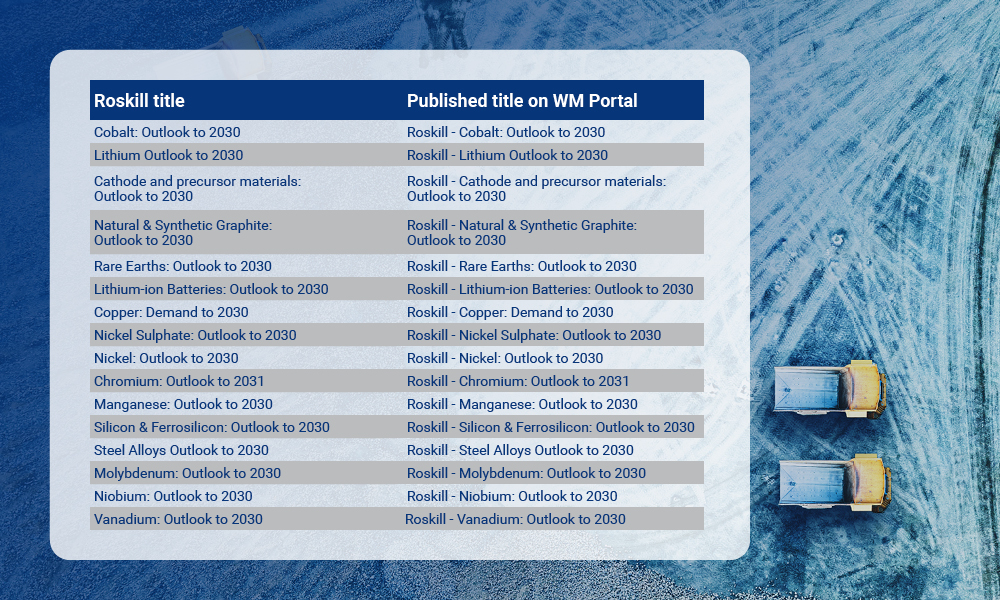 Cost Services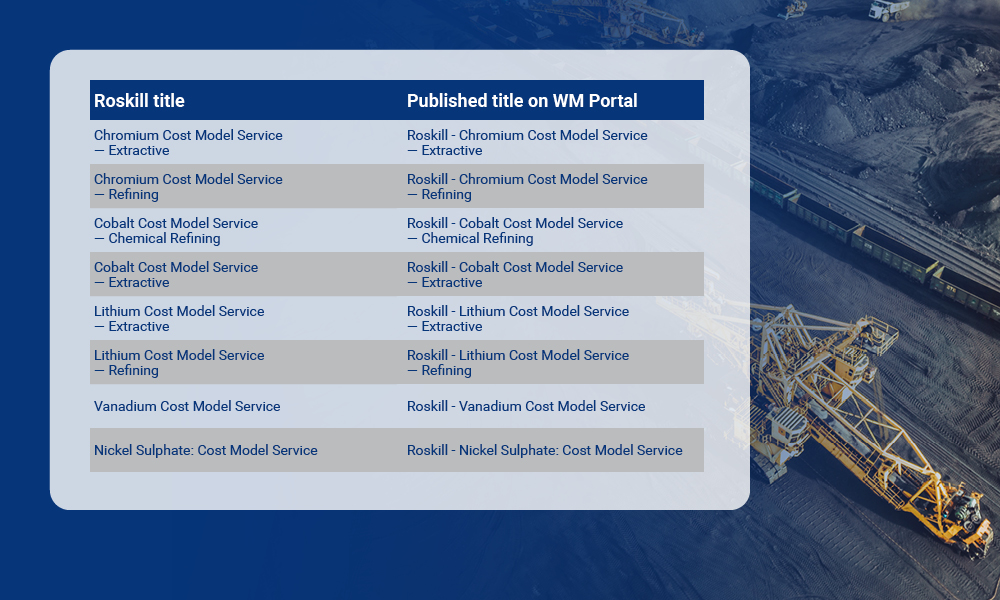 Is the translate feature still available for reports?
Unfortunately, the built-in ability to translate reports to different languages is not available on the Wood Mackenzie Portal.
I've set my preferences – why am I not receiving alerts?
Please check your spam filter or junk email folder in case alerts are being misdirected. Alternatively you may need to check with your IT department that you are able to receive emails from either research@mail.woodmac.com or 74.121.51.76/ mkt4442.com and that these senders are not blocked or spam filtered by your organisation
How do I update my contact details?
On the Wood Mackenzie portal, click on your username (top right) and select 'Account and preferences management.' This will open the 'Details' tab. Here you change your password and update your email address and other contact details. Scroll down to the bottom of the page to save your changes.
Why did Wood Mackenzie acquire Roskill?
Roskill was acquired in June 2021 by Wood Mackenzie, the leading global research, consultancy, and data analytics business powering the natural resources industry. Through the acquisition, Wood Mackenzie have expanded our commodity capabilities, augmenting our existing metals and mining offering, especially in battery and electric vehicle materials, while aligning with our strategic investment in the energy transition.
How has the product suite changed?
Following the acquisition, the Wood Mackenzie and Roskill teams considered how to bring together our offerings and defined an integrated product suite, combining the best of both organisations' expertise, bringing you the most compelling offerings in the market.
Our enhanced and new research capabilities include:
Bulk Steel Alloys Market Service
chromium, manganese and silicon market research
Noble Steel Alloys Market Service
vanadium, niobium and molybdenum market research
Stainless Steel Market Service
comprehensive stainless steel research and analysis including extended value chain coverage
Lithium Market & Cost Services
accurate, in-depth analysis of the entire lithium supply chain from mine to market
Cobalt Market & Cost Services
accurate, in-depth analysis of the entire cobalt supply chain from mine to market​
Rare Earths Market Services
unmatched market research on rare earth metals
Graphite Market Service
unmatched natural and synthetic graphite market research
Cathode & Precursor Market Service
unmatched research into cathode and precursor materials supply and demand
Nickel Sulphate Cost Service
comprehensive nickel and nickel sulphate market analysis
Chromium Cost Service
in-depth understanding of the entire chromium supply chain
Vanadium Cost Service
in-depth understanding of the entire vanadium supply chain
Wood Mackenzie's Metals Market Services - including copper, nickel, and battery raw materials - have all been enhanced with unique Roskill content and analysis, providing robust insights on global mined commodity markets.

In addition to the above expanded research suite Wood Mackenzie's existing scope of coverage includes base metals, gold, coal, steel and its raw materials, and emissions benchmarking. You can check out the Wood Mackenzie research suite here.
If I have questions about my account, who can I contact?
We want to make this transition as smooth as possible for you. Please contact our Global Support Team at support@woodmac.com with any questions or support needed.
Explore our latest thinking