News Release
Bolivian gas production to decline faster than expected, exports to Brazil and Argentina to cease by 2030
Domestic demand may outpace production by as soon as 2030; future capital investments in doubt as development and exploration options are not promising
Bolivian gas production will decline more rapidly than expected, falling from 1,400 million cubic feet per day (mmcfd) in 2022 to as low as 400 mmcfd by 2030, according to a report from Wood Mackenzie, a Verisk business.
"Production in Bolivia has been in a steady decline since 2015, with a slight increase in 2021," said Amanda Bandeira, Latin America Upstream analyst for Wood Mackenzie. "However, with few new discoveries and little supply left in mature fields, production will begin to decline at a much more rapid pace. Currently, domestic demand consumes about 30% of the total supply. By 2030, domestic demand will likely outstrip this supply and we may see Bolivia become an importer."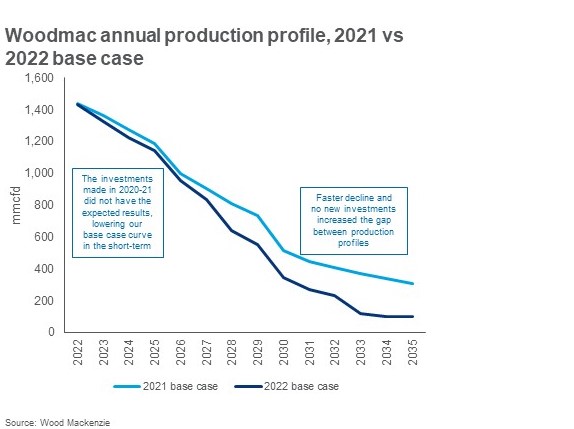 According to the report, a push for exploration and new discoveries in Bolivia will be required to reverse the production trend, however, initial efforts have not been successful.
Added Kuy Hun Koh Yoo, Latin America Upstream analyst for Wood Mackenzie, "In 2021, the Bolivian government released an exploration plan, yet only three of the twenty wells announced were drilled and they have been dry. In addition, Bolivia's fiscal terms are among the least competitive in the LatAm region. These have done little to attract capital from outside the country for more exploration contracts."
The projected decline will have a dramatic effect on the export market as well. Natural gas is a crucial sector for Bolivia's economy, with exports to neighboring Brazil and Argentina playing a fundamental role. Exports to these two countries represent more than 70% of total gas sales and 20% of total exports.
"Argentina has expanded its production, reducing the importance of Bolivian gas, but Brazil still requires plenty of imports," said Henrique Anjos, Latin America Gas and Power analyst for Wood Mackenzie. "If Bolivia fails to develop additional production, exports will be halted by 2030 as internal demand outpaces production. Alternative energies could play an important role in substituting the gap in domestic gas."