News Release
China's solar exports booming, up 64% in 2022 despite global trade tensions
Chinese companies' cost advantage challenges US, EU, and India reshoring policies
China's solar exports grew 64% to US$52 billion in 2022 despite global trade tensions, according to latest analysis from Wood Mackenzie.
"Trade tensions have taken a back seat to high power prices driven by the energy crisis, and this is causing consumers and developers from around the world to buy more solar panels from China," said Alex Whitworth, research director from Wood Mackenzie.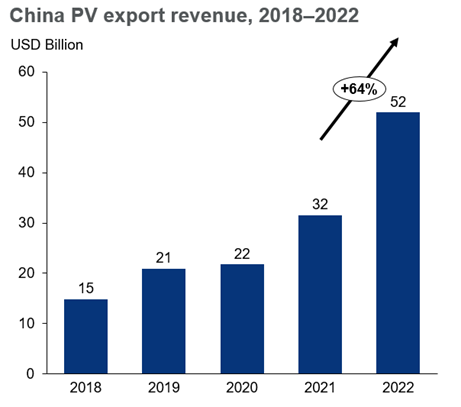 (Source: Wood Mackenzie)
China's exports were mainly dominated by modules in 2022 – Europe remained the country's top solar module export market with 56% share, according to Wood Mackenzie findings. But solar cells saw more than 100% growth as the global PV market expanded, with Southeast Asia taking 31% share of China's solar cell exports. US tariffs on Chinese-made modules have driven module production to Southeast Asia, where many manufacturing facilities import cells from China.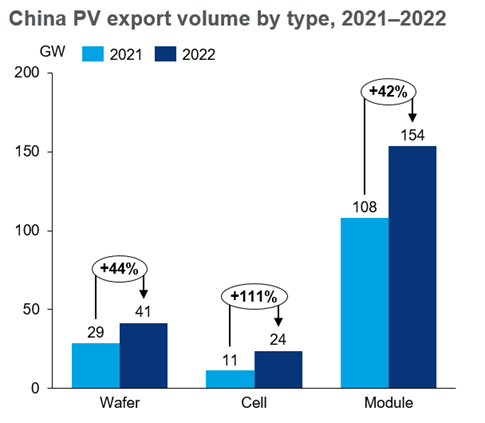 (Source: Wood Mackenzie)
Chinese modules kept their cost-competitiveness against other markets in 2022 and were up to 57% cheaper than US and EU produced modules. This price gap was mainly driven by material cost, where China holds the advantage due to low energy costs, scale advantages and government support, whereas US and EU solar module manufacturing is not competitive without subsidies.
China's PV manufacturing is expanding to capture global markets
In addition to domestic supply needs, Chinese export capacity for upstream wafers and cells will grow to more than 230 gigawatts (GW) in 2026, more than sufficient to meet global market demand outside China of 170GW by that year. China's PV industry is highly profitable and is re-investing profits to expand domestic capacity, while also attracting new investors.
Available module capacity for export in China is also expected to grow gradually to 149GW by 2026, leaving some room for other markets to expand module production. More manufacturers are investing in upstream sectors which are more profitable than modules.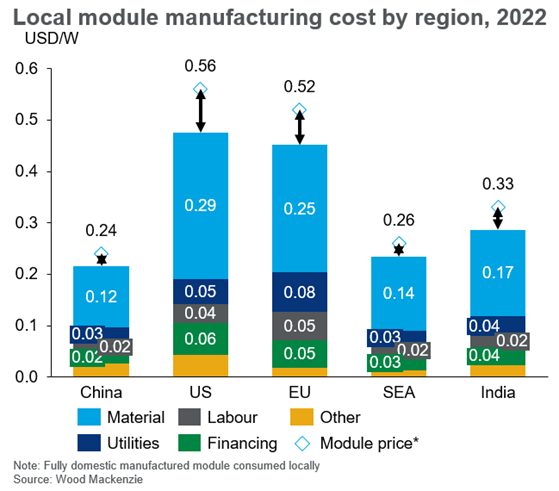 US, EU, and India policies won't undermine China's dominance in PV manufacturing
Whitworth said: "The US is counting on the IRA, which will allocate at least US$41 billion to stimulate domestic manufacturing. But costs still favour imported modules, and even as more local module production comes online in coming years, there will be persistent dependence on imports of components from Asia."
The US government's aim to produce 100% US-made modules by 2026 will be difficult due to a significant lack of wafer and cell production in the region, and incentives cannot fully bridge the manufacturing cost gap between US-made modules and Chinese ones.
"In Europe, the EU is advocating trade restrictions to secure local PV manufacturing but lacks specific policies to propel capacity build‑outs and displace imports. India also has great ambitions to expand its PV manufacturing, but financial support is insufficient to reach aggressive targets," added Whitworth.
With a mature supply chain and large production capacity for export, Southeast Asia has benefitted from China-targeted PV trade policies by the US, as more module production has moved to the region. However, Chinese manufacturers hold 55% of Southeast Asia's PV manufacturing capacity, which relies on Chinese-produced components.
Trade restrictions challenge Chinese manufacturers to globalise operations
"As more markets demand local jobs and investment for solar, Chinese manufacturers are well positioned to grow as global technology providers," added Whitworth.
Companies outside of China also have opportunities, but it will be challenging for them to escape China's low-cost supply chain and pool of expertise that has taken over a decade to develop.
"China's massive domestic market scale and supply chain are in a league of their own and appear to be on a sustainable growth trajectory, making it hard for other global players to displace. The race to dominate global solar markets this century is not over, but Chinese companies have a strong lead and are not slowing down" Whitworth concluded.
ENDS
The Wood Mackenzie team will be attending the SNEC PV Power Expo in Shanghai between 24-26 May. For more information, please visit. If you're attending and keen to arrange an interview, please get in touch with vivien.lebbon@woodmac.com