News Release
Global floating solar to top 6GW threshold by 2031
Asia-Pacific region leads demand for floating solar
The global floating solar market is expected to pass the six-gigawatt (GW) threshold by 2031, as PV developers struggle to meet growing solar demand and look to alternate development technologies.
"The global solar industry, including PV developers, continue to battle limited land availability and increasing land costs for ground-mount solar projects, which is driving demand for floating installations," said Ting Yu, consultant at Wood Mackenzie, at SNEC PV Power Expo in Shanghai today.
Floating solar is expected to have a steady market share compared to overall global solar demand, with the compounded annual growth rate (CAGR) for floating solar (FPV) expected to rise 15% in the next ten years. 15 countries are forecasted to exceed 500 megawatts (MW) of cumulative FPV installations by 2031, with Indonesia, India and China making up almost 70% of the total FPV demand in 2022.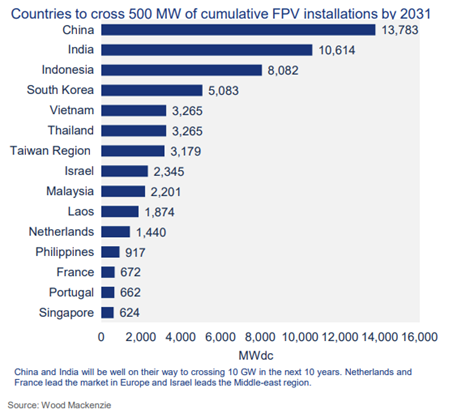 "Despite development costs of FPVs ranging between 20-50% higher than comparable ground-mount projects, increased competitiveness in the developer and EPC landscape is helping to drive down costs in the sector," Yu added.
The Asia-Pacific region continues to lead the demand for floating solar
The Asia-Pacific market had approximately 3GW of floating solar projects in 2022, capturing over 90% of floating solar demand that year. Countries such as China, Indonesia, India, South Korea, and Thailand are developing multiple floating solar projects, according to Wood Mackenzie analysis.
In China, the floating solar project pipeline will grow at a steady pace going forward, with cumulative floating solar capacity to cross 13GW by 2031 at a 12% CAGR over the next 10 years.
"China will continue to lead in floating solar installations. The country has been able to utilise flooded coal mines that have been decommissioned to develop floating solar," said Yu at SNEC.
Europe becomes second largest region for FPV demand
With almost 150MW, Europe is the second largest region for FPV demand, with the Netherlands in the lead followed by France. More countries are adopting the technology as multiple land use is being enforced in regions across Europe.
The Netherlands has the largest FPV project outside the Asia-Pacific region, representing 32% of Europe's FPV market in 2022, helped by the Sellingen floating solar park (41.4MW) that came online in 2021. This reflects how project sizes are continually growing in Europe's leading market.
"Although it is still a small market in Europe, the trend is positive, and bigger floating PV plants are expected in the near future. After 2025, slow growth is projected as the main spots would have already been developed at this point. In addition, grid constraints and higher LCOE for bigger plants means the technology is not competitive against rooftop PV," Yu told delegates.
The US sees FPV growth
For the US, floating solar CAGR is estimated at roughly 13% over the next 10 years, where development is being driven in regions with high demand for solar but expensive land costs, including California, Florida, and New Jersey.
"Overall, the floating solar industry has seen high costs across all market segments, due to component costs and other soft cost increases, as a result of supply chain constraints in 2022. For instance, the rise in price for High-Density Poly Ethelene (from the pandemic) was the main driver of high SBOS costs for FPVs. Although the cost is expected to be lower as the supply chain expands," Yu concluded.
ENDS
Editor's Note
Structural balance-of-system (SBOS): All floating solar structure along with the anchoring and mooring solution.
Earlier today Ting Yu addressed delegates at the SNEC Conference about the floating solar landscape.
The SNEC PV Power Expo is taking place now in Shanghai between 24-26 May. For more information, please visit.