Near-term gas market expansion continues to be driven by global demand for US LNG exports, which will largely be supplied through continued growth in Permian associated gas and Haynesville production, according to a recent report from Wood Mackenzie.
"LNG export growth will drive the market for many years but will slow substantially in the 2030s, with domestic gas demand peaking in the mid-2030s, as power sector demand gives way to greater renewables penetration, albeit at a more gradual pace compared to our prior outlook, due to power transmission constraints and gas market resiliency," said Dulles Wang, Director, Americas Gas and LNG Research for Wood Mackenzie. "As the gas industry continues to innovate and transform, these low carbon alternatives will help both sustain natural gas demand and support emission reduction goals in North America."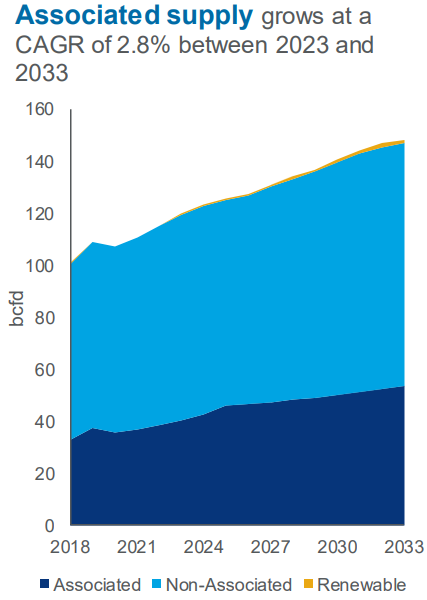 Wang added that the overall North America gas market will stabilize at approximately 150 bcfd in the 2040s, an increase of 2 bcfd compared to Wood Mackenzie's last update in October of 2022.
The report also notes that beyond 2035, decarbonization initiatives could create a pathway for the continued momentum of gas demand, particularly in the industrial sector, driven by carbon capture and underground storage (CCUS), blue hydrogen, renewable natural gas (RNG) and certified gas programs.
"When it comes to the energy transition, resilient gas demand and emissions reduction may not be mutually exclusive," said Wang. "Our outlook shows that natural gas will play a pivotal role in the North America energy transition with the rise of blue hydrogen production, low-carbon industrial projects and back-up for renewable generation. Tax credits and policy support through the Inflation Reduction Act (IRA) and various state and local initiatives in the industrial and transport sectors are carving a pathway for natural gas utility beyond its traditional form."