News Release
Norway's 800km Barents Sea gas pipeline back on agenda
Proposed US $5bn project would offer export route direct into European markets
A proposed US $5 billion export route linking gas fields in the Barents Sea in Northern Norway to European markets could help alleviate the continent's dependence on liquified natural gas (LNG) imports according to a new report by Wood Mackenzie, a global insight business for renewables, energy and natural resources.
The report 'Can the Norwegian Barents Sea help solve Europe's gas crisis?' concludes that after spending years in the doldrums, Russia's invasion of Ukraine brought a potential Barents Sea gas export route back onto the agenda in Norway. However, the report added there are several hurdles the 800 kilometre, 15 million square metres per day (msm/d) would have to overcome before it was green lit by Oslo.
Map of proposed export route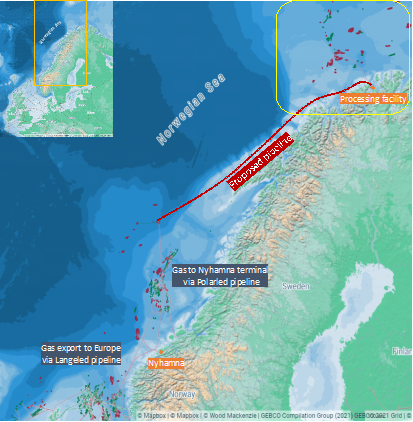 "The Barents Sea basin has enough existing resources to fill the pipeline, but the costs involved would make developing the gas more expensive than alternative imports from new LNG developments," Daniel Rogers, Senior Analyst at Wood Mackenzie says. "However, gas from the area offers a cleaner alternative to LNG, and any proposed development would be carried out under strict Norwegian environmental controls."
The report adds that state-funding of the pipeline, or the introduction of a Carbon Border Adjustment Mechanism(a tool designed by the European Union (EU) to encourage cleaner industrial production in non-EU countries) on gas imports to Europe would increase cost competitiveness.
"The carbon and socioeconomic argument for a pipeline – and further development of the basin – is strong, but it won't happen without government support," Rogers says. "However, if long-term European gas demand and prices fall faster than expected, this would put further pressure on the viability of the project."
Remaining gas resource breakdown and pipeline capacity limits (2030 – 2060)*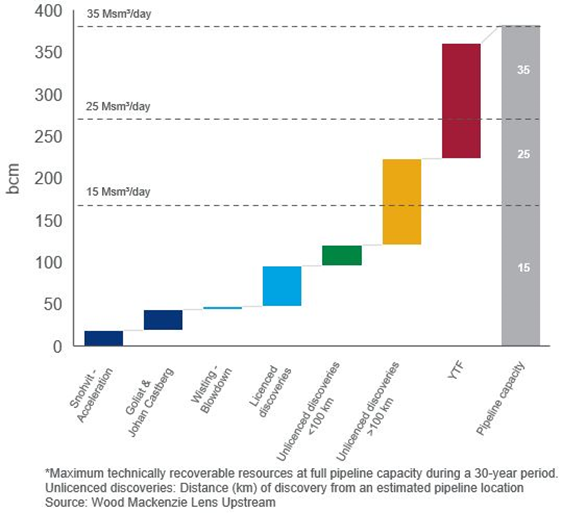 The report also states that while Barents Sea gas would help alleviate Norwegian production decline, it won't be a gamechanger. A bigger pipe would be required to incentivise high-impact exploration and realise the basin's full potential.
Currently, gas in the Barents Sea is produced from the Snøhvit Area subsea fields and is sent via pipeline to the Hammerfest LNG facility. The facility is expected to be at full capacity until the 2040s. There is currently no direct pipeline route connecting Barents Sea gas resources to the main Norwegian pipeline network.