News Release
Renewable power competitiveness in Asia Pacific worsened in 2022
China the exception – with offshore wind set to undercut coal power by 2025
The levelised costs of electricity (LCOE) for utility solar and onshore wind in Asia Pacific were up 16% and 12% respectively since 2020, as equipment, construction costs and interest rates rose in the region. The trend is expected to reverse in 2023, but volatility risks including geopolitical tensions, trade policy and financing remain according to latest analysis from Wood Mackenzie.
The average cost of utility solar power has gone up from US$78 per megawatt-hour (MWh) in 2020 to US$91 per MWh in 2022. Onshore wind follows a similar trend, rising from US$93 per MWh in 2020 to US$104 per MWh last year. South Korea saw the highest cost inflation between 2020 and 2022, while China avoided cost increases.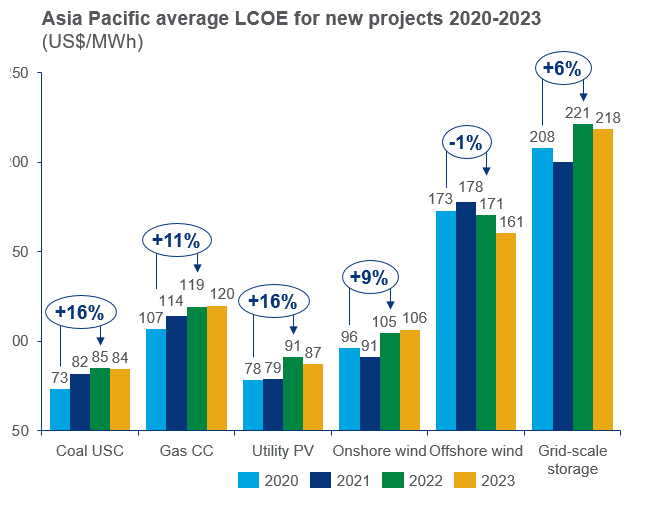 Source: Wood Mackenzie's Asia Pacific Power Service
"China has been insulated from cost inflation trends, gaining competitiveness against other markets due to massive scale, depth of local supply chain, and increasing technology dominance," Alex Whitworth, Research Director at Wood Mackenzie, said.
"Offshore wind in China is now competitive with gas and coal power in coastal regions, and a further drop in costs of nearly a quarter by 2025 will allow the technology to undercut coal power nationally," Whitworth added.
Solar and onshore wind costs remain low in China, but offshore wind is the big mover with costs falling 22% to US$72 per MWh in 2022, less than half of the Asia Pacific average of US$171 per MWh.
Source: Wood Mackenzie's Asia Pacific Power Service
China took the top spot from India this year for the lowest-cost renewable power in the region. China's average utility-scale solar LCOE declined 4% to US$44 per MWh in 2022, while India's increased over one third to US$56 per MWh. These two markets along with Australia are the only ones in Asia Pacific where renewables costs are competitive with new coal power projects.
The increase of LCOEs in 2022 was driven by higher CAPEX and interest rates, with CAPEX for solar and onshore wind rising to 12% and 6% since 2020, while fossil fuel CAPEX rose by 5% to 8%.
In addition, interest rates for power projects in Asia Pacific jumped 30% from a low of 5.8% in 2021 to 7.5% in 2022 on average across solar, onshore wind, coal, and gas.
Higher renewables costs mean that Asia Pacific's average solar LCOE is at a 7% premium to coal power in 2022. This is despite higher fuel costs driving up the LCOE for new coal projects by 16% and gas by 11% in the last two years.
Coal will remain the cheapest new-build power generation option in Asia Pacific until 2024, even with the high fuel price environment, according to Wood Mackenzie findings.
New low-carbon technology options are developing but still expensive, with hybrid renewables and battery storage power costs 41% to 72% more expensive than gas LCOEs in 2022. Solar or wind plus storage projects will become competitive with gas by 2032 as costs fall to around US$107 to US$111 per MWh.
The report also shows that the costs of green hydrogen and ammonia blended power are more than double those of coal and gas today and will still have a 60% premium by 2050. Green ammonia and hydrogen costs will fall by 49% and 53%, respectively, by 2050, but they remain at least double the fuel cost of coal or gas.
Overall, the cost of a "firmed" mix of renewables, gas turbine backup, and storage is expected to fall from US$130 per MWh in 2022 to US$90 per MWh in 2030, becoming competitive against gas and nuclear.