News Release
Tesla Solar Roof deployments miss expectations
New data from Wood Mackenzie showcases Tesla Solar Roof installation volumes for the first time
Since the launch of the Tesla Solar Roof ("Solar Roof") in 2016, Wood Mackenzie estimates that approximately 3,000 Solar Roofs have been installed nationwide, with a total capacity of nearly 30 megawatts direct current (MWdc), missing Tesla's stated goal of 1,000 installations per week.
"The Tesla Solar Roof, an innovative roofing system made of glass tiles with embedded photovoltaic cells, attracted considerable attention after its initial launch several years ago. But granular installation data has always been elusive, making it challenging to analyze the product's growth – until now," said Max Issokson, research analyst and lead author of Wood Mackenzie's 'Five Years In: Tesla Solar Roof deployments miss expectations' report.
"Wood Mackenzie's distributed solar practice has utilized its proprietary project-level datasets to aggregate installation totals for the Solar Roof for the first time. The analysis shows that Tesla has missed stated growth expectations."
Tesla aimed to manufacture 1,000 Solar Roofs per week by late 2019 and subsequently announced an installation goal of 1,000 Solar Roofs per week in early 2020. Wood Mackenzie analysis shows that average installations per week were just 21 in 2022, and the largest quarter for installations was the first quarter of 2022, which saw 32 systems installed per week.
Tesla Solar Roof capacity installed by year, 2017-2022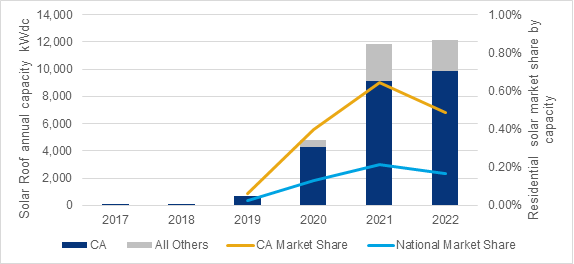 Source: Wood Mackenzie
With an estimated 5 million roofs built every year across the country, the Solar Roof held less than 0.03% of the total roofing market in 2022, according to Wood Mackenzie findings. And the Tesla Solar Roof does have competition, most notably from GAF Energy, a prominent residential roofing company. GAF also sells a solar roofing product known as the Timberline Solar roofing system directly to its roofing customers.
Issokson added: "Other products may take the lead in building-integrated solar roofing products. GAF Energy's Timberline Solar roofing system is better positioned to achieve widespread adoption. The product is faster and easier to install, and the company captures customers when they are considering roof replacements."
"As the residential solar industry continues to grow, solar roofing solutions will play an important role in offering customers flexibility and alternatives to conventional modules. The future potential of Tesla's Solar Roof will rely on the company's ability to simplify and streamline installations and tap into a broader customer base," Issokson concluded.
ENDS
About the report
For the first time, Wood Mackenzie has identified Tesla Solar Roof installations using its proprietary project-level data sets and summarized the key findings in an insight: 'Five Years In: Tesla Solar Roof deployments miss expectations'.