News Release
US renewables annual capacity additions to nearly triple in 10 years
By 2032 US to have 60% carbon free power sector
Speaking at the RE+ conference in Las Vegas, Chris Seiple, vice chairman, power and renewables for Wood Mackenzie said that with the Inflation Reduction Act (IRA) driving the economic competitiveness of renewables, annual capacity additions will nearly triple in 10 years to 110 gigawatts (GW).
"The IRA has made renewables very competitive with other technologies and wholesale power prices," said Seiple. "As a result, we are seeing a land rush for development sites and a resurgence in US manufacturing to support the renewables industry. There are still challenges that remain, but overall, low-cost renewables present a major opportunity for investment, and we project annual capacity additions in 10 years to nearly triple what they are now."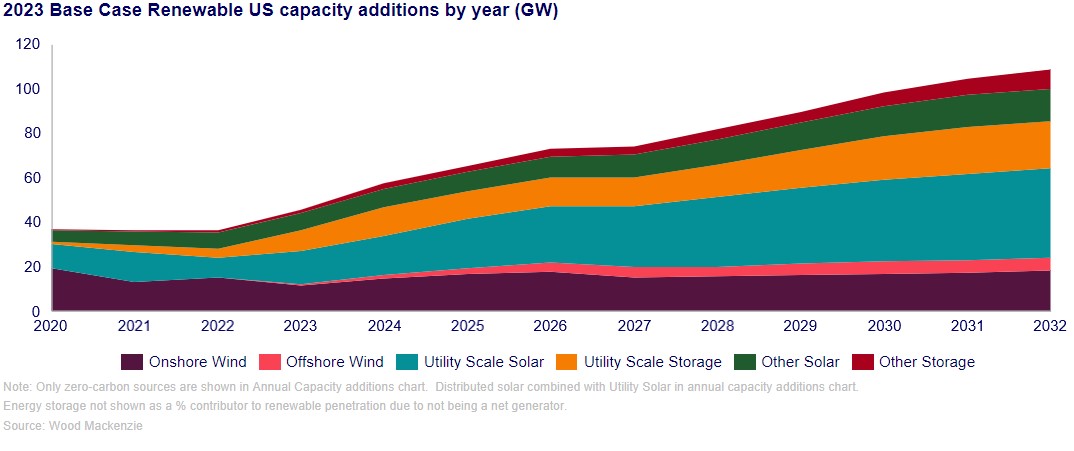 According to Wood Mackenzie, the total costs for IRA tax credits through 2050 is estimated to be $1.9 trillion. This will provide the economic base for growth, but not assure an entirely smooth transition, added Seiple.
"The complexity of turning the IRA into detailed rules has made the initial investment difficult and slowed down development, but the long-term projection is strong," said Seiple. "Ultimately, economics won't be the main challenge for future growth, but rather issues like interconnection queues, transmission capacity and labor shortages could cause bottlenecks."
Some advanced grid technologies, such as direct line ratings (DLR), have the potential to provide near-term transmission solutions and expand grid capacity. Some studies suggest DLRs can outperform static ratings 90-95% of the time and achieve increases in capacity more than 30%.
"There are solutions available now that can help alleviate current issues, but they are not getting traction fast enough," said Seiple. "Apart from these problems, we also face increasing extreme weather events, which have added strain on grids across the globe. As we work through these challenges, we project that the IRA will significantly reduce carbon emissions and result in a 60% carbon-free power sector by 2032, which is progress, but not enough to put us on track to limit the extent of climate change sufficiently."