Editorial
How electric utilities can leverage DERMS
What are DERMS and what are the benefits of using them?
Leaning into a distributed energy future, in which generation is decentralized and technologies like EV charging and solar abound, is a complex endeavour for utilities.
We expect cumulative capacity of distributed storage and solar in North America, Europe and Oceania to double by 2025, while electric vehicle (EV) charging points are set to grow sevenfold by this date. The US alone will add 127 GW of distributed energy resource capacity between 2016 and 2025.
In the same timeframe, the majority of new bulk generation capacity will be variable renewable energy: wind, solar and battery storage.
The increasingly variable nature of both distributed energy resources (DERs) and bulk power generation will lead to operational and planning challenges for utilities.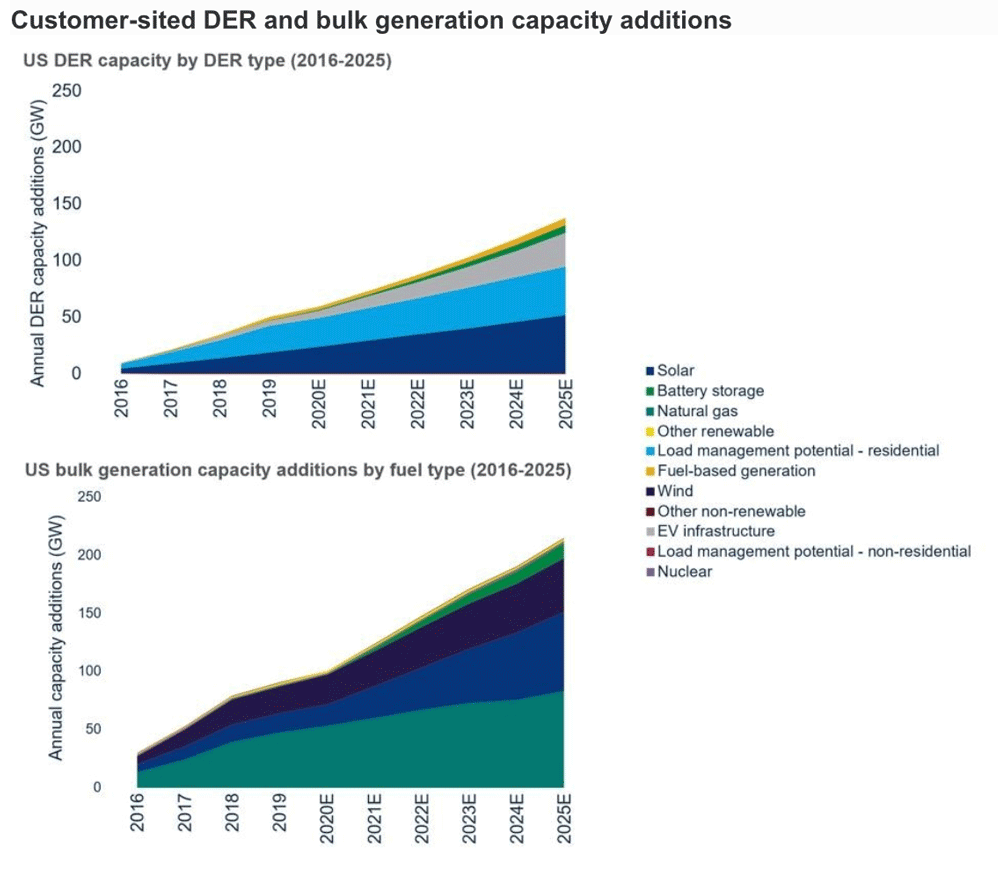 Regulatory approval for grid expansion and reinforcement is a multi-year and often political process that results in bill increases for customers. At the same time, utilities are exploring ways to incrementally mitigate the rising complexities of their grids.
This is where DER management systems (DERMS) and software solutions can help meet utility objectives and address DER-related issues swiftly and economically.
What are DERMS and what are the benefits of using them?

We define DERMS as software-based platforms that provide the ability to continuously manage diverse and dispersed DERs, both individually and in aggregate, to support multiple objectives related to distribution grid operations, end-customer value or market participation.
DERMS software helps grid operators to ensure system reliability while maintaining customer comfort. Although a DERMS provider's single software platform can aggregate and orchestrate all DERs, utilities increasingly prefer to work with a combination of DERMS software providers to solve specific, and often complex, issues.
During the summer of 2020, operators in various cities utilised DERs frequently to balance the grid during heatwaves.
California's utilities used all available demand-side resources throughout the August 14th and 15th energy shortages, orchestrating these through multiple DERMS systems to address local constraints and achieve a system-wide peak reduction. To illustrate, Southern California Edison reported a collective reduction of 1,200 MW during its emergency operations. Wood Mackenzie has tracked four active DERMS deployments at the utility.
Beyond mapping and dispatching DERs for system-wide or targeted grid benefits, DERMS providers often use proprietary analytics to optimise DERs' participation in wholesale markets and tap into available revenue streams for DER owners and operators. The more revenue streams a DER can tap into, the more compelling the business case for customer adoption.
What does the future look like for DERMS?
Improving the visibility of customer-side resources, in terms of scale and location, is a key driver for DERMS adoption.
As we progress through the global energy transition, the proliferation of DERs will further disrupt distribution grid operations. DERMS will be vital to ensure that grids can manage changing and dynamic demand as DER adoption becomes commonplace.
Since DERMS can address a wide variety of issues, solution providers have shifted away from all-encompassing proposals. Instead, over the last few years, partnerships within a broad community of DERMS providers have emerged.
We expect to see continued consolidation of this space, as more solution providers collaborate to capture the full value chain between customers and the grid.
Market Report
A Wood Mackenzie Grid Edge Report
Managing DERs and enabling a flexible grid: DERMS technology evolution and competitive vendor analysis
Analyzes product evolution of DERMS, its different types and their unique attributes, including competitive landscape and vendor profiles
Buy this report