Discuss your challenges with our solutions experts
Get in touch
For details on how your data is used and stored, see our Privacy Notice.
Editorial
Energy reliability, resilience, extreme weather and other updates from the grid edge in Q3
As summer begins, grid operators focus on extreme weather and reliability

Ben Hertz-Shargel
Global Head of Grid Edge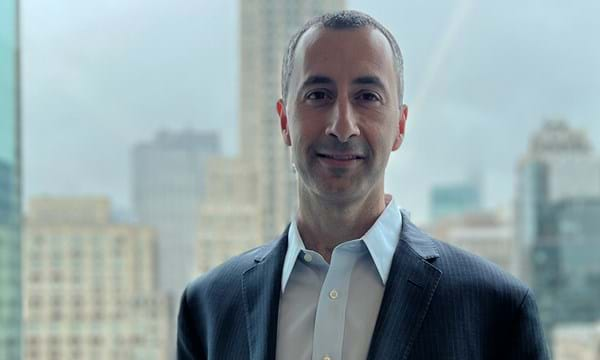 Ben Hertz-Shargel
Global Head of Grid Edge
Ben leads research across electrification and grid technologies, drawing on a decade of executive experience.
Latest articles by Ben
View Ben Hertz-Shargel's full profile
As summer begins in the U.S.—and fire season in the West—energy reliability, including resilience to extreme weather, stands out as the central grid edge theme. Each quarter, our grid edge team provides a comprehensive briefing, including updates and analysis of the key themes and developments in the grid edge ecosystem. Here are four highlights from the most recent grid edge quarterly executive briefing.
1) Texas and California, states that share grid reliability risk this summer, have taken very different tacks to prepare themselves.
In a March 2021 decision, the California Public Utility Commission (CPUC) initiated a multi-pronged approach to resilience that puts demand-side resources at the forefront. Enhancements were made to critical peak pricing rates and demand response programs, a Flex Alert media campaign for emergencies was reestablished, and a new Emergency Load Reduction Program was created to compensate for energy reductions beyond demand response (DR) commitments. Despite the financial incentives introduced across the various rates and programs, DR providers were disappointed that firm targets for DR capacity were not included in the decision and that the incentives were not channeled through the Demand Response Auction Mechanism (DRAM), which offers upfront revenue for DERs.
In contrast to California's demand-side approach, the Texas legislature took a decidedly supply-side tack to grid resilience during their spring session, focusing on generator and gas infrastructure readiness and ERCOT governance. Senate Bills 2 and 3, which Governor Abbott ultimately signed, create weatherization requirements for generators and critical infrastructure, albeit without significant teeth, politicize ERCOT's Board of Directors, and establish a new Texas Energy Reliability Council to oversee the state energy industry. The bills were clearly focused on winter reliability following Winter Storm Uri in February, but it is unclear how much of a material effect they will have on reliability in Texas in either winter or summer seasons
2) In the face of extreme weather and grid reliability uncertainty, industry is stepping in to address the resilience needs of customers.
Energy-as-a-Service (EaaS) microgrids are emerging as an attractive offering for commercial and industrial customers with critical facilities that cannot go down. Third-party ownership eliminates upfront costs while offering cost savings with respect to traditional backup generators, rentals, and uninterruptible power supply systems. Whereas customer- and utility-owned microgrids tend to be motivated almost equally by economics, renewable integration, and resilience, EaaS microgrids are motivated disproportionately by resilience. The EaaS market will therefore depend on the energy premium customers are willing to pay for resilience, as well as the availability and expectations of third-party capital to fund these projects.
On the residential side, an entirely new segment of the backup energy market was born this May with the announcement of the Ford F-150 Lightning, which comes equipped with vehicle-to-grid (V2G) capabilities. With an implied backup energy capacity of 90 kWh, a fully-charged F-150 Lightning is equivalent to seven Tesla Powerwalls, at roughly the same cost. The residential storage market, which has only just gotten off the ground and which Wood Mackenzie expects to grow dramatically through 2026, may experience long-term, unexpected headwinds from the EV market, if not more significant cannibalization.
Perhaps in anticipation of these headwinds, Sunrun has partnered with Ford in the F-150 rollout as the installer for the Level 2 Ford Charge Station Pro charger. The partnership offers Sunrun an opportunity to cross-sell solar and storage to Ford customers, but also provides a potential off-ramp to a solar+EV product model should that displace the company's current solar+storage model.
3) Some of the world's largest utilities continue to rely on third-party DER capacity, rather than direct investment, for grid reliability.
While New York is the historic U.S. leader in non-wire alternative (NWA) investments, California is close behind. The state's largest utility, PG&E, is currently soliciting offers for seven projects via its 2021 Distribution Investment Deferral Framework, of which five have declared capacity needs totaling 25.4 MW. Notably, six projects call for third-party ownership and the seventh permits third-party or utility ownership. This is consistent with California's competitive solicitation framework and signals continued movement of utilities away from not just infrastructure investment but capital investment itself, when lower-cost alternatives exist.
UK Power Networks (UKPN), the United Kingdom's largest distribution network operator (DNO), is further ahead on the same path as it transitions to a distribution system operator (DSO) model. Whereas a DNO is focused on managing distribution infrastructure, with DERs and energy service providers a secondary consideration, a DSO is tasked with independently operating a distribution system as a whole, orchestrating all resources and actors within it.
To that end, UKPN has been procuring increasing amounts of DER grid service capacity through a series of technology-neutral flexibility tenders. After procuring 19.3 MW in 2019 and 123 MW in 2020, the February 2021 tender brought in 350 MW of capacity, primarily from EVs and residential-scale storage (see breakdown below).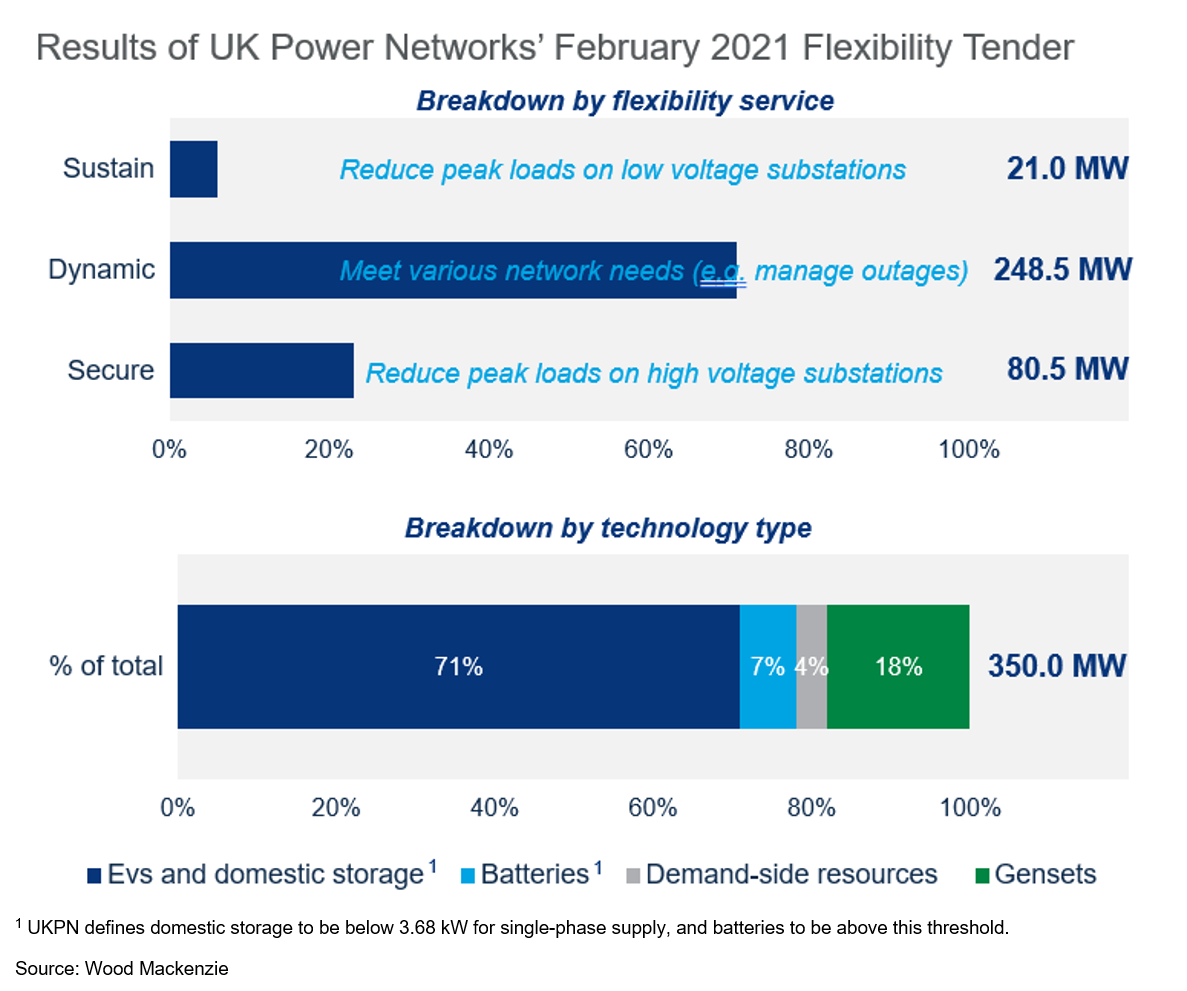 If UKPN, PG&E, and others can prove that grid reliability can be maintained through the procurement of low-cost, third-party DER capacity rather than direct investment, it could lead to further restructuring in the power sector, with utilities increasingly out of the generation ownership business. As DER capacity increases, system operation requirements on utilities will increase, pushing them even further toward the DSO model. That journey has only begun, however, and history has demonstrated that restructuring in the U.S. is always slow and often incomplete.
***
Ben Hertz-Shargel is Global Head of Grid Edge at Wood Mackenzie. The Q3 grid edge quarterly executive briefing provides analysis of the key themes and developments you need to know about the grid edge ecosystem, from electrification to virtual power plants to microgrids. Each briefing also includes a summary of recent investment and M&A activity.