Discuss your challenges with our Power & Renewables experts
Contact an Expert
For details on how your data is used and stored, see our Privacy Notice.
Editorial
Powering off-grid energy markets
The business case for serving the billion-plus people who lack access to grid power
What's the most effective way to solve energy poverty? Around the world, there are just under 1 billion people – around 13% of the global population – without access to electricity. And more than 1 billion more do not have access to reliable power.
Since 2016, investments in energy access have rapidly accelerated. Thirty times more money went into the sector in 2018 compared with 2013. And serious progress has been made in bringing clean and affordable electricity services to off-grid households and diesel-dependent commercial businesses in the last decade.
On the latest episode of the Energy Gang podcast, our experts asked: is investment being made in the right technologies? And will those investments be enough to meet the goal of universal electricity access by 2030?
Off-grid electricity markets have opened up
Until the last decade, self-contained power systems independent from the primary electric grid were mostly a niche solution. But off-grid electricity markets have now opened up, driven by cost reductions in solar PV and the realisation that poorly functioning state utilities would not connect many of those without access to electricity.
Lack of grid access is particularly acute in Sub-Saharan Africa, where incumbent utilities are the most cited obstacle to the growth and maturity of the electricity sector.
Huge opportunities in emerging markets
The traditional electric utility business is ripe for disruption. Private investment is stepping into the gap, targeting the 'lost' customers who are ill-served by the grid.
Mature market players are looking to emerging markets for growth. In advanced economies, we expect about a 15% growth in electricity demand by 2040. In emerging markets, it's 90%.
Power markets beyond the grid edge are a fundamental piece of the energy transition puzzle, and will play a pivotal role as the transition accelerates in emerging markets.
Who is investing in the space?
A diverse class of investors has emerged, from private equity players to development finance institutions (DFIs). And strategic investors, including some large European utilities and oil and gas Majors, have seized the opportunities in the off-grid space as they seek to diversify business models to prepare for the energy transition.
For example, Total is currently the largest distributor of solar home systems in the world.
What technology is being used?
Technologies serving off-grid households take two main forms. First, small scale solar home systems which typically include storage – known as distributed renewables – and operate on a pay-as-you-go model. Second, on a larger scale, mini-grids serve a bigger group of customers and usually include an anchor customer.
Many next-generation private utilities are also taking the opportunity to provide services beyond just electricity. These include selling other retail products and goods, leveraging existing networks to pilot delivery of water, internet and other utility services, and allowing customers to swap batteries for e-mobility.
Are off-grid connections the best, fastest and cheapest way to bring power to those without it?
Building out a centralised grid can be slow and ineffective. But do distributed renewables provide a real alternative? The Global Commission to End Energy Poverty argues that standalone solar systems and others like it are generally too expensive for poor rural households.
On a cost per kilowatt-hour basis, these systems are expensive. However, we argue that we need to weigh up the value proposition against the alternative. So, for customers who aren't on the grid, that might mean that they need to collect and burn biomass for cooking fuel. The cost of a standalone solar system still offers a compelling value proposition when weighed against the alternative of having no electricity access at all.
Bottlenecks in international finance
There's no real consensus on the best way to bring power to those without it. And that's caused a funding gap. Many institutions, such as the World Bank, won't provide funding for standalone solar systems because of a belief that these types of off-grid connections don't serve a 'modern' energy need.
Investment has been patchy. And with no agreement on the best solution, money has flowed disproportionately between on-grid and off-grid services.
While solar home systems are an effective and targeted solution for rural households, small-scale distributed solutions cannot power industrialisation and economic growth.
Shifting the conversation
There's no one-size-fits-all solution. While solar home systems are effective for rural households, small-scale distributed electricity packages cannot power industrialisation and economic growth. But they do offer a potentially faster pathway to electricity access than traditional grid build-out on its own.
Economies need both grid and off-grid solutions to flourish. Countries like Togo and Sierra Leonne in West Africa are already investing in both to close the electricity gap.
Integrated electricity planning is key.
Want to hear more?
Listen to 'The State of Off-Grid Energy Access' on the Energy Gang podcast, as we follow the money, the markets and the business models for off-grid electricity.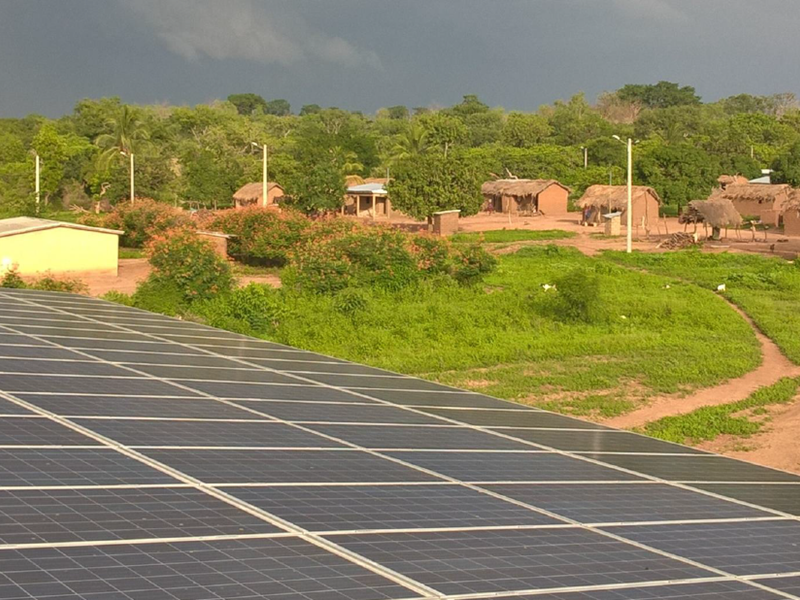 Featured
Strategic investments in energy access: scaling the utility of the future at the last mile
Get your copy