What's the role for the exploration industry as the energy transition takes long-term oil growth off the agenda? In 2019, Andrew Latham, vice president of global exploration, asked if there's room for explorers in a low-carbon future. In 2020, the energy transition will require explorers to focus on highly advantaged oil and gas. Traditional metrics around value, returns, costs, cycle time and product quality with be joined by growing scrutiny of carbon footprint and ESG credentials.
Fund managers will feel even more pressure to justify owning oil and gas shares from their customers. Exploration will feel yet more heat as investors question the need to explore at all given the vast discovered resources. We expect exploration will still have its role to play in allowing companies to add lower-cost barrels to enhance the quality of their portfolios and boost near term profits. Some explorers will build exposure to gas for a lower-carbon future.
Traditional and new exploration metrics need not be in conflict. Lower-carbon opportunities very often have lower costs and better economics. The challenge for explorers focused on shorter cycle times is to achieve success at a sufficient scale. Most of the best prospects in mature basins were drilled out years ago. Big, valuable prospects exist mostly in new and emerging plays. Companies will drill in the hope of finding something better than the discovered resources they already have – lower cost and higher margin. New discoveries need to leapfrog to the top of the queue for development. The Majors are likely to remain the prominent participants in high-impact exploration plays. NOCs that are less exposed to investor concerns may also be able to step up their exploration game.
Some companies may announce a strategic move away from wildcatting in favour of acquisition-led growth or new energy businesses. Repsol has said it will prioritise value generation over production growth, while focusing on portfolio improvement and cash generation. Repsol sees gas as the fuel for the energy transition and will seek a balanced oil and gas portfolio. Criteria for prospect choice will shift, but oil and gas exploration is not mutually exclusive with a low-carbon future.
Some of the European IOCs may give exploration a diminished role as they shift focus to renewables. A diverse inventory of low-breakeven opportunities will be key to thriving as the energy transition unfolds. Companies will hold their discipline and stick to drilling prospects with a clear route to commercialisation. Full cycle returns should be in the range 12-15%, supporting a fourth straight year of exploration value creation.
How accurate were our predictions for 2019?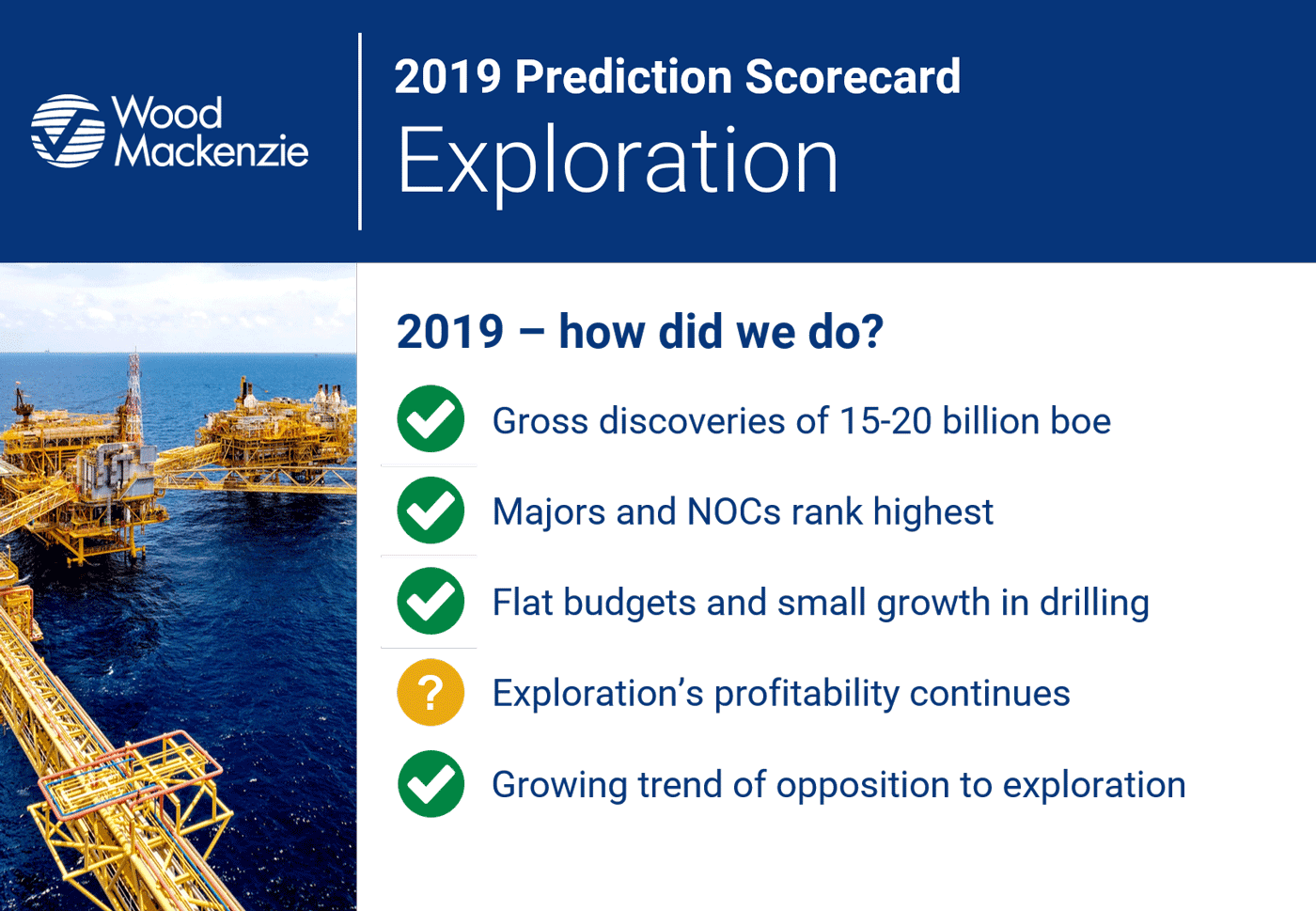 Get our five predictions for 2020 when you fill in the form on this page.