Opinion
2021 – cheerful or fearful?
Leading analysts from across APAC offer their thoughts on what will shape the next 12 months

Gavin Thompson
Vice Chairman, Energy – Asia Pacific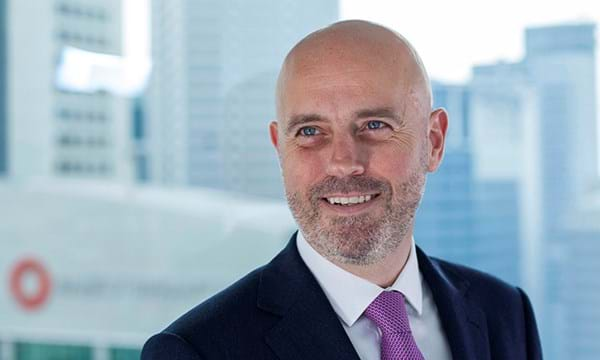 Gavin Thompson
Vice Chairman, Energy – Asia Pacific
Gavin oversees our Asia Pacific research helping companies identify and build their international growth strategies.
Latest articles by Gavin
View Gavin Thompson's full profile
There's much on our minds as we consider Asia's economic and energy environment in 2021, particularly as the continuing impact of the pandemic meets the beginning of vaccine rollout. And after the 12 months we've all just experienced, making bold predictions for the year ahead is more fraught than ever: nothing is off the table.
But this is the business that we are in. So with the huge uncertainties ahead, I asked Wood Mackenzie's leading analysts across Asia Pacific for their predictions - both cheerful and fearful - about 2021. I hope some of their thinking will surprise you.
Macro environment – it's all about the jab!
Cheerful: Vaccine is already the 'word of the year' as the rollout begins, with huge implications for economic growth and energy demand. Effective Covid-19 vaccines are an obvious cause for optimism. And on top of a successful vaccination programme, I expect governments to support recovery with continued stimulus. I'll particularly be watching the impact on Asia's middle class: they've been saving cash during the pandemic and will now be encouraged to level up their consumption. If the jab delivers the right results, then expect increased spending on travel and public activities – with a knock-on effect for oil demand – as restrictions are loosened.
Fearful: I worry that widespread vaccine distribution in developing economies is delayed into 2022 due to limited availability and less efficient medical and logistic systems. Many parts of the economy do not fully recover as governments in some developing countries struggle to fund their stimulus packages. With lower-income households accounting for a greater share in these economies, and their income and savings hurt the most by the pandemic, I'm nervous about the prospect of flat or falling consumption by this group in 2021.
Yanting Zhou, Head of APAC Macroeconomics
Oil prices – the world looks to Asia for demand recovery
Cheerful: Success with vaccines will see Asia leading the way in global oil demand recovery. The region is critical to the drawdown of high crude stocks and to our view of Brent averaging around US$54/bbl in 2021. The OPEC+ agreement and Saudi production cut announced in early January were triggered by weakening demand recovery in the US and Europe, putting more focus on growth in Asian demand this year.
Fearful: Regional refinery closures could become a reality. If recovery is delayed then the continuing pandemic is less positive for refiners as it will keep product stocks high and refining runs and margins low. I expect product stocks to remain high for another 6-8 months, and these high stocks and surplus refinery capacity inevitably lead to a real pressure on margins. Refinery closures in mature markets such as Australia and Japan could become reality.
Sushant Gupta, Research Director, APAC Oils & Refining
Gas and LNG – runaway prices re-defining the market and reducing inventories
Cheerful: We've started 2021 with a bang and spot LNG prices show no sign of cooling. High LNG demand will allow LNG plants to run without shut-ins this summer, particularly in the US, Egypt and other price sensitive facilities that shut production last year. This is even more true if Europe and Asia exit winter with lower gas inventory, further supporting shoulder period and summer prices. Asian buyers, fearful of LNG price volatility, will be encouraged to return in force to the long-term contracting market. Great news for on-hold pre-FID projects.
Fearful: Soaring spot LNG prices and high volatility will influence Japanese and Korean energy policy away from further measures to increase the share of LNG within the power generation mix. While I expect LNG prices will normalise after the recent winter rally, lower inventory levels and general strong demand from China will prevent LNG prices from out-competing domestic and pipeline gas economics, leading to a softening of LNG demand growth.
Huang Miaoru, Director, APAC Gas & LNG Research
Upstream – greater ambition on net-zero, but investment set to stay away (again)
Cheerful: Watch out for Asia's NOCs making some big splashes in 2021 with revamped energy transition plans. The exciting bit will be the levels of ambition on show. Watch out for PETRONAS talking about innovation in carbon sequestration (CCS). It's under wraps right now but has the potential to be the biggest global CCS investment to-date. We could also see some of the Japanese, Korean and Australian players make meaningful investments in hydrogen. But perhaps most impactful of all, China's 14th five-year plan could provide a roadmap for the world's largest emitter to achieve net zero emissions by 2060.
Fearful: Upstream investment will drift like an untethered vessel. With attention fixated on the energy transition, Covid-19 and stakeholder management, I fear upstream players from Japan to India will continue to ease off on new spend - with governments largely indifferent. Take exploration for example. There are hundreds of active upstream companies in the region, but I can count on one hand the number of active players really going after it with the drill-bit in 2021. Governments need to wake up and realise the real risks here – if they don't, or they move too slowly to reform increasingly archaic terms, it will be too little, too late.
Angus Rodger, Research Director, APAC Upstream
Power and Renewables – wind and solar growth accelerates, but coal remains resilient
Cheerful: I'm very optimistic on the growth of renewables installations in China. Numbers being thrown around of more than 100 GW of additions in 2021 for wind and solar, which is double what we had expected at the beginning of 2020, primarily due to China's 2060 carbon neutral target. I'm also expecting to see an uptick in Chinese manufacturing and exports – as much of the rest of the world still struggles with the pandemic – which will drive rising electricity demand. While many countries are talking about shorter and more secure supply chains, China's technology, manufacturing and low-cost advantages are steadily improving.
Fearful: Coal is proving highly resilient and while some countries are moving to accelerate retirements of coal plants, overall coal fire generation in Asia is on an upward trajectory in the next few years. Power shortages and incredibly high spot gas prices this winter are reminding governments, businesses and consumers of the importance of coal. Even with a booming renewable sector in China, it is not enough and over 40 GW of new coal plants were permitted in 2020.
Alex Whitworth, Research Director, APAC Power & renewables
Iron ore and steel – China, China, China!
Cheerful: The euphoria that swept across steel and iron ore though Q4 2020 looks set to continue. Steel production and prices continue to rise, while iron ore producers enjoy their highest prices (and margins) since the boom of 2010-2012. No prizes for guessing why. China's economic recovery and fiscal stimulus targeted at construction and infrastructure bolstered Chinese steel production, driving demand for an additional 100 million tonnes of imported iron ore. While the rest of the world's steel industry went into a tailspin, Chinese mills barely missed a beat. Vaccines, global economic recovery and tighter supply-demand fundamentals all point to a lucrative 2021 for steel and iron ore producers.
Fearful: We still believe China is at, or close to, peak steel, with a modest decline in Chinese hot metal production being seen by late 2021. Seaborne iron ore trade will inevitably follow - albeit with a slight lag. All eyes are on the timing and scale of Beijing's stimulus and the extent to which the rest of the world recovers from the pandemic. Production risks also remain in the world's two dominant seaborne iron ore suppliers: in Brazil, Vale faces continuing licensing and inspection delays, and the slow and expensive process of 'decharacterisation' of upstream dams in the wake of the Brumadinho tragedy; in Australia, an increasing focus on ESG could slow future investment, increasing the prospect of delays to expansions and proposed new developments.
Paul Gray, Research Director, Global Iron Ore Markets
Petchems – drowning in supply
Cheerful: Realistically, I'm not seeing too much to be cheerful about in 2021! Admittedly, in line with an expectation of vaccine rollout and economic recovery we do see a rebound in demand this year, which will support some margin growth for producers. But China's ambitious expansion of its integrated refinery-chemicals projects despite the low margin environment will continue apace, dampening margin recovery - 2021 will likely only provide brief respite for those petchem producers exposed to export markets (especially China).
Fearful: The general outlook for petchems remains gloomy, mainly due to new aromatics/olefins capacity (many integrated with grassroots refineries) that continue to be added in China. The industry is still reeling from the first wave of Chinese capacity expansions that started in early 2019, with more set to follow.
Darryl Xu, Principal Analyst, APAC Chemicals Research
Thermal coal – cold weather is a boon, but Australian producers still frozen out of China
Cheerful: Coal loves the cold and this year's winter weather has brought warm tidings to coal sellers. The benchmark Newcastle 6,000 price is up around US$15/tonne since the start of December. Colder than expected weather across China, Japan and Europe has driven power generation to record highs and spurred demand for coal. However, spot supply is limited after producers spent most of the year cutting production to align with the demand destruction of the pandemic. The cold weather won't last and as we enter the warmer spring, prices will likely come off the boil, but it's been a strong start to the year for producers.
Fearful: China's ban on coal imports from Australia will last all year. While having access to Australian coal certainly makes things easier for Chinese buyers, there are plenty of alternative sources available if they are willing to pay more. International supply chains can be realigned to continue to meet China's demand. Domestic coal prices were allowed to soar last year, demonstrating the Chinese government's willingness to fund this shift in the sourcing of its imports.
Dale Hazelton, Head of Thermal Coal Research
APAC Energy Buzz is a weekly blog by Wood Mackenzie Asia Pacific Vice Chair, Gavin Thompson. In his blog, Gavin shares the sights and sounds of what's trending in the region and what's weighing on business leaders' minds.