Opinion
Asia's LNG pain is Europe's gain - for now
Europe and Asia will soon be 'pulling at the same blanket' to meet LNG demand

Gavin Thompson
Vice Chairman, Energy – Europe, Middle East & Africa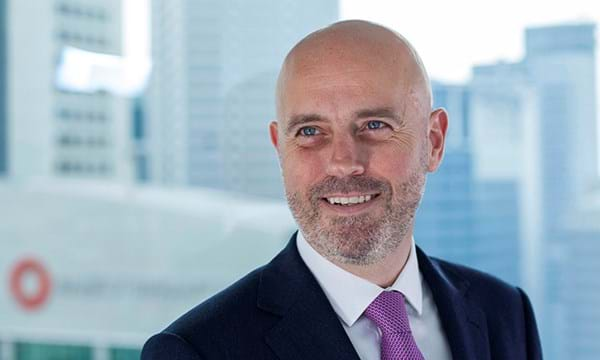 Gavin Thompson
Vice Chairman, Energy – Europe, Middle East & Africa
Gavin oversees our Asia Pacific research helping companies identify and build their international growth strategies.
Latest articles by Gavin
View Gavin Thompson's full profile
"It's not easy, but it's feasible" was the verdict of EU climate chief Frans Timmermans as the bloc announced its ambitious goal of reducing imports of Russian gas by around two thirds this year. With this implying something in the order of 100 bcm of supply, we do not share Mr Timmermans' optimism.
Cutting Russian supply by around a quarter is a more realistic outcome - anything more will jeopardise Europe's ability to build storage levels sufficiently ahead of next winter. Gas market fundamentals in Europe have already improved as milder weather helped inventories end winter at a more comfortable level than originally feared. Europe is at the same time pushing ahead with energy conservation measures, increasing non-Russian pipeline supply, delaying mothballing nuclear plants, and burning more coal in the power sector as gas prices have spiked.
LNG is a further bow in Europe's armoury. We now expect European LNG demand to grow by 25 Mt (34 bcm) this year, with send-outs into Europe already hitting record highs. Stronger than anticipated LNG supply growth is supporting this, boosted both by producers maximising output to benefit from higher prices and the smooth commissioning of new projects, including Calcasieu Pass in the US. We expect global supply growth of 17 Mt this year, with around 10 Mt of this coming from the US.
The Biden administration has pledged to supply 11 Mt (15 bcm) of additional US LNG to the EU in 2022. This looks a safe bet: US exports to Europe already set a record of just over 9 Mt (12.5 bcm) in Q1, supported by high prices and mild weather in Asia. There will be more competition in the summer, but as European prices stay elevated, the target will likely be exceeded.
But even with higher US LNG imports and the build-up of floating stock through the winter, we still see Europe dependent on weaker demand across the rest of the world to free up at least 6 Mt (8 bcm) of additional LNG in 2022. This primarily means Asia, where a comfortable winter across northeast Asia and reduced activity by the region's price sensitive buyers helped Europe import record LNG volumes through Q1. Asia to the rescue so far, but how much longer can this last?
Asia's price pain is Europe's LNG gain
European and US political leaders began discussing diverting cargoes with their counterparts in Asia long before Russia's invasion of Ukraine. What initially looked challenging became more certain as Asian LNG buyers stepped back from the market as price volatility increased. After a barnstorming 2021, Asian LNG demand growth is now a shadow of its former self. Q1 LNG imports were down 10% from a year earlier on the back of milder winter weather and increased use of coal and oil as spot LNG prices soared.
As a result, through the first quarter of this year Asian LNG demand dropped to pre-2021 levels, with northeast Asia and India importing 7 Mt less LNG than in Q1 2021. Sellers found a ready market in Europe for these volumes.
We expect this trend to continue with imports flat year on year in 2022. Japan, South Korea, and India combined will see LNG demand drop by 7 Mt. Southeast Asian imports will see some modest growth but sustained high prices will mean a weaker increase than we had previously anticipated.
Even more important to Europe's LNG ambition this year is China's stalling LNG market. Chinese buyers have been clearly spooked by high prices. In addition, domestic production is performing well as Chinese NOCs make progress with cost reduction and EUR improvement. Piped imports are also rising, with Russia's Power of Siberia gas now the most competitive import source to China, encouraging a faster ramp-up this year. From our previous expectation of China's LNG demand rising by 10 Mt of LNG this year, imports will now be flat in 2022.
The stage is set for fierce competition for available LNG supply
How much longer will this last? For the most price sensitive buyers in Asia, some degree of demand destruction will likely persist even as the risk premium associated with Russian supply disruptions eventually reduces. For these buyers, LNG prices above oil parity isn't good news.
But higher prices will cool, not destroy overall Asian demand growth through the mid-2020s. Asia's LNG demand will rise from 270 Mt in 2022 to over 300 Mt by 2025. With only modest volumes of new LNG supply coming onstream during this period and Europe's decision to diversify away from Russia now irreversible, the stage is set for fierce competition.
This means that as it looks to reduce its dependence on Russian gas, it will become tougher for Europe to turn to Asia for spare volumes through to 2025. As Massimo Di Odoardo from our global gas team puts it, to meet their LNG future demand over the next few years "Europe and Asia are both going to be pulling at the same blanket."
Read more: Global Gas – Strategic Planning Outlook
Read more: Russia/Ukraine briefing: Gas/LNG Focus
APAC Energy Buzz is a weekly blog by Wood Mackenzie Asia Pacific Vice Chair, Gavin Thompson. In his blog, Gavin shares the sights and sounds of what's trending in the region and what's weighing on business leaders' minds.