Opinion
China, coal and the big crunch
Could the fall back on coal derail Beijing's decarbonisation targets?

Gavin Thompson
Vice Chairman, Energy – Europe, Middle East & Africa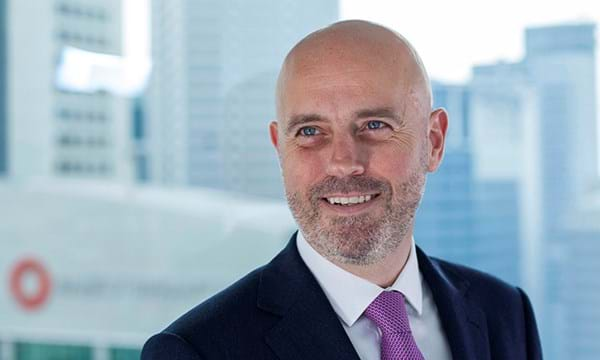 Gavin Thompson
Vice Chairman, Energy – Europe, Middle East & Africa
Gavin oversees our Asia Pacific research helping companies identify and build their international growth strategies.
Latest articles by Gavin
View Gavin Thompson's full profile
Nothing beats a UN climate conference to get world leaders talking tough on global warming. But as governments around the globe jostle to outdo one another ahead of next month's COP26 gathering in Glasgow, they must simultaneously deal with what is now the most turbulent period for global energy markets since the beginning of the pandemic. This is a major headache for politicians as strained global energy supplies and strong demand growth send commodity prices higher and force countries across Europe and Asia to burn more coal to keep the lights on.
Asia's energy importers are hurting more than most. Today, traded coal prices into Northeast Asia are soaring as stockpiles dwindle and supply tightens, and this is even before the mercury starts to fall. Natural gas offers no respite, with the prospect of Pacific spot LNG prices hitting US$40/mmbtu (equivalent to an oil price of over US$250/bbl!) this winter looking a fair bet. From India to South Korea, the spectre of electricity blackouts looms as buyers scramble to secure supplies ahead of peak winter demand.
Much of the action is inevitably in China. Reports last week of the Chinese government mandating its energy companies to secure energy supplies "at all costs" came as power rationing was widened to over half the country's provinces, sending already hyperactive coal and natural gas prices further north. China's leadership undoubtedly anticipated this, but as the country's power crisis mounts the message to its state-owned energy suppliers is clear: blackouts this winter will not be tolerated.
The impact of China's power crunch is being felt globally. As Beijing's 'at all costs' directive pushes coal and gas prices higher, governments, energy suppliers and customers across Asia and Europe are bracing for a tough winter ahead.
What led to the crisis in China's power market? Have the country's increasingly stringent energy and emissions intensity targets fuelled the crunch? And could easing the crisis derail China's climate change ambitions? I spoke to Wood Mackenzie's China analysts to understand more.
How did we get here?
My colleague Alex Whitworth, Head of APAC Power & Renewables, points out that unlike power crunches in many other markets, current outages in China are not due to a lack of generation capacity. On the contrary, China's national reserve margins remain very healthy at above 50%. What is happening today is instead the consequence of a head-on collision between dizzying market fundamentals and China's policies to reduce both energy demand and emissions intensity.
First the fundamentals. Strong demand growth driven by high summer temperatures and rising industrial output saw electricity demand rise by almost 14% during the first eight months of this year. With weak summer hydro in southwest China and constraints on domestic coal output, China's coal-fired generators soon burned through stockpiles as demand increased. And with thermal power generation – mostly coal – expected to be up around 10% this year, China's power sector will consume an additional 200 million tonnes of thermal coal this year. No wonder China's seaborne thermal coal price marker hit RMB1,500/tonne (US$230/tonne) last month – a whopping 50% higher than just a month earlier.
Coal prices just too darn hot for China's power generators
When stratospheric traded coal prices meet the regulated on-grid power tariffs of a centrally planned economy, something has to give. And even though most Chinese gencos have a relatively modest exposure to spot prices, rising coal and gas prices have firmly pushed the P&Ls the balance sheets of most into the red this year.
For those most dependent on spot thermal coal this has meant reduced generation output to stem losses. But even for the biggest players (such as Shenhua and Huaneng) that have the comfort of owning coal production, sky-high prices remove any incentive to generate additional power beyond contracted levels. With the government calling on China's power utilities to ensure supply at any cost, doing so can mean immediate losses on fuel costs of over 60% at current spot prices.
To alleviate the crisis, China's government has called on miners to boost production and will allow some modest increase in imports (Australian coal is back!). But my colleague Zhai Yu from our China coal market team expects supply of thermal coal to remain tight through the upcoming winter and even into 2022. And with the spot price in China potentially reaching an eye-watering US$280/tonne by the end of the year, China's power generators will be desperate for end-user tariff hikes to ease the pain.
Intensity targets play their role
China's power crunch has struck at a time when the country is stepping up climate change mitigation targets. In the 14th five-year plan, released in March, China aims to cut energy intensity by 13.5% and carbon intensity by 18% by 2025, furthering similar goals in the previous 12th and 13th five-year plans.
The government sets targets by quarter for every province in China. However, with almost two thirds of provinces failing to meet their energy intensity targets in the first half of 2021, many resorted to rationing power supplies to inefficient industrial users. Admirable, but as the power crunch worsened, China's central government has intervened with support for coal – proof that pragmatism beats principles in a crisis.
Is the power crunch derailing China's emissions targets?
Like other markets in Asia and Europe, China must perform a balancing act between the immediate need to keep the lights on – via more coal – and showing its commitment to increasingly ambitious decarbonisation targets. This looks uncomfortable as China prepares for COP26 and comes just weeks after President Xi announced that China will no longer build coal plants overseas.
But the short-term reality is that China and many others have little choice but to increase coal consumption to meet power demand. Looking further out, China's economic and strategic push towards decarbonisation must support a greater role for gas, accelerate investments in renewables and increase the rate of nuclear build. As my colleague Alex puts it, the crisis is "…only accelerating the long-term shift to renewables as countries aim to reduce reliance on expensive fossil fuels —especially imports— in coming years."
For much more on this, read the Insight 'China's power outages reflect coal's resurgence in 2021' from our China team.
APAC Energy Buzz is a weekly blog by Wood Mackenzie Asia Pacific Vice Chair, Gavin Thompson. In his blog, Gavin shares the sights and sounds of what's trending in the region and what's weighing on business leaders' minds.