Opinion
China's deteriorating air quality indicates a recovery is underway
As coronavirus wreaks havoc across the world, China's rising pollution is a sign of a return to more normal conditions

Gavin Thompson
Vice Chairman, Energy – Europe, Middle East & Africa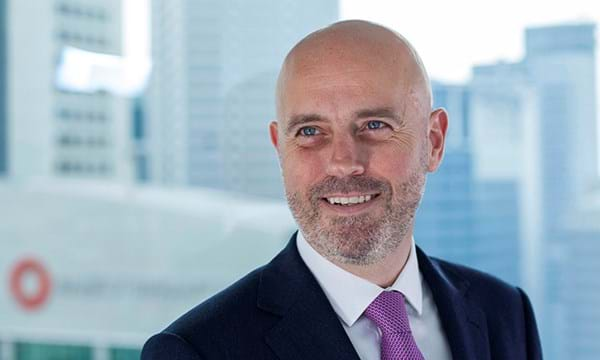 Gavin Thompson
Vice Chairman, Energy – Europe, Middle East & Africa
Gavin oversees our Asia Pacific research helping companies identify and build their international growth strategies.
Latest articles by Gavin
View Gavin Thompson's full profile
As the battle against the coronavirus outbreak intensifies across the globe, positive news is in short supply. But in a world turned upside down, rising levels of air pollution in China indicate that a recovery is now underway.
Recent data released from the European Space Agency's (ESA) Copernicus Sentinel-5P satellite shows a clear uptick in the concentration of particulate matter across northern and eastern China. Levels of nitrogen dioxide coming primarily from power plants, industry and road transport, which are a useful indicator of economic activity, began to increase in early March following a significant reduction from late January as quarantine efforts intensified.
We are all indebted to the collective efforts of the Chinese government and people to try to contain the coronavirus outbreak over the past two months. These sacrifices are now showing encouraging results. The country is gradually returning to normality and with this, energy demand is beginning to recover.
Just when the world needs it most, China is going back to work.
China's return to work is supporting a modest recovery in oil demand
China's February oil demand was awful, with unprecedented disruptions across key oil product users such as road transport, industrial operations and air traffic. With the return to work, demand is inevitably improving, though the data is still patchy.
As domestic travel resumes, so road traffic volume has increased since the beginning of March. This is a positive sign that gasoline consumption will lead the demand recovery among other transport fuels. For proof, look to the gradual return of commuter congestion in China's cities, though the recovery of leisure activities will take longer.
A recovery in jet fuel demand looks more challenging. With coronavirus now a global pandemic and air travel restrictions now near universal, the downturn in China's jet fuel demand will last longer and recovery will depend on the wider situation.
Read more: Oil demand pain: checking on supply and demand progress
Searching for the positives in China's LNG market
China's return to work is welcome news for the global LNG industry. Even prior to the impact of coronavirus, the pace of Chinese gas demand growth was slowing due to weaker economic growth. Containment measures had an immediate impact on gas consumption. Daily gas demand through the first half of February was 25% lower than the normal levels seen before the Chinese New Year holidays, with industrial demand hit particularly hard.
Already weak, Asian spot prices tumbled in response, dipping below US$2.80/mmbtu in early February. However, the impact on China's LNG imports has surprisingly been more modest than anticipated. In fact, China's total gas imports increased by 2.8% through January and February. And although delays to official customs data mean we don't yet have the breakdown of pipeline versus LNG, anecdotally things look better than expected for LNG.
On 5 March, Kazakhstan received a force majeure notice from PetroChina, requesting a 20%-25% cut in supply. A 25% would represent around 2 bcm, though still important as it marks China's first force majeure with a piped gas supplier. Clearly of far greater significance are levels of imports from Turkmenistan. But Turkmenistan piped supply was already at minimum contract offtake levels pre-coronavirus and unlikely to have risen this year.
Join our upcoming webinar: Global LNG - Key Themes and Short-Term Outlook
Soft LNG spot prices and oil price crash easing the burden for Chinese LNG buyers
Gas prices are clearly critical to this. Spot prices have already fallen through the floor, though a modest recovery through March has been largely China-led as buyers look to take advantage as economic activity resumes.
With Brent prices crashing through US$30/bbl earlier this month, a sustained low oil price will also reduce the cost of Chinese NOCs' oil-indexed contracts. If the Brent price is sustained at around US$35/bbl, both legacy and new LNG contracts would fall below the city-gate price benchmark in Shanghai. Given far higher fixed transportation costs, Central Asian piped gas import prices can't respond in the same way.
Read more: What does the oil price fall mean for the gas market?
Recovery in China's LNG demand requires a health warning
Admittedly, these are very small green shoots. China's LNG market remains dominated by uncertainty over the pace of the recovery from the outbreak and the impact on the economy. But the government is taking active measures to bolster demand, reducing gas prices to non-residential users to help coronavirus-affected businesses resume operations. Positive steps but still not enough to replace all lost demand.
Additionally, while force majeure requests on LNG supply contracts by China's NOCs in January were reportedly rejected by LNG suppliers, the potential remains for import terminals to be disrupted again by travel restrictions and reduced skilled labour availability should containment not succeed. This is the unsettling reality of coronavirus that LNG suppliers can't overlook.
Read more: LNG short-term trade and price outlook (Q1 2020)
Thermal coal and recovery in electricity demand
Electricity demand has long been one of Chinese premier Li Keqiang's favoured proxies for GDP growth. The resumption of Chinese power demand growth is encouraging, though supply chain disruption continues to hinder full industrial resumption, keeping a lid on power demand (and diesel). Looking at thermal coal consumption by the major coastal power plants, the return to growth story is encouraging.
The rest of the world has much to learn from China's efforts to battle and contain coronavirus. But we also need to be looking to the future and right now it is China's energy markets that are the first to be showing signs of a resumption in demand growth. The pace of China's economic recovery is now a key focus for all of us.
APAC Energy Buzz is a blog by Wood Mackenzie Asia Pacific Vice Chair, Gavin Thompson. In his blog, Gavin shares the sights and sounds of what's trending in the region and what's weighing on business leaders' minds.