News Release
A revitalised oil and gas sector can play a key role in Indonesia's energy transition
New Wood Mackenzie report recommends four key measures to attract increased investment and ensure sustainability
Indonesia's oil and gas sector must undergo a major overhaul in the way it operates if it is to realise the full potential of the country's natural resources and support a successful energy transition, according to a new white paper by Wood Mackenzie, a global insight business for renewables, energy and natural resources.
The key recommendations from the White Paper, written in conjunction with the Indonesian Petroleum Association, were presented at the IPA Convex 2023 conference in Jakarta by Andrew Harwood, Director of Upstream & Carbon Management Research, and Joshua Ngu, Vice President of Upstream & Carbon Management Consulting at Wood Mackenzie.
The report has yielded four key recommendations that will help Indonesia's oil and gas sector navigate the energy trilemma of energy security, affordable access to energy and the implantation of a successful energy transition.
Develop a long-term energy roadmap

The report recommends the creation of a clear pathway for Indonesia's oil and gas industry that explicitly describes each energy lever and its expected contribution to the country's long-term energy transition, security, and affordability.
This includes delineating the roles of all oil and gas stakeholders including governmental agencies and state-owned enterprises, as well as private sector companies as well as roll out a detailed decarbonisation plan across the value chain of the sector.
Establish an overarching legal framework

Wood Mackenzie said that enshrining regulatory stability into law is an essential part of building a robust oil and gas sector that can allow Indonesia the opportunity to take full advantage of its remaining hydrocarbon resources. This would include stringent regulatory checks and balances that would increase transparency, streamline procurement and licensing processes, reduce costs and accelerate development.
"Ensuring there are clear and permanent rules governing the authority and responsibilities of stakeholders is paramount," Harwood said. "Clarity on legal enforcement mechanisms based on the new oil and gas law will ensure that there are no grey areas and will benefit the whole industry in the long-term."
A redesigned and enhanced fiscal regime
The White Paper also advocates a full overhaul of the current rules surrounding the fiscal arrangements in Indonesia's oil and gas sector and makes several recommendations based on increasing global competitiveness. These include tailoring terms to better reflect the challenges of different types of fields, guaranteeing reasonable rates of return as well as share in future upside and downside risks and introduce market-based domestic gas pricing mechanisms.
Introduction of a national greenhouse gas emission reduction framework
The final recommendation from the white paper cites the necessity of a transparent framework, aligned closely with international best practices, focused on prioritising a "low-carbon" oil and gas industry.
This would include developing an energy transition roadmap, the publishing and monitoring of clear emissions targets, a set of baseline standards for the industry to adhere to and the introduction of incentives to encourage stakeholders to fully embrace all energy transition initiatives.
"The introduction of incentives is much broader than merely financial inducements," Harwood told delegates. "These should include encouraging companies to collaborate and knowledge share as well as prioritise companies who embrace cleaner technologies and invest in CCUS projects."
CCUS crucial Indonesia's energy transition
The White Paper goes on to highlight the importance of a robust CCS/CCUS industry if Indonesia is to meet its decarbonisation ambitions and predicts that if implemented correctly, a national CCS/CCUS strategy could generate additional government revenues and establish the country as a regional leader by providing storage services.
Actions to Establish the Fundamental Building Blocks of Indonesia's CCS Sector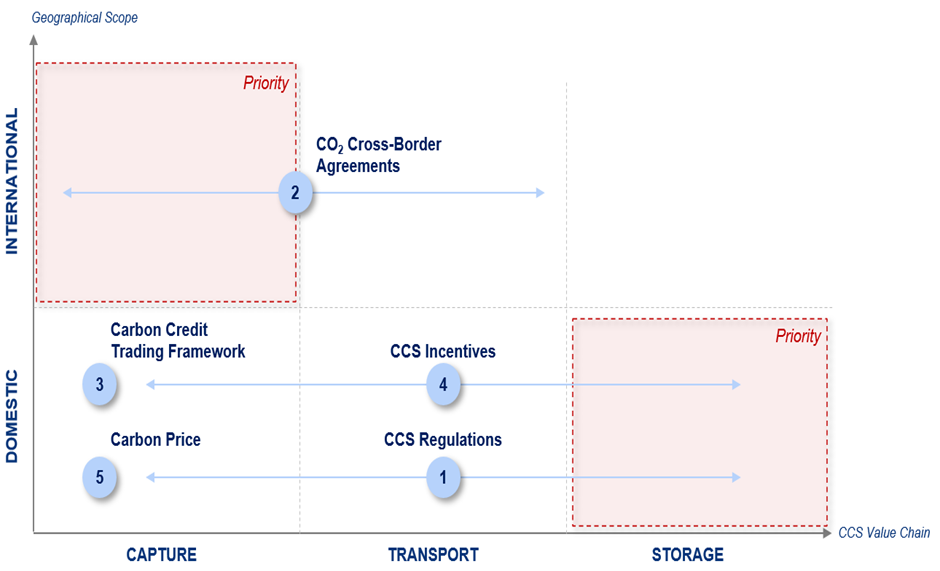 "Indonesia's geopolitical standing would be enhanced by becoming Asia's foremost expert in the CCS/CCUS sector," Ngu said.
"Domestically it would also create a boom in benefits associated with creating a new industry aligned with the green economy and contributing to long-term sustainable prosperity."