More than 70 networks already in operation, spanning multiple business models
Growth on the horizon with DC fast-chargers set to grow sixtyfold by 2050
As electric vehicle (EV) adoption continues to rise, the market for public charging networks in North America is forecast to grow rapidly by 2050, according to Wood Mackenzie's latest 'Commercial landscape of EV charging networks in North America' report.
The number of DC fast-chargers (DCFC), which have a charge rate between 50 kilowatt (kW) and 350 kW, is expected to grow more than sixtyfold between 2022 and 2050. Level 2 chargers, with a slower charge rate between 3 kW and 19 kW, are also set to increase thirtyfold in the same timeframe.
Nick Esch, Research Analyst, Grid Edge at Wood Mackenzie, said: "The role of public EV charging networks is crucial to provide a reliable and seamless charging experience as EV adoption continues to accelerate in the US. We are seeing collaboration and integrations among EV charging networks both old and new, as well as significant local and federal policy support, and investment across the public charging market."
There are currently 73 active EV public charging networks in the US and Canada, which span across seven different network types, with many more entrants expected to join the market, according to Wood Mackenzie's findings.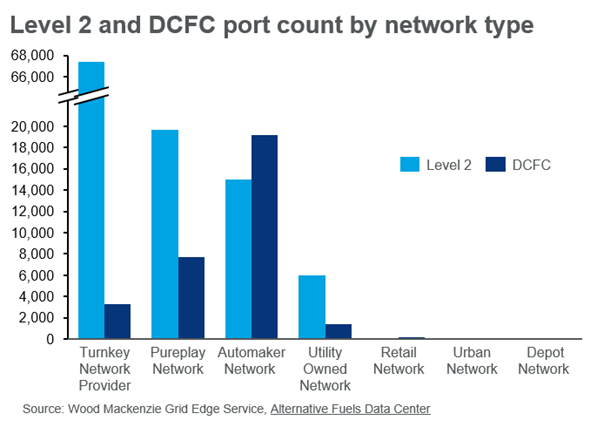 Amaiya Khardenavis, Analyst, EV Charging Infrastructure at Wood Mackenzie, said: "Gas stations, quick service restaurants, and convenience stores with existing locations are in the early stages of deploying public charging infrastructure as they look to capitalize on their existing retail footprint, as well as EV adoption."
"The growth strategy of charging networks is focused on building their footprint in high-traffic locations, setting up roaming agreements with other networks, and installing high-power charging infrastructure to future-proof their sites," Khardenavis added.
Fast-charging landscape led by Tesla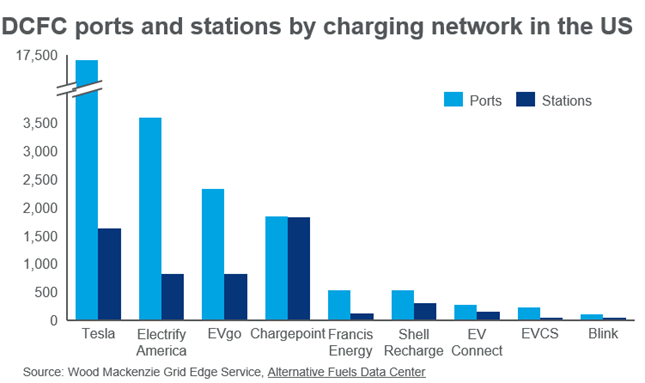 "A few networks with established footprints dominate the fast-charging landscape in the US and Canada, such as Tesla. They are followed by emerging networks that are established in regional markets with intentions to grow their reach to new markets," Esch added.
Tesla leads the way with its fast-charging 'Supercharger' network in terms of total DCFC ports (17,408) and ports per station ratio of 10.5, making it the largest fast-charging network in North America. Followed by ChargePoint, EVgo and Electrify America, the three largest public fast-charging networks in the US, each with chargers in the vast majority of states and around population centres or highway cooridors.
ChargePoint dominates level 2 charging in the US
ChargePoint has the largest footprint of level 2 charging stations in the US, with robust coverage in nearly every major metropolitan region, with over 48,000 charging ports. Followed by the Tesla Destination network which has the second largest network by ports and footprint, with more than 12,500 ports.
The fifth largest network Blink acquired SemaConnect (third largest network) in the second quarter of 2022, and now has a combined network of more than 10,000 ports. PowerFlex is the fourth largest Level 2 network, primarily in California.
Electric utilities are standing up public charging networks, most with a limited scope
According to Wood Mackenzie's findings, there are 19 utility-owned EV charging networks operating in North America. Among all utility-owned chargers in North America, Canadian utilities account for 55% of level 2 ports and 69% of DCFC ports.
"While US utilities have initiated investments in public charging, their scope is restricted in size and locations where chargers can be installed is limited by regulators. Canadian utilities have launched province-wide networks that outsize their private competitors," Khardenavis added.
EV automakers have emerged as key players in public charging
Automakers are starting to focus on providing vehicle owners access to reliable public charging, by exploring partnerships with charging infrastructure developers or through direct investments in the deployment of chargers. For instance, General Motors partnered with EVgo to install 3,250 DCFCs in cities and suburbs. The company also announced plans to deploy 2,000 EVgo charging ports along Pilot and Flying J travel centers.
In collaboration with ChargePoint and MN8 Energy, Mercedes has committed to installing over 2,500 charging ports at over 400 locations in North America.
"Since the public EV charging space is highly fractionalized, EV automakers are aiming to own the customer relationship after the point of sale and play a larger role in public EV charging. Many are taking on the e-mobility service provider role, facilitating payments and navigation to chargers while also curating charging networks for their customers through integrations with public charging networks," Khardenavis added.
ENDS
Definitions
Level 2 chargers – EV chargers with a charge rate between 3 kW and 19 kW of AC power.
DC fast-chargers (DCFC) – EV chargers that can achieve a charge rate between 50 kW and 350 kW.
Station – Site with one or more EVSEs at the same address.
Port – Provides power from the equipment to charge only one vehicle at a time.
EVSE (charger) – Standalone equipment at a station possessing one or more ports.