News Release
Top 15 Global PV O&M firms commanded 115GWdc of monitored solar capacity in 2022
Top three vendors retain ranking: NovaSource, SOLV and Solarig
The top 15 global PV O&M providers expanded their overall portfolio for a total volume of 115 gigawatts direct current (GWdc) in 2022, an annualized growth of 13%, according to Wood Mackenzie.
The top three vendors in terms of ranking remained unchanged from 2021, with NovaSource the leader, followed by SOLV Energy and Solarig.
Throughout Wood Mackenzie's entire assessed portfolio, providers expanded their capacity under O&M contracts 18% in 2022, for a total volume of 207 GWdc. Regionally, North America experienced the most growth in terms of volume, expanding 13 GWdc in 2022 and totaling 86 GWdc. This was followed by EMEA, which expanded 23% in 2022 to 59 GWdc. APeC increased its portfolio by 2.6 GWdc to 40 GWdc, while Latin America expanded by 4.7 GWdc to 20 GWdc – the highest growth rate globally.
According to the report, "2023 Global PV O&M service provider dynamics" the top 15 vendors in Wood Mackenzie's tracked portfolio added 13 GWdc to their overall portfolios in 2022. However, they experienced a 2.8% market contraction, accounting for a 56% market share from 58% in 2021, indicating fragmentation in the solar PV O&M industry.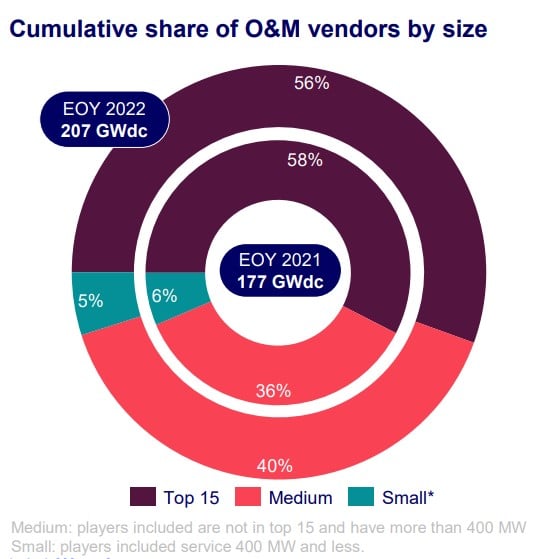 "After several years of consolidation, we saw actual fragmentation for this market in 2022," said Leila Garcia da Fonseca, Director, Renewables Research - Americas for Wood Mackenzie. "The O&M landscape is changing rapidly. This is most notable with the recent announcement of RES Group's acquisition of Ingeteam, which will make it a first-of-its-kind global service provider upon deal closure. This move will likely make it one of the largest cross-tech O&M vendors in the industry, potentially bringing the developer to number four in the solar O&M ranking globally."
Therefore, there is ample opportunity for potential new M&A transactions centered around the synergy of service providers seeking further technology diversification, added Garcia da Fonseca.
According to the report, O&M contract pricing for US utility-scale projects dipped in 2022 averaging 7.9 USD/kWdc/year, a 22% decline. EMEA holds the highest cost per MW for utility-scale projects followed by North America and APAC.
"Although further market consolidation likely translate to increased price competition, in the long-term, we still expect costs to increase," said Garcia da Fonseca. "Rising labor costs and overall inflation will drive costs back up. This recent decrease has been driven by more players in the market and competitive pricing, as well as the adoption of digital solutions."
Editors Notes:
Wood Mackenzie contacts major solar PV O&M vendors around the globe to collect fleet information. We approached a total of 126 vendors for this report. The portfolio covered in the report (MWdc under service) does not equal the global solar PV operating fleet but only the volume identified under O&M agreements through service providers.