Biodegradable biopolymers could cut carbon emissions and reduce waste
Plastic is under heavy scrutiny for its environmental impact. Management of plastic waste is at the centre of the debate, but for an energy-intensive industry focused on processing hydrocarbon inputs, concerns have extended to carbon emissions and the wider environmental footprint.
In a series of Chemical Solutions insights, Wood Mackenzie assesses the key technological and material developments that could substantially reduce the plastics industry's environmental impact. In the first insight, we explore the current state of play in bioplastics.

Inside this report:
For and against: the key advantages and disadvantages of bioplastics
Plastic profiles: a detailed breakdown of four key biodegradable biopolymers
The market view: how the industry is structured
Replacing the incumbents: can bioplastics compete with commodity polymers such as PET?
Finding the way forward: making biopolymers cost competitive
Did you know?
Biodegradable and bio-sourced
Polymers can be derived from fossil fuels, such as oil and gas, or from biomass, such as agricultural products. Post use, they can be broken down by biological processes (for example, they are biodegradable or compostable under certain conditions) or require alternative means, such as chemical or heat to ensure disposal.
This report focuses on polymers which are both biodegradable and bio-sourced: polylactic acid (PLA); starch polymers or blends; poly(hydroxyalkonates) (PHA); and poly(butylene succinate) (PBS).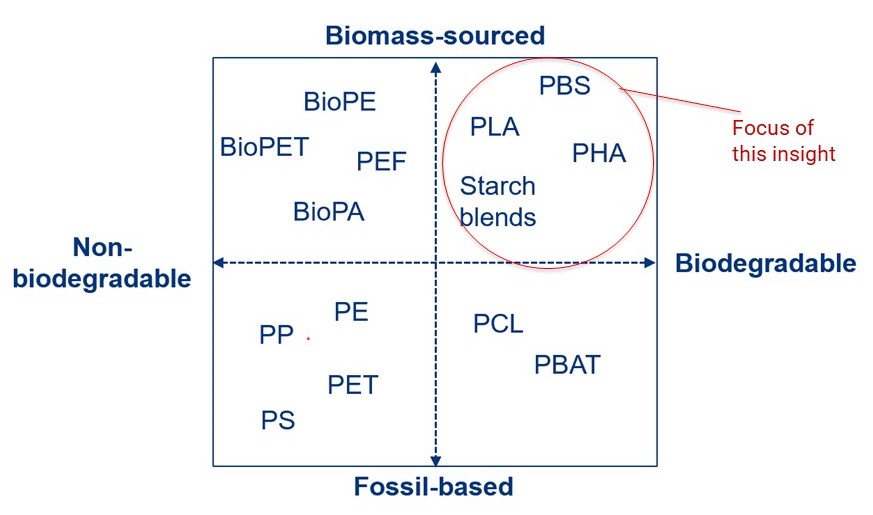 New applications for naturally sourced products
Starch polymers are derived from corn, wheat, potato, and other starch-rich plants. They have been used in packaging and short-lived consumer goods for more than 30 years. A new application area being explored is in tyres. It replaces carbon black (which is made from fossil fuels) and the resulting tyre has reduced rolling resistance and greater fuel economy.
A new model for the industry to scale up
Alongside government intervention, such as legislation and carbon taxes, the industry needs to find a model which addresses high costs and scalability challenges.
We have developed an ideal model which could see bioplastics make substantial inroads into the global plastics market, placing significant emphasis on efficient logistics and integration of bio refineries.
For more detail on our four-stage integrated model, read the report.
Got a question about this report?
Guy Bailey, Head of Intermediates and Applications, and his team will be happy to answer your queries. Get in touch by filling in the form at the top of this page.
21 September 2020
Chemical solutions: can bioplastics improve the sustainability of the chemicals value chain?
Report summary
Welcome to Chemical Solutions Insights series. In this series, Wood Mackenzie will assess the potential of key technological and material developments that could abate the plastics industry's environmental impact. In our first Chemical Solutions insight, we will explore the current state of play in bio-degradable bioplastics. Specifically, we will introduce the major bioplastics, evaluate its pros and cons, and then answer what it will take for bioplastics to substitute petrochemical plastics on a significant volume.
Table of contents
Executive Summary
Chemical solutions: can bioplastics improve the sustainability of the chemicals value chain?
Bioplastics: a primer
What advantages do bioplastics bring?
What are the key challenges for bioplastics?
Can bioplastics play a meaningful role in improving the sustainability of the chemicals value chain?
What could be done to increase the role of bioplastics?
Appendix
Biodegradable bioplastics profile

Polylactic acid (PLA)
Starch polymers and blends
Polyhydroxy alkanoates (PHA)
Poly(butylene succinate) (PBS)
Tables and charts
This report includes 17 images and tables including:
Public concern about plastic waste has increased in recent years
Key features of the four bioplastic polymers
Bioplastic capacities are growing at a slower rate than commodity polymers over the next four years
High-level features of an integrated bio-refinery model
PLA has a route to competitiveness against commodity polymers with the right policy mix
PLA - application breakdown
PLA - regional breakdown
Starch polymers - application breakdown
Starch polymers - regional breakdown
PHA - application breakdown
PHA - regional breakdown
PBS - application breakdown
PBS - regional breakdown
What's included
This report contains:
Chemical solutions: can bioplastics improve the sustainability of the chemicals value chain?

PDF 1.28 MB
Browse reports by Industry Sector