Market Report
Global solar PV and module-level power electronics inverter market share 2020
This report provides global PV and MLPE market share rankings for the full-year 2019. The rankings are based on MWs shipped and are broken down globally, regionally, by product type and by major market. In addition, the report also includes historical shipment information and some analysis of inverter trends. Market analysis covers year-on-year growth, top vendor trends and market concentration. Forecasts, pricing information, additional market insights and vendor profiles are included in the full-length Global PV and MLPE reports, released twice per year.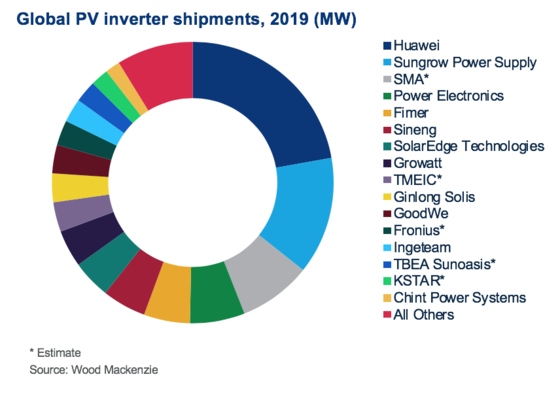 Companies mentioned in this report: Huawei, Sungrow, SMA, Power Electronics, Fimer (ABB), Sineng, SolarEdge, Growatt, TMEIC, Ginlong Solis, GoodWe, Fronius, Ingeteam, TBEA Sunoasis, KSTAR, Chint Power Systems
Want more information?
This report is also available as part of our PV Technology Systems & Operations Service.
Browse reports by Industry Sector