Products & services
Oil and Gas Emissions Benchmarking Tool
Inform strategic decisions regarding oil & gas emissions risk management at scope 1, 2 and 3 via competitive benchmarking, portfolio analysis and economic impact assessment.
Want to learn more about how this tool can help you reach your emissions targets?
Want to learn more about how this tool can help you reach your emissions targets?
An independent assessment of carbon emissions in the upstream and downstream
The Emissions Benchmarking Tool provides transparency at the asset and corporate level.
Understand differences in emissions profiles and key drivers, where there are opportunities for mitigation, and how acquisition or divestment of assets would change corporate emissions profiles.
Prepare for a lower carbon future using a consistent, transparent and standardised view
Emissions Profiles
Emissions Profiles
Asset-by-asset forecasts for Upstream to 2064 and Downstream to 2040.
Interrogate data by region, country, company, resource theme, field type, development status or asset name.
Carbon Pricing & Policy Risk
Carbon Pricing & Policy Risk
Assess the likelihood and stringency of carbon regulation in 160+ countries.
Understand which assets are more exposed to potential carbon costs, or where you may need to reduce emissions to comply with regulations.
Financial liability
Financial liability
Ensure investment decisions are robust under multiple different scenarios.
Design your own carbon price assumptions, or our risk index and carbon price forecasts, to understand how they would impact asset and corporate valuations.
Carbon Benchmarking
Carbon Benchmarking
Comparing companies' and assets' emissions profiles, risks and liabilities on a like-for-like basis
We provide lifecycle analysis of GHG emissions from cradle to grave, looking at Scope 1, 2 and 3 under the lens of an upstream producer

Upstream Scope 1 and 2
Including: Drilling, production complexity, processing complexity, flaring, venting, liquefaction losses, methane losses, ecosystem disruption.

Downstream Scope 1 and 2
Including: Fuel, FCC, electricity, hydrogen production and flaring.

Oil & Gas Scope 3
Including: Transport and shipping, refining, downstream transport, distribution and end-use.
We can help you answer key strategic emissions questions, including:
How do corporate and asset emissions compare across upstream, downstream and metals & mining operations?
Which types of assets are most/least carbon intensive?
What are the largest sources of emissions?
To what extent are the oil & gas and metals sectors exposed to carbon regulation worldwide?
How could carbon-related costs impact asset and corporate valuations?
How can companies reduce emissions and financial exposure?
What is the global emissions footprint of the extractive industries?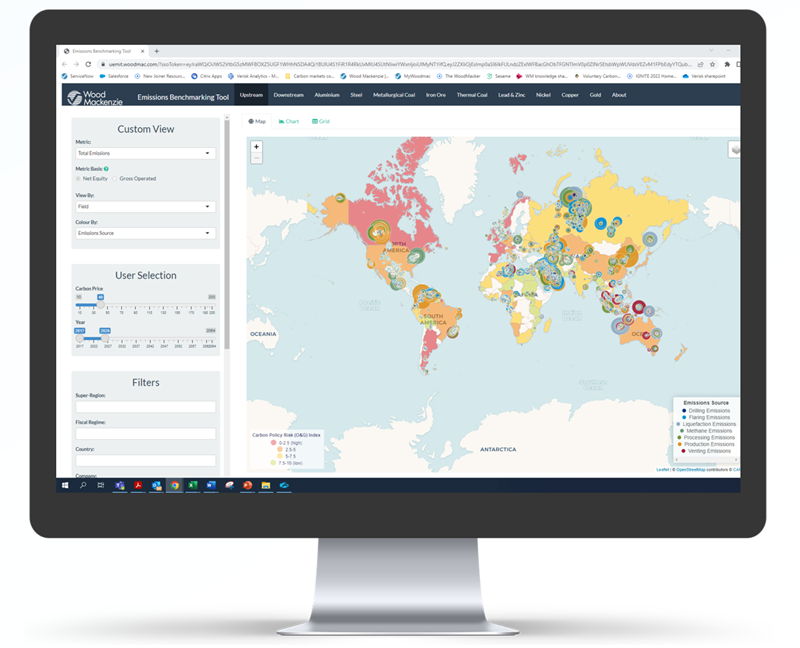 Get in touch now
Want more information on how our Emissions Benchmarking Tool can help you reach your emissions targets?
You may also be interested in:
Metals and Mining Emissions Benchmarking Tool: Transparency at the asset and corporate level and across the metals and mining value chain to enable a comprehensive assessment of emissions-related risks and opportunities.
Crude Cargoes Emissions Tool: Designed to be used by buyers and sellers of crude to allow them, for a known volume of a marketed crude grade, to quantify the life cycle emissions. With the tool the user can select any stage of this life cycle and discuss ways to reduce or offset these emissions.
LNG Carbon Emissions Tool: Compare and benchmark carbon emissions from multiple LNG projects supplying a regasification terminal, or the emissions from one LNG project into a portfolio of regasification terminals.