Editorial
Brazil 2019 pre-salt bid rounds: production sharing contracts
Four blocks on offer in the Santos and one block in the Campos basins
A three-round licensing bonanza for Brazil's pre-salt acreage is less than two months away. The final round, PSC (production sharing contracts) Round 6, features four blocks in the Santos and one block in the Campos basins. Timing is planned for 7 November, 2019.
This is part three in a series of previews on the upcoming rounds. We previewed Concession Round 16 in part one, and the massive DRO on offer in part two. We expect some of the most intense competition to come in Round 6 for Aram acreage, which holds the second-highest PSC signing bonus ever required in the country at US$1.3 billion with a 24.53% minimum profit share.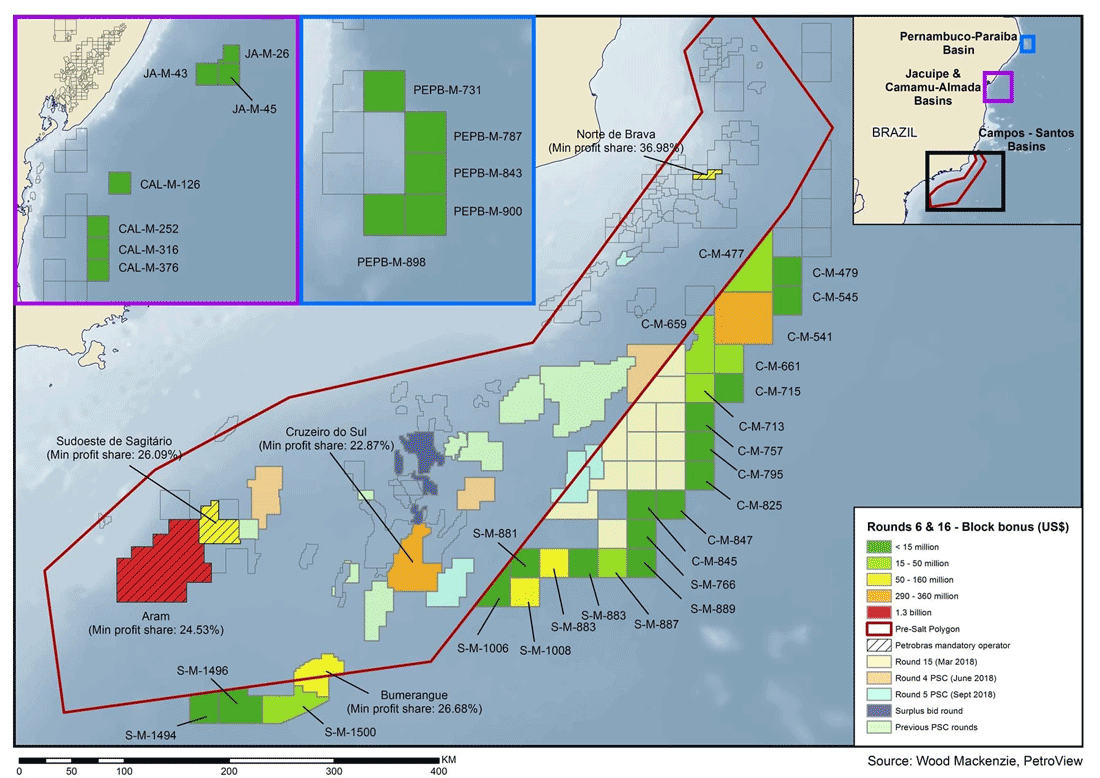 Here's a preview of the five blocks on offer – Petrobras has already required operatorship with 30% participation of Aram, Sudoeste de Sagitário and Norte de Brava. That means Petrobras will be entitled to a minimum US$0.5 billion in signature bonuses for these blocks.
Aram is expected to attract a lot of attention and to be the star of the pre-salt round, as the regulator estimates the structure alone could be as big as the giant Búzios and Lula fields, with unrisked volumes of 29 billion barrels of oil in place. It is the biggest block by signature bonus and size. Part of the block (S-M-857) was awarded to Eni for US$140 million in 2006 during Concession Round 8, which was ultimately cancelled.
Sudoeste de Sagitário acreage is adjacent to Petrobras-operated Sagitário discovery and close to Norte de Carcará and Uirapuru. Sudoeste de Sagitário may hold more modest oil reserves that lack contaminants. The smaller volumes could lead to a joint development.
Norte de Brava is the only Campos-basin block on offer with water depths between 200-800 meters. It's located near Petrobras' producing fields Marlim Leste, Marlim Area and Voador, and Albacora, providing access to available existing infrastructure in the area. Following their strategic partnership for Marlim Complex revitalization, Petrobras and CNPC could again extend it to include Norte de Brava.
Cruzeiro do Sul is beside Lula, the highest producing field in Brazil. It can potentially contain heavy oil and high carbon dioxide content.
Bumerangue extends beyond the pre-salt polygon and is considered a frontier block by the Brazilian ANP.
For more Brazil bid round coverage, fill in the form on this page to receive a complimentary report, and stay tuned for news on an upcoming webinar.