Editorial
US residential energy storage soars in Q1, home solar stays flat
Deployment numbers are in for the first quarter of the year.
Discuss your challenges with our solutions experts
Contact an Expert
For details on how your data is used and stored, see our Privacy Notice.
Deployments of home energy storage systems reached record heights in the first quarter of 2018. According to our latest U.S. Energy Storage monitor, published in conjunction with the Energy Storage Association (ESA), 36 megawatt-hours of grid-connected residential energy storage systems were deployed in the first three months of this year, which is equivalent to the amount of residential storage deployed in the previous three quarters combined.
FIGURE: U.S. Quarterly Residential Energy Storage Deployments (MWh)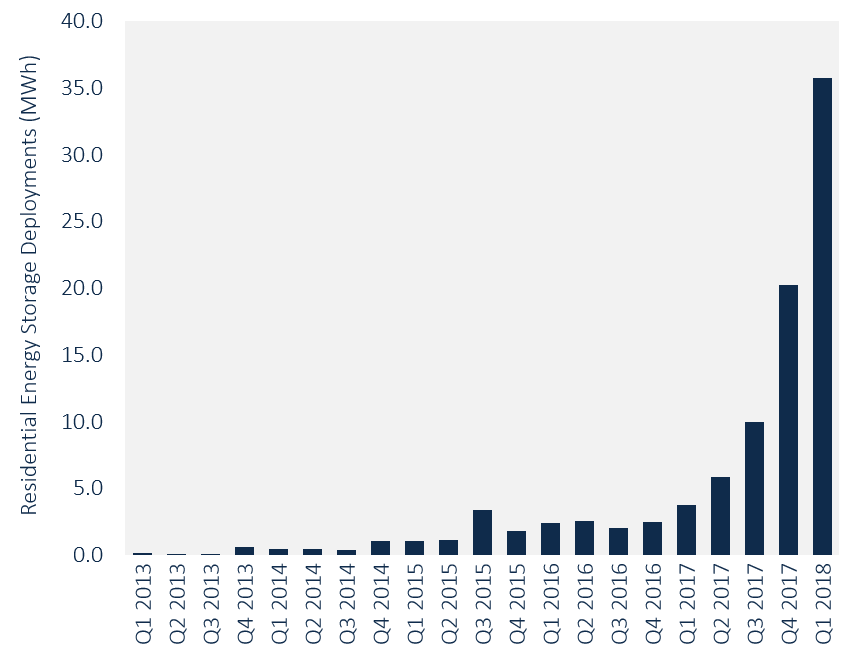 Source: U.S. Energy Storage Monitor, Q2 2018
The report notes that California and Hawaii together constitute 74 percent of residential deployments on the quarter.
"Changing net-metering rules and increasing customer interest in backup and solar self-consumption drove the residential energy storage market's record quarter," said Brett Simon, senior analyst at Wood Mackenzie and project manager for the U.S. Energy Storage Monitor report.
More solar installers are offering residential storage products than ever before and see residential storage as an important area of business growth, particularly as utilities implement time-of-use rates and reduce net-metering compensation.
These policy trends are expected to continue as utilities and regulators work to deal with increasing levels of solar PV penetration, which are driving increasing residential storage demand. Several residential solar installers already claim storage attachment rates for new solar PV of up to 20 percent in select regions such as southern California, indicating a strong market for the technology.
Residential storage systems made up 28 percent of all deployed megawatt-hours on the quarter, a record for the segment, but second behind the front-of-the-meter segment which accounted for 51 percent of deployments. The non-residential segment experienced a quiet quarter with 21 percent of megawatt-hours deployed, though nevertheless this segment almost tripled year-over-year.
Solar stabalizes
This month, we also released our latest U.S. Solar Market Insight in partnership with the Solar Energy Industries Association. The findings were less sunny.
New additions of residential PV remained flat quarter-over-quarter and year-over-year in Q1 2018, following a 15 percent contraction in 2017.
"This is a promising indicator that constraints to residential PV growth like segment-wide customer acquisition challenges and national installer pullback are abating," Senior Analyst Austin Perea said. "However, these problems are not entirely solved, as we're seeing slowdowns in states with a relatively high penetration of PV installations."
The report notes that three of the top five residential solar markets in 2017 — Maryland, New Jersey, and New York — are expected to contract in 2018 for a second consecutive year as a function of the persistent customer-acquisition challenges. "The decline in some major state markets will be offset by growth in emerging markets," Perea said.
We anticipate the U.S. market in aggregate will be flat this year. The U.S. market can again expect to see growth exceeding 10 percent in the early 2020s, driven in part by California's recently announced policy requiring solar on all new homes.
FIGURE: California Residential PV Forecast - Retrofit vs. New Home Solar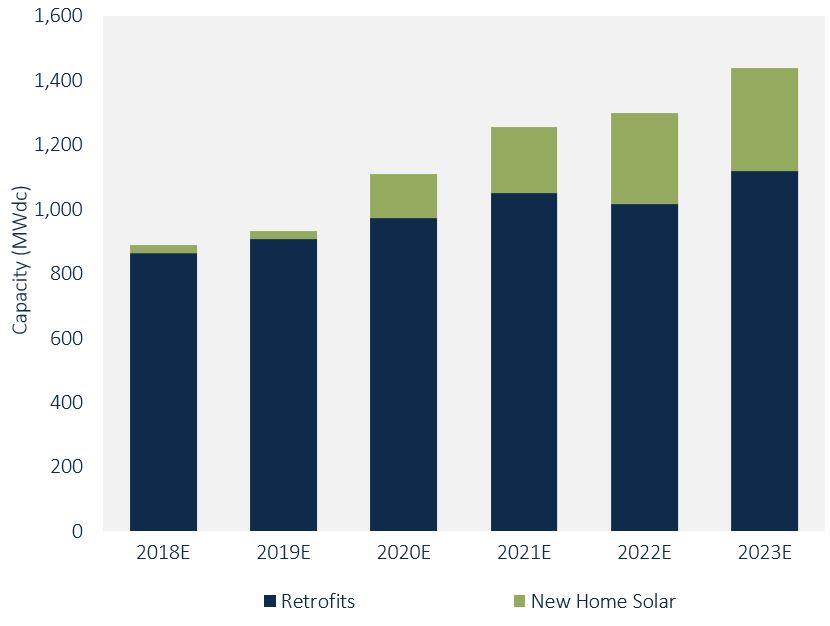 Source: Wood Mackenzie Power & Renewables
The report forecasts that within five years, California's new home solar market alone will be larger than the No. 2 state residential solar market, New Jersey, by 100 MW.
Download the free executive summaries to get more data and insight, or learn more about our ongoing solar and energy storage research services below.