Opinion
The outlook for renewable generation across Asia Pacific remains bright
Covid-19 should only have a modest impact on the pace of renewable capacity additions, but the risks from a deeper recession remain

Gavin Thompson
Vice Chairman, Energy – Europe, Middle East & Africa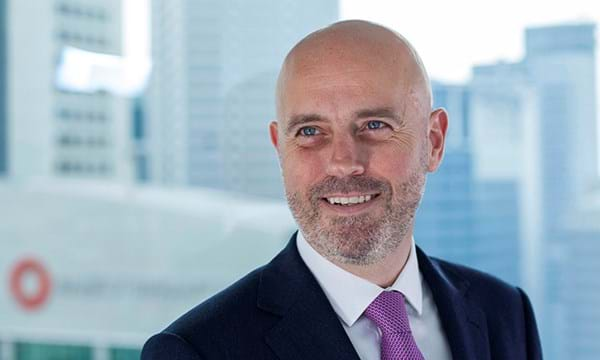 Gavin Thompson
Vice Chairman, Energy – Europe, Middle East & Africa
Gavin oversees our Asia Pacific research helping companies identify and build their international growth strategies.
Latest articles by Gavin
View Gavin Thompson's full profile
Life in Asia Pacific is electrifying. Literally. Over the past five years, the region contributed over three-quarters of global demand growth for electricity. Pre-pandemic, we had anticipated that APAC would account for 67% of global power demand growth through to 2040. Such growth would require over US$1 trillion in new investment.
Wind and solar is a critical part of this growth story. While hydrocarbons continue to have a major role to play in meeting demand for electricity, renewables were set to make up 75% of newly installed capacity across the region. But will the coronavirus pandemic derail this? I asked Alex Whitworth, head of Power & Renewables for Asia Pacific, about the prospects for future investment in renewables and whether the sector can still prosper through the crisis.
Why had investment in renewables been increasing so rapidly in APAC?
Cash, confidence and government support. Power demand growth has been phenomenal at around 5% annually across the region over the past decade, and this has given global investors the confidence to put money into projects that provided stable returns while offering low perceived risk. Banks have also given support and preferential terms to renewable projects, including interest rates.
In addition, generation costs of new solar and wind plants across Asia Pacific have fallen by 54% and 29%, respectively, over the past five years. This took average costs for new projects below those of gas-fired power by 2018, though in most places renewables are still around 30% higher than coal. Government support for renewables has also been increasing, notably in China, where we saw subsidies and preferential dispatch policies. It is worth noting that as the scale of renewable investments has increased, many governments are now reducing or cancelling these subsidies.
Neither cash nor confidence is in abundance right now. How will growth be impacted by the pandemic?
Good question. WoodMac's current base case sees a sharp but relatively short world recession, though there's clearly risk to the downside. In our base case, we now expect APAC power demand to grow by 0.3% this year, resulting in the loss of 380 TWh of demand. But this is followed by strong recovery in 2021 and growth averages 3.6% over the next five years, in line with our pre-pandemic outlook.
We expect an impact on capital availability and interest rates in 2020, followed by renewed confidence in Asia Pacific markets as power demand recovers, supported by government stimulus. A broader recovery also pushes coal and gas prices higher. As a result, APAC's renewables build-out recovers from 2021. The crisis results in a modest 26 GW of wind and solar projects being taken out of the pipeline through to 2024, a 5% decline by this time in comparison to our pre-pandemic outlook.
What if the economic impact is more severe?
A prolonged recession – broadly in line with Wood Mackenzie's disruptive 'Go it alone' scenario in our recent World after Covid-19 insight – materially impacts power demand across APAC. We could see around 1,000 TWh of demand permanently lost by 2023, equivalent to about two years of growth. In response, governments would prioritise low cost coal, with renewable projects negatively impacted by higher financing costs, increasing the levelised cost of electricity.
In this scenario, we could see 150 GW of project cancellations or delays across Asia Pacific in the next five years. This is equivalent to pushing back the Asia Pacific renewables construction pipeline by nearly two years.
Won't government intervention prevent this?
Government stimulus and intervention in the renewables sector are uneven across APAC. Developing economies in particular face more risks. Even before the pandemic, governments were already reducing subsidies for renewables and moving to direct competition with fossil fuels. But as wind and solar costs were expected to continue to decline then the sector was set to grow. In our base case, after the initial setbacks in 2020, renewables investments continue as demand recovers and cost competitiveness improves.
But with a prolonged recession, the ability of governments to continue to rely on stimulus or policy to support investment in the power sector evaporates and markets would see overcapacity as demand falters. Coal-fired power maintains its competitiveness as coal prices remain weak and costs for new-build renewables do not fall at the anticipated pace.
Read also: Grid congestion chokes renewables investments in Eastern Australia
What are you monitoring right now to determine how investment in renewables will evolve across APAC?
We are closely following a range of key indicators to determine if we are moving towards a rapid recovery or extended recession. Critical among these are power demand growth; credit availability and risk premium for renewables; the economics of renewables versus coal and gas, particularly given volatility in hydrocarbon prices right now; and, of course, how government support and stimulus for renewables markets evolves. China's upcoming Two Sessions meeting in Beijing this week is top of our agenda.
APAC Energy Buzz is a blog by Wood Mackenzie Asia Pacific Vice Chair, Gavin Thompson. In his blog, Gavin shares the sights and sounds of what's trending in the region and what's weighing on business leaders' minds.