Analysing the global BOPP film market as we move into uncharted waters
The global BOPP film market is now a US$14 billion industry. It's growing at more than 3% per year, with over 8 million tonnes produced in 2019. But it's an oversupplied market. Significant investment in recent years means installed capacity has comfortably outpaced demand growth.
The BOPP Film Global Supply Demand Report gives you a comprehensive insight into the current trends and forecasts for the next five years for all major BOPP-producing regions.

Inside this report:
Coronavirus: which end-use sectors have suffered from the pandemic, and which have seen a temporary boost?
Sustainability: after a hiatus, the industry's focus is returning to renewable feedstocks.
Movers and shakers: key statistics and trends for each region
Ones to watch: profiles of the top 20 BOPP producers.
Growth forecast: five-year forecasts for supply, demand and capacity.
Want to know more about what's in this report?
Contact us via the form at the top of the page.
Reports are also available for BOPA and BOPET films.
Did you know?
Chinese investment in new BOPP film capacity outpaced demand growth
As is the case globally, China is over supplied. The country accounts for just under half the world's BOPP film capacity and has seen rapid expansion in the last decade stimulated by government incentives.
At the same time, manufacturers are mothballing factories or closing them completely to get utilisation under control. As utilisation rates rise though, we expect China to require extra capacity by 2024-25. However, there should be enough mothballed capacity to meet this supply gap.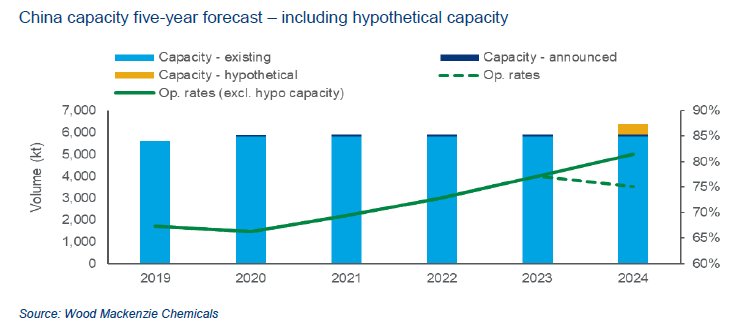 It's all change at the top
The current top 20 of BOPP producers looks very different from just a decade ago. Across the industry, established multinational producers are shifting away from commodity films and focusing instead on specialist applications. The reason? A challenge from fast-growing Chinese and Indian competitors, new entrants with low costs and highly efficient modern film extrusion plants.
It's not just food packaging
Food packaging is the most dominant end use for BOPP, but we also expect to see growth in industrial applications. One notable use is in modern polymer banknotes. Harder to tear or burn, more resistant to folding or soiling and machine washable. Importantly, given sustainability concerns, they can also be shredded and recycled.
Read the full report for detailed information on demand by end use and charts on each market.
Got a question about this report?
The Films & Flexible Packaging team will be happy to answer your queries. Get in touch by filling in the form at the top of this page.
Report summary
This report looks at a wide range of topics relating to the global bi-oriented polypropylene (BOPP) film, – installation of new capacities, new entrants, changes in demand growth drivers and much more! Based on field research conducted by Wood Mackenzie's own researchers and consultants this report helps you to better understand past, current and future regional markets for BOPP films. This report provides detailed regional volume statistics and analysis for the historic period 2014 to 2019 and expert forecasts through to 2024.
Table of contents
No table of contents specified
Tables and charts
No table or charts specified
What's included
This report contains:
BOPP Film Global Supply Demand Study 2020

PDF 1.95 MB
Browse reports by Industry Sector