What's inside?
You'll get in-depth analysis of global gas markets, including the factors that are likely to have the greatest influence on supply and demand. Our experts also share their near-term FID forecasts and longer term global LNG build forecasts.
This report also comes with charts and data sets, including this analysis of nominal LNG capacity, which takes into account 54 projects in 19 countries.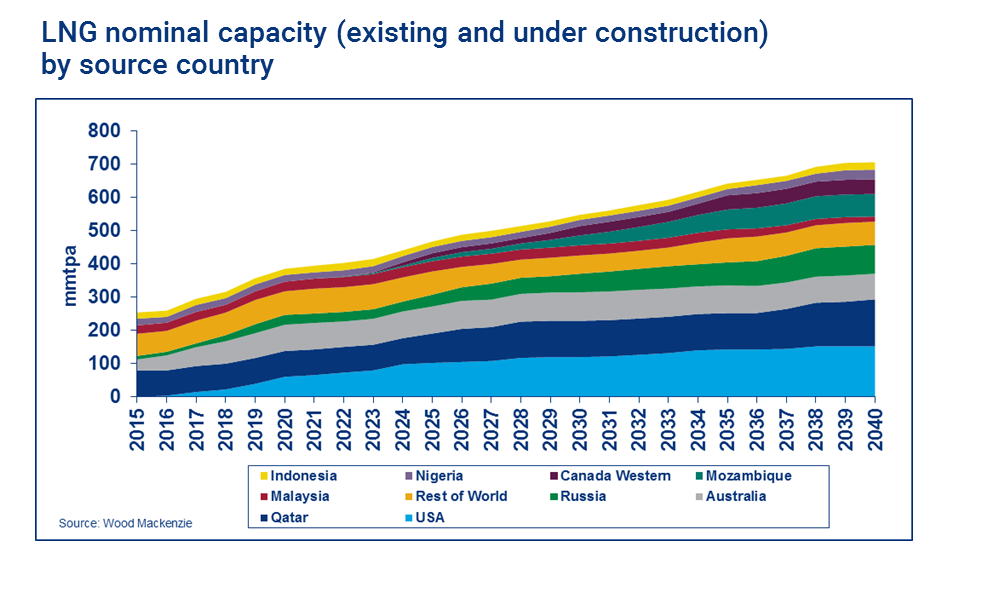 Report summary
The outlook for global LNG supply in bullish. Production has already grown strongly over the last two years, as new facilities have been commissioned in Australia, Russia and the USA. But 2019 is likely to be a record year for the industry, with production set to grow faster than ever before and more capacity set to take FID than before too.
Table of contents
Executive summary
Supply

Near term forecast: 2018-2023
Post-2023 outlook and prospects for pre-FID supply

Global LNG supply-demand (im)balance*
For the latest cost LNG cost stacks – please see the Global Gas Cost report or Wood Mackenzie's LNG Service and Tool
Tables and charts
This report includes 7 images and tables including:
LNG nominal capacity (existing and under construction) by source country
Global LNG Capacity
Supply: Image 3
LNG FID Historic and Forecast (2019 Forwards)
Pre FID Supply Forecast by Country
Pre FID Supply Forecast High and Low Cases
Full LNG Supply Flow Forecast by Country
What's included
This report contains:
Global gas markets long-term outlook 2018: LNG Supply

PDF 763.78 KB

GGS LNG Supply Final Worksheet for Publication.xlsx

XLSX 504.08 KB

Global gas markets long-term outlook 2018: LNG Supply

ZIP 1.09 MB

Executive summary

PDF 691.06 KB

Supply

PDF 759.31 KB
Browse reports by Industry Sector