Products & services
North America Power Service
Capture the changes that technology, regulation, growth and underlying fuel prices are having on electricity pricing and demand.
Discuss your challenges with our Power & Renewables experts
Independent insight to help you evolve alongside power markets
Today's power market is volatile every day and every hour. Identify opportunities to successfully evolve alongside the electricity industry to strategize towards a more decentralized and complex world.
Learn more
Designed to help you
Gain insights into how relative fuel prices drive wholesale power prices, evaluate the effects of environmental policy on the generation mix, and identify growth opportunities and risks in regional power markets. By connecting with our experts, North America Power Service can support your organisations specific needs and requirements such as:
Timely analysis and recurring reports on power market events and technology trends
Visualize, customize, and download demand, pricing, and power outlooks with the click of a button
Understand how relative fuel prices drive wholesale power prices
Evaluate the effects of current and potential environmental policy on the generation mix
Identify growth opportunities and pinpoint risks in each regional power market
Easily connect with an expert to learn how we can support your organisation and tailor to your workflow needs
What do you get with our North American Power Service?
Make sense of the complex regional and sub-regional electricity markets with integrated analyses connecting power markets with commodity markets. A one-stop shop for historical and forecast power and renewables data, the North America Power & Renewables Service is a platform that combines data and functionality, allowing users to see the full picture.
Gain access to our North American power analysts and our all-encompassing service that includes:

Access to chart forecast variables to analyze swings in generation, pricing and long-term trends in energy costs

Long- and short-term analyses and forecasts for ERCOT, Midwest, Southeast, Northwest, WECC and Canada

Hourly Energy pricing, new-entrant viability and value drivers for 100+ markets

Market data on 18,000 generating units

Detailed retirement analysis and clean coal requirements for 1,000+ units

Tracking of 12,000 miles of new proposed transmission projects

20-year forward capacity market projections including PJM, NYISO, ISO-NE and MISO

RPS market detail, Renewables Compliance modelling and Tier 1 REC prices

Tier 1 REC price forecasts
Discover the solution
Whether you're looking for attractive new opportunities or evaluating existing projects, our experts are on hand to guide you through how our North American Power Service can help you.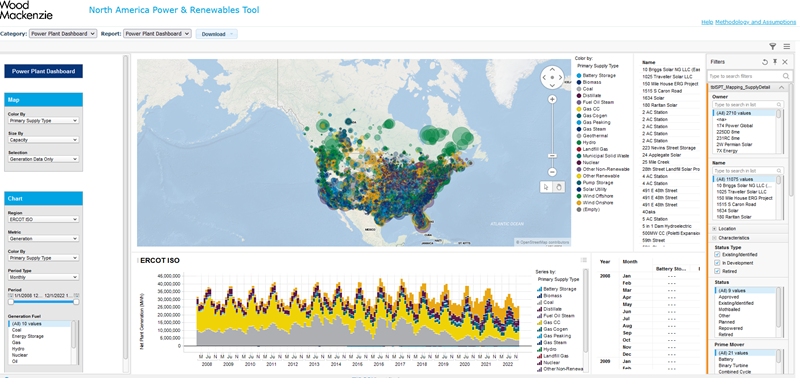 Who is our North American Power Service for?
Find your area of expertise and learn how we can help.

Strategic Planner / Market Intelligence
Strategic Planner / Market Intelligence
Examine the key issues behind major regulatory and economic trends
Receive a fully-integrated view of the market, including coal and gas analyses
Evaluate the prospects for different power generation technologies
Assess the effects of current and potential environmental policy on power generation

Developers
Developers
Deploy interactive data tools to tell the story of a project over its lifetime
Model a wide range of scenarios related to performance and operations
Understand competitors with granular data
Command in depth analysis on market fundamentals across multiple regions

Business Development / M&A
Business Development / M&A
Provide base fundamentals for business development based on cross-commodity pricing
Identify key market drivers and future growth opportunities within the regional power markets ERCOT, Midwest, Southeast, Northwest and WECC
Guide investment decisions based on market fundamentals and industry trends
Assess the effects of current and potential environmental policy on power generation

Financial Analyst
Financial Analyst
Analyse intermittent generation with our hourly analysis (including scarcity value)
Understand how the interplay of relative fuel prices will drive wholesale power prices and long-term generation decisions
Test, contrast and refine internal views on market fundamentals