Products & services
U.S. Energy Storage Monitor
The US energy storage monitor executive summary is now available
US Energy Storage Monitor
Download Executive Summary
Latest publication available now
The U.S. energy storage monitor is a quarterly publication of Wood Mackenzie Power & Renewables and the American Clean Power Association. Each quarter, we gather data on U.S. energy storage deployments, prices, policies, regulations and business models. We compile this information into this report, which is intended to provide the most comprehensive, timely analysis of energy storage in the U.S. The U.S. Energy Storage Monitor is offered quarterly in two versions– the executive summary and the full report. The executive summary is free, and provides a bird's eye view of the U.S. energy storage market and the trends shaping it. In contrast, the full report features state-by-state breakdowns and analysis on storage deployments, growth forecasts, policies helping or hindering growth, financing trends, and market strategies. It is available individually each quarter or as part of an annual subscription.
Download Executive Summary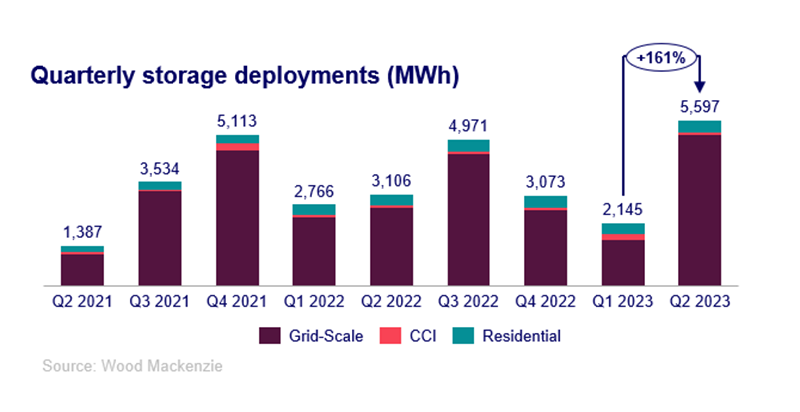 Read our executive summary or purchase the latest report now.
The US energy storage monitor™ Reports are offered in two different versions — the Full Report and the Executive Summary.
Executive Summary
Executive Summary
Each quarter's free Executive Summary provides a general breakdown of the current state of the U.S. energy storage market.
Executive Summaries feature the following level of analysis and figures:
National aggregate of deployments, by market segment
Front-of-the-meter policy developments nationwide
Behind-the-meter policy developments nationwide
Historical and projected market size
To download the free executive summary, please complete the form at the top of the page.
Full report
Full report
The quarterly Full Report provides incisive analysis of deployments, prices, and the market landscape. On top of what is included in the Executive Summary, the full reports feature the following:
Deployments by market segment and state
Technology trends and market share
Front-of-the-meter system prices
Vendor ecosystem and partnerships
In-depth state market analysis
Deployment forecasts by state and market