Interested in learning more about our satellite analytics solutions?
Interested in learning more about our satellite analytics solutions?
Editorial
Satellite tracking, remote sensing: how we monitor the LNG market
Delivering near real-time LNG market intelligence

Lucas Schmitt
Principal Analyst, Short-Term LNG Lucas Schmitt
Principal Analyst, Short-Term LNG
Lucas provides clients with data and insight on short-term gas and LNG markets.
Latest articles by Lucas
View Lucas Schmitt 's full profile
Thousands of satellites are currently on various orbits around the Earth. The technology originated in the 1950s when Russia and the US launched their first satellites, Sputnik and Explorer, followed a decade later by Europe. Since then, it's been a wild rush to send satellites into orbit. Space agencies around the world have initiated hundreds of programmes over the last decades. Private companies have entered the market more recently, but in a big way – their share has been growing exponentially.
So, how is satellite monitoring used? And how can it be leveraged to deliver unique intelligence into the global LNG market?
Getting a satellite view of our planet
One of the most common uses of satellites is monitoring our planet. Today, satellite imagery can track a large variety of changes, from the evolution, health and diversity of vegetation, forestry and oceans to the detection and surveillance of natural disasters like hurricanes and fires. And their reach now extends all the way to targeted infrastructure monitoring.
What's enabled this gigantic scientific leap? Four key factors have facilitated increasingly detailed monitoring:
Exponential number of satellites on orbit with more accessible images and data

Colossal improvements in the quality of sensors

Powerful algorithms to compute and analyse images

Significant improvement in the data infrastructure required to build models and analyse large data sets.
A technology boom enabled infrastructure monitoring
Technology evolution has been a key enabler for new applications, including in the commodity space. Observation satellites orbit at an altitude of around 750 km but have stunning resolutions between 10 and 30 m. This means that one pixel on a picture represents a 10 m2 surface on Earth – that's precise enough to monitor infrastructure. The highest-resolution satellites can produce images with resolutions as low as 30 cm.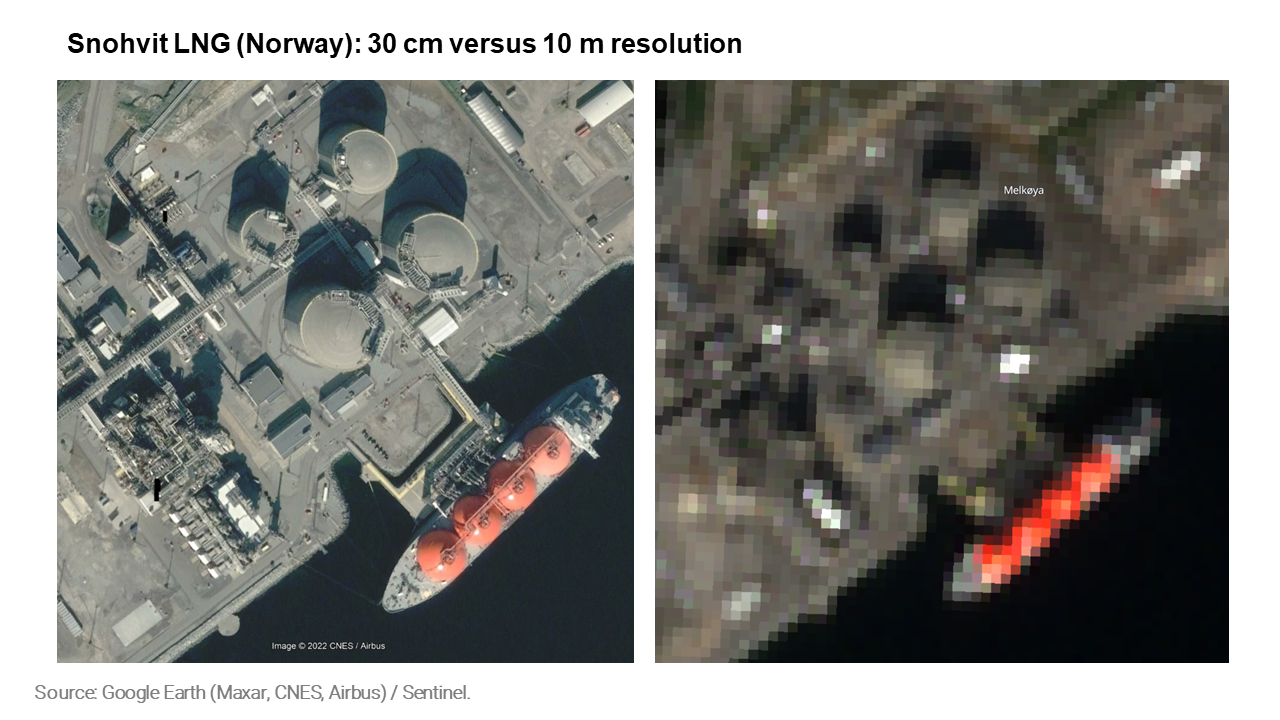 Additionally, sensors have a wide range of sensibility. This enables applications outside of what the human eye can see – for example, identifying agricultural land, biomass, land and water, urban and construction areas, and compiling moisture indices.
Our new product, Global LNG Liquefaction Monitoring, uses several satellites from the latest generation to analyse whether individual liquefaction trains are producing or not. We then alert our clients to outages and restarts in near real-time.
We have collaborated with Ball Aerospace to launch this product. Ball joined the satellite journey at the very beginning. Established in 1956, the company has designed, built, integrated and tested satellites for deep space and earth-monitoring observation missions, as well as national defence. Notably, Ball has manufactured several sensors currently orbiting the Earth and producing images for our product. The latest is the OLI-2 sensor flying aboard Landsat-9 from NASA.
More powerful algorithms for more robust data analytics
Once images are captured, they become available for processing. The difficulty is that no two images are the same. Atmospheric, meteorological and ground conditions change every day, as does the angle a satellite flies over. In this space, machine learning algorithms have made data analytics more robust, being very efficient at handling the variability of images.
Global LNG Liquefaction Monitoring uses state-of-the-art algorithms to get the best accuracy, training them using our proprietary data from our cameras in the US – the most granular and accurate dataset in the market.
Satellite geo-positioning tracks the LNG fleet – wherever it goes
While our Global LNG Liquefaction Monitoring is a new use case of satellite images, most LNG market participants already rely on satellite information for tracking LNG vessels.
More than half of the satellite fleet is dedicated to communication and navigation. LNG ships rely on satellite geo-positioning when sailing far from the coast and out-of-reach from land-based antennas. Although satellite signals account for only 2% of all signals, they play a key role in analysing movements. On any given day, up to 50% of the LNG fleet is on high seas outside of terrestrial coverage, according to Vessel Tracker, a Wood Mackenzie business that tracks all ships worldwide in real time. In these conditions, only satellites can detect route changes and destination updates.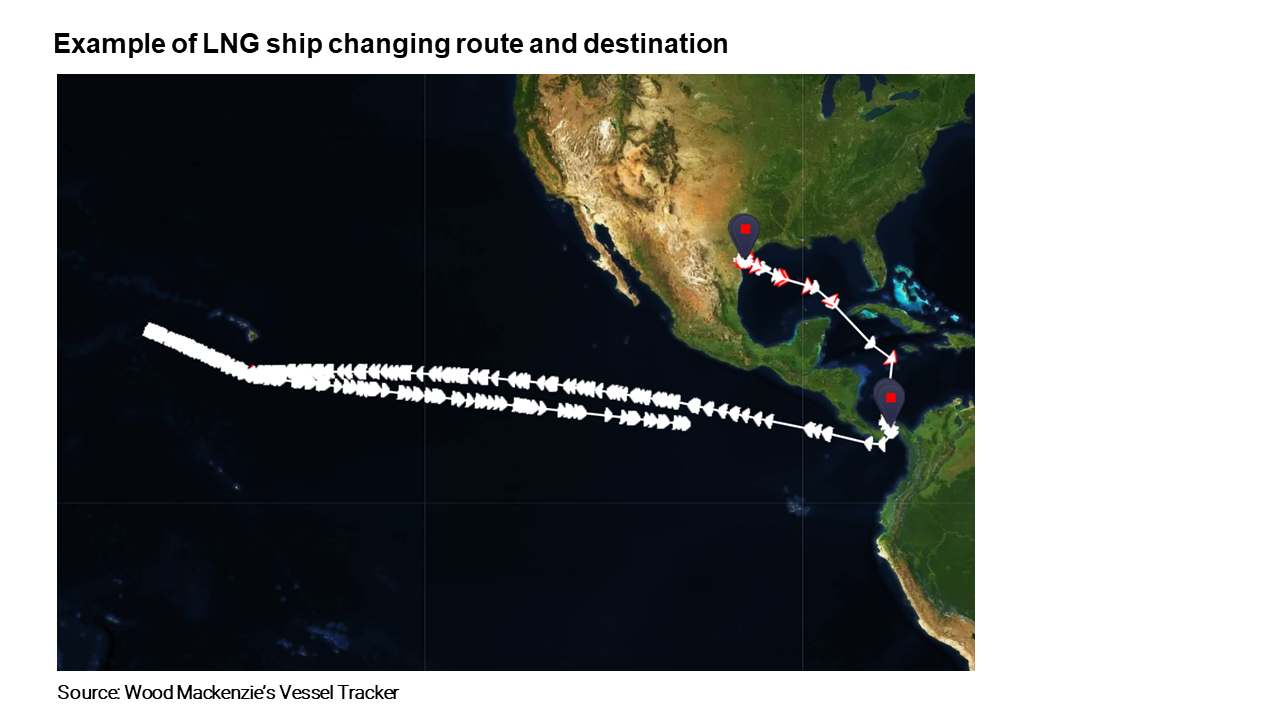 Tapping into near real-time LNG market intelligence
Satellites provide critical information to the LNG market. Geo-positioning enhances ship tracking in real-time and monitoring liquefaction trains unlocks independent datasets that increase market transparency.
The LNG industry continues to thrive, with massive investments underway across the value chain. Timely and accurate data analytics, pushing the boundaries of conventional datasets, will play an ever-more critical role as companies navigate a complex market and make sophisticated decisions.
Find out more about Wood Mackenzie and Ball Aerospace's collaboration on near real-time market intelligence.